Those of you who haven't had The Orb's "Little Fluffy Clouds" stuck in your head since 1991 might want to revisit it, because it's apparently become a fashion cue: roughly one-half of the actresses walking Sunday night's SAG Awards red carpet were dressed like millennial pink cumulous clusters, all dreamy and fluffy and sweet and dear, the interiors at The Wing on a gown. NO RED WINE, THANK YOU AND GOOD NIGHT. Above, Dakota Fanning, Marisa Tomei, and Saoirse Ronan try on shades of blush, while Millie Bobby Brown goes as a Delia's model, or an extra in Björk's "Big Time Sensuality" video.

Not normally a fan of Allison Williams's personal style, but she really nails it in this Betty Boop-as-chandelier look. Laura Linney is a tastefully appointed bit of wallpaper in an extremely wealthy person's Upper East Side pied-a-terre, while Margot Robbie wishes to invoke a swan, perhaps to remind us that she "uglied up" for I, Tonya and therefore deserves an Oscar for it, as is tradition. Tanika Ray's simple champagne-colored column gown is dynamite, particularly with the updo and magenta lippie.
Three princesses and a kween: Eris Baker, Jackie Cruz, Marielle Scott, and Selenis Leyva matched in hue as well as vibe, maybe riffing off the upcoming royal wedding, but with cleavage.
G/O Media may get a commission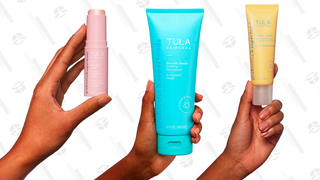 Every wedding needs a cake, right? Diane Guerrero's just the right amount of tulle, and Madeline Brewer's perfect a-line party dress invokes fondant. Sunita Mani's splash of black ombré is as unexpected as HER CHARACTER'S UNTIMELY DEATH (I'm still mad), while Uzo Aduba's gown looks like Mani's look's more prim cousin.
Dascha Polanco's cream gown brings out her gorgeous mane, while Mary J. Blige and Olivia Munn are both looking like art deco monoliths. Tracee Ellis Ross, sweet Tracee, oh fashion beacon of mine, thy Ralph and Russo haute couture is clean, as thy youth sayeth.
Lots of women wore black, too, though the effect was less a continuation of the Time's Up statement at the Golden Globes and more like a gothy coven conjuring a pox on the shitty dudes. Both Halle Berry and Laura Dern looked like vampire goddesses, while Lily Tomlin and Winona "Lydia" Ryder arrived as the rightful Supremes.
Clea Duvall and Lea Delaria do two takes on the suit; Duvall's is more Chelsea Hotel poet than Delaria's smoking jacket chic. Elisabeth Moss and Rosanna Arquette's looks make me want them both in the remake of The Witches of Eastwick.
JB Smoove and Shahidah Omar are both vampy, slick and stunning; Natasha Lyonne's Medusa hands come straight from the brains of Proenza Schouler; everytime Yara Shahidi (from Kara's show) steps on a carpet I die a little because she is always SO impeccably appointed; this pantsuit with a TRAIN is perfect, she's a teen fashion superhero.
Ann Dowd's lacy gown is elegant but in a different way from Felicity Huffman's gorgeous velvet. Lupita Nyong'o has a little feathery surprise at her hem, and Sarah Sutherland busted through with a shoe that looks like C-3PO.
Amanda Brugel is killing it, and possibly you, in that Death Queen gown; Nicole Kidman's stepped right off the cover of a Jackie Collins classic; neither Taryn Manning nor Taylor Schilling are quite getting there in these gowns, though I think it is nice that coworkers matched their accessories.
It wasn't all neutral hues; Kristen Bell and Samara Weaving went for magenta and a fluoro pink, while Marsei Martin and Molly Shannon did a wine and lipstick red combo that was nice, if blendy with the carpet.
Elizabeth Rodriguez's one-shouldered look was bold and to the point; the feathered sleeves on Ellen Wong's gown was a delicate touch; Jackie Tohn's look was a cool optical illusion—that's pink AND red!—while Kate Hudson's dainty black hearts-on-chiffon, Scarlett O'Strawberry Shortcake number has me wondering if high fashion is the biggest scam since the White House. It's Valentino, but also a good barometer for the Gucciness that has overwhelmed us all.
Abigail Savage, Daniella De Jesus, and Danielle Brooks nailed their crimson peaks. Cara Buono looks like a superhero going undercover as Grace Kelly, but hallucinating.
Hello, I am fully SHIPPING Morgan Freeman and Rita Moreno. Is it possible for them to get married and go around being the coolest acting adults in Hollywood? Thanks. Samira Wiley and Lauren Morelli very subtly matched, which is adorable. Elizabeth Astin, with dad Sean, is an absolute party in that sequin jumpsuit, it's my dream look in my favorite complimentary wild colors—red and purple!—and I need it NOW. Elizabeth, if you're reading this, please email me and tell me where you got this and whether I can find a knockoff on Fashion Nova. Sterling K. Brown and Ryan Michelle Bathe, always looking good as fuck on the carpet; today her dress is from a fairy tale!
Alvina Stewart's navy gown is lovely, and matching Anthony Anderson's tux; Chelsea Peretti is a night sky in cadet blue; Amanda Anka's pink triangle slip dress looks like a dream of comfort and ease; Emily V. Gordon's gunmetal structured look is almost the exact color of her bangs.
Maya Rudolph, Vanessa Kirby, and Zoe Kazan have been shopping in the same garden. Sally Hawkins, in Dior Haute Couture, is basically my platonic ideal for an actress and red-carpet dresser; this look is chic but unfussy, fun but serious enough for the occasion (it's COUTURE!), and not at all like anything you'd expect a probably-soon-to-be-Oscar-nominated-actress to wear on a red carpet. More of this, please.
Betty Dyer is dressed to read your astrology chart; Brie Larson's Gucci is a dream, as is Gina Rodriguez's bustier floral and Kelly Marie Tran's orange-and-fuschia number.
Lotta green; unexpected! Betty Gabriel's the outlier with a pretty plaid and keyhole neckline, but Mary Steenburgen, Niecy Nash, and Reese Witherspoon are all wearing the color of money, and look like it, too.
Greta Gerwig is a literal gem in a jewel-encrusted Bottega Veneta; Holly Hunter's done the smart thing and gotten a gown with pockets, something that is perpetually pleasing; Sydelle Noel is gorgeous in layers of yellow taffeta, and seems to be having the time of her life, too.
In keeping with the cloud theme, there was a disproportionate amount of blue on the carpet, too, all sunny skies to compliment the cloud patterns of their counterparts. Here we have Adrienne C. Moor in an angular neckline and Bresha Webb going for a flapper-inspired look.
Cheryl Hines is an impressionist painting of the sun reflecting off the ocean, and Chrissy Metz is a bright and pretty open sky.
There is no stopping the divine Jenifer Lewis.
Mandy Moore, Susan Kelechi Watson, and the stunning Vicky Jeudy all got the cobalt memo. And finally, I wish Susan Sarandon's weird politics were as sharp and easy to parse as this absolutely massive look; ma is wearing sequins and sunglasses like the baddest bitch in the game, and I only hope to look like I feel as cool as this at all times. I keep looking at this pic! She looks so fucking cool!