Today in super-rich children telling other super-rich children how to do stuff that you will never ever relate to, Miley Cyrus offered Justin Bieber some genuinely good (and seemingly obvious) advice: Instead of gobbling Xanax and driving around Florida like a goober, just pay somebody a bunch of money to hang out in your general vicinity with a squirt bottle and go, "Hey, man, don't do that. [Squirt squirt!]" Then just do whatever-the-turd you want in your own house/yard. And voila! No more arrests, assaults, petitions for deportation, jail time, fines, old ladies calling you a "goober," OR potentially crushing the bones of toddlers beneath the wheels of your 'Gheener!
"You've got a lot of money," she said with a smile.

"Pay people to make sure you don't get in trouble and party at your house, buy a house, and add a club to it."

..."It's funny because today, I was looking at — my fans put all these people's mug shots up — and they were like, 'I don't see a Miley mug shot yet!,'" she continued.

"I get the most flak of anybody. I'm not doing anything illegal! I'm doing a lot of s—t but I'm not doing anything illegal! So that's all right. Everything I do is legal in California.
If that's not enough, she added, just ask your handler to spray some Bitter Apple on your learner's permit. [NYDN]
Also, lol:
---
G/O Media may get a commission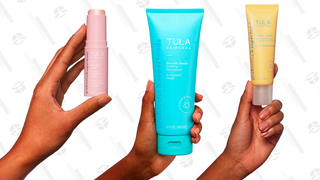 This must be common knowledge (?), but I hadn't heard it before. Apparently, in the 18th and 19th centuries, Benedict Cumberbatch's family made "a fortune" off of slave labor on their sugar plantations in Barbados.
The plantation was purchased in 1728 by Abraham Cumberbatch, Benedict's seventh-great-grandfather. It remained in the family until slavery was abolished in the 1830s, when it was owned by Benedict's great-great- great-grandfather, Abraham Parry Cumberbatch. Slavery built the Cumberbatch fortune, which at its height in the mid-18th century made them one of Britain's wealthiest families, owning at least seven Barbados sugar plantations and a stately home near Taunton, Somerset.

Its proceeds, trickling down through generations, helped Benedict attend Harrow, the £33,000-a-year boarding school which has produced no fewer than seven British prime ministers.

Today, Cumberbatch, 37, is rightly horrified by his family's dark history.
It's the Daily Mail, so some of the framing is pretty fucked up (i.e. the suggestion that Benedict should watch out for scary grasping black people demanding reparations), but it's an interesting story. [DailyMail]
---
Oh, also, Bieber's jet was detained because it stank of weed. [E!]
Macklebaby. [Instagram]
Jennifer Garner luuuuuuuuuuuuuuuuvs Tom Brady. [HuffPo]
Here's Julia Roberts in a black wedding dress. [E!]
Jessica Alba's baby likes her haircut. How does this even qualify as a "haircut"? It just looks like hair. [E!]
If you've always wanted to know Brooke Burke-Charvet's feelings about plastic surgery, merry Christmas. [E!]
Crystal Hefner drives a SmartCar. [ContactMusic]
Daniel Radcliffe and Dane DeHaan will play Lee Atwater and Karl Rove, respectively, in a "buddy comedy" called College Republicans. TOO TIRED TO FIGURE OUT IF THAT'S REAL OR JOKE. [Vulture]
FRIDAY FRIDAY FRIDAY FRIDAY FRIDAY FRIDAY FRIDAY FRIDAY FRIDAY FRIDAY FRIDAY FRIDAY FRIDAY FRI