In the newest issue of Paper, Miley Cyrus—who recently launched the Happy Hippie Foundation to serve at-risk, homeless, and LGBTQ teens—talks about her own gender and sexuality, saying, "I don't relate to being boy or girl, and I don't have to have my partner relate to boy or girl."

Paper reports:
She says she has come to consider her own sexuality — even her own gender identification — fluid. "I am literally open to every single thing that is consenting and doesn't involve an animal and everyone is of age. Everything that's legal, I'm down with. Yo, I'm down with any adult — anyone over the age of 18 who is down to love me," she says. "I don't relate to being boy or girl, and I don't have to have my partner relate to boy or girl." She says she's had romantic entanglements with women that were just as serious as the ones (Liam Hemsworth, Patrick Schwarzenegger, Nick Jonas) that ended up in Us Weekly. "I've had that," she admits. "But people never really looked at it, and I never brought it into the spotlight."

She recalls confessing to her mother, at age 14, that she had romantic feelings toward women. "I remember telling her I admire women in a different way. And she asked me what that meant. And I said, I love them. I love them like I love boys," she says. "And it was so hard for her to understand. She didn't want me to be judged and she didn't want me to go to hell. But she believes in me more than she believes in any god. I just asked for her to accept me. And she has." These days, Cyrus only wants to grant others the same clemency.
She also discussed what's motivated her to give back.
Eventually, she says, the problem of homelessness became impossible for her to ignore. "I can't drive by in my fucking Porsche and not fucking do something," she says. "I see it all day: people in their Bentleys and their Rolls and their Ubers, driving past these vets who have fought for our country, or these young women who have been raped." She pauses. "I was doing a show two nights ago, and I was wearing butterfly nipple pasties and butterfly wings. I'm standing there with my tits out, dressed like a butterfly. How the fuck is that fair? How am I so lucky?"
G/O Media may get a commission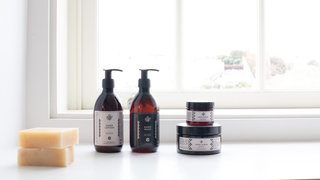 Exfoliate and Hydrate
The Handmade Soap Company
Right on, Miley.
[Paper]
---
Zoë Saldana took to Facebook to defend her husband Marco Saldana's choice to take her last name, writing, "Fathers, sons, brothers, men everywhere: Your legacy will not perish if you take your partner's surname, or she keeps hers."

She continues:
...I shared my hesitation with [Marco] when he told me about his decision, not only did he say, "I don't give a shhheeeetttt!!" (with a very strong Italian accent!!) he also asked me, "Why not? What are you so afraid of?" And it made me wonder... What am I so afraid of?

Why is it so surprising, shocking- eventful that a man would take his wife's surname? Women have never been asked if its ok for them to give up their names — why doesn't that make the news?

Men, you will not cease to exist by taking your partner's surname. On the contrary — you'll be remembered as a man who stood by change. I know our sons will respect and admire their father more because their father lead by example.
Right on, Zoë and Marco. [Facebook]
---
Hate to bring you down with some Duggar news, but here it is: InTouch, the tabloid that first reported on Josh Duggar's history of sexual molestation, is reporting that the Duggars are under investigation yet again. "A representative from the Washington County DHS called 911 on May 27 at around 11 a.m. asking for police assistance when DHS was not allowed to see the minor they were concerned about," InTouch states. [InTouch]

---
Elton John is publicly sorry for publicly calling a woman a cunt. [NYDN]

In her updated lawsuit against Dr. Luke, Kesha claims Sony "forced an abusive relationship" between her and the producer. [THR]
Leonardo DiCaprio and model Kelly Rohrbach made out on Citi Bikes, which seems pretty impractical if you ask me. [POPSUGAR]
Here's Lorde looking majestic on the cover of Vogue Australia. [Billboard]
Amber Rose is a self identified "feminist monster." [E! Online]
Tennis player Andy Murray is also embracing feminism... [ONTD]
...While YouTube makeup star Michelle Phan is not. [ONTD]
Now that we're in the world of YouTube celebrities, Ingrid Nilson (someone your teen niece probably knows) has come at as gay. Congrats, Ingrid! [E! Online]
Uh-ohhhh. Drake and Justin Bieber might like the same girl. [OK!]
THERE ARE TWO OF THEM:
---
Contact the author at madeleine@jezebel.com.
Images via AP/Getty