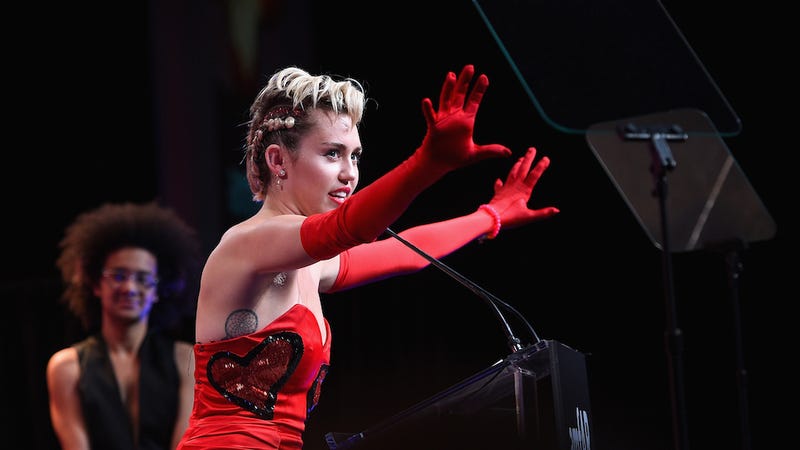 Miley Cyrus auctioned off several pieces of her Caitlyn Jenner-inspired (and signed) artwork for $69,000 at Tuesday night's amfAR Inspiration Gala and—because Miley never does anything halfway—she even promised to clean the winner's home naked as an added bonus.
That Miley.
During the gala, Cyrus, alongside Bravo's Andy Cohen, was honored with amfAR's Inspiration Award.
"There are so many people around the world that deserve this recognition," she told the audience. "They've dedicated their lives to finding a cure for those living with HIV and AIDS, and they've used their voices to speak out against the brutal and unfair condemnation and the abominable stigma that comes with this disease. And by receiving this award tonight, I promise to continue to fight along … for a cure for this epidemic."
To further raise money for AIDS research, Cyrus donated her Caitlyn Jenner collection for auction. When the bids looked like they were tapering off at $65K (not bad for three puff paint-coated magazine covers), she attempted to sweeten the pot, telling the bidders, "My left boob is bigger than the right – I'll show you! What about $69,000? I'll clean your house … naked!"
Ultimately, someone bid the full $69,000. All in all, a good night for both Miley and AmfAR.
Image via Getty.