Today in unbaby news, after taking a stroll with Ashton Kutcher during which she displayed "significant roundness in the stomach area" over the weekend, Mila Kunis immediately got the baby-bump media treatment. Can we expect Ashmi spawn in the next 9 months?! What will they name her?! When will I get another job, and why can't I stop drinking, and should I put on pants?! exclaimed everyone. A few hours later, Kunis' spokeswoman came back with the unsurprising answer to the first question.
She is not expecting.
Congratulations, Mila!!!!! You're having an unbaby!!!!! Click through for the bump in question. [Daily Mail]
---
As a citizen of Hurricane Sandy's Zone B, it makes me nervous that Lindsay Lohan is daring the gods of weather. She has taken to Twitter to alternately mock the Frankenstorm and attempt to soothe her fans.
G/O Media may get a commission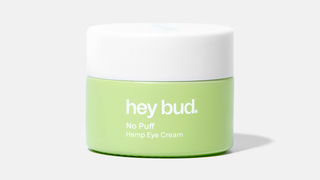 15% off
Hey Bud - No Puff Hemp Eye Cream
Later, she refers to it as "Hurricane Sassy." Probably by 10 PM she will be referring to it as "HEY HURRICANE FUCKFACE, IS THAT ALL YOU GOT?!" and then my cat and I will drown. Pray for us. [Daily Mail]
---
Our favorite fake president Martin Sheen is not a fan of Mitt Romney's: "He is, in essence, a very arrogant, very successful businessman [who] believes in unreined free enterprise. He doesn't have a clue what 99 per cent of the people are going through. He's never lived on that level. He's never had to compete for a job or face eviction or struggle to get a college loan. He's a guy that the old phrase applies to: 'he was born on third base and thought he hit a triple... They say this kind of rhetoric that I'm doing right now is advocating class warfare, but that's nonsense. There is no class warfare; the war ended a long time ago and the poor lost very badly." I bet he'd love this! [HuffPo]
---
Jamie Bell and Evan Rachel Wood are likely to marry this week after a little under a one-year engagement, according to eyewitnesses who saw the two holding hands and waiting in line at the Beverly Hills County marriage license office last week. The two first dated briefly in 2006 and then got back together in 2011. Also worth noting that they may have met while filming the video for Green Day's "Wake Me Up When September Ends" in 2005, so there's that. [Radar Online]
---
In the wake of the recent gay rumors, Joe Simpson has cancelled his regular golf game at his Los Angeles country club with a "hunky" 20-something guy" who isn't a member. Apparently Simpson has always been secretive about the identity of the man, never writing his name on the sign-in sheet and not allowing anyone else to join the game. However, this should not surprise anyone who has seen that episode of Law & Order: SVU about the down-low. [Radar Online]
---
Rihanna sent Adele some cute, sassy baby gifts! Two onesies with slogans: "My mum is a rockstar" and "Just done nine months inside," as well as some lingerie for Mom with a card that reads "You gotta stay sexy, yummy mummy. Enjoy yourself. Congrats!!!" Guysssss. [The Sun]
---