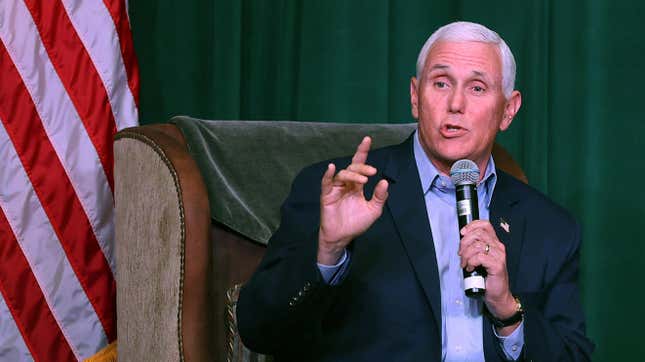 Former Vice President and rumored 2024 presidential contender Mike Pence said "we need to" ban abortion pills in audio obtained by Jezebel. The comments came during a book signing event on Monday in Houston, Texas.
Self Managed Abortions Explained
Someone at the event asked Pence about medication abortion. Here's the conversation:
Man: Are you thinking about what to do about abortion pills? Would you like to ban those?

Pence: To me, it's...I'm pro-life, and I think that's a real issue and it's really dangerous. Really dangerous.

Man: I think you can ban them though, don't you think?

Pence: Uh you can, and we need to. We need to. My daughter's written a lot about it, she writes for The Daily Wire.

Man: Oh she does?

Pence: Look up Charlotte Pence Bond, she's done a lot of really important writing on that topic.
Medication abortion is extremely safe and made up more than half of all abortions done in medical settings in 2020. But a recent lawsuit could lead to a judge revoking the FDA's approval of mifepristone, the first of two drugs used in medication abortion. (Mifepristone is also used as a treatment for miscarriages.) The plaintiffs argue that the FDA was wrong to approve mifepristone back in September 2000, but only filed the suit in November after the Supreme Court overturned Roe v. Wade.
Should the judge take the drug off the market nationwide, abortion providers including Planned Parenthood are preparing to prescribe only the second drug, misoprostol. A decision in the case could come as soon as February 24.
G/O Media may get a commission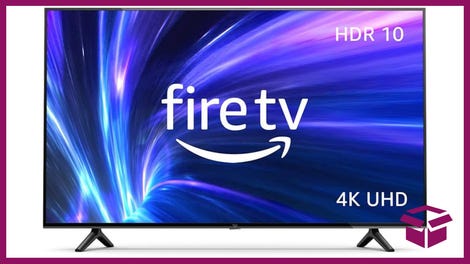 42% Off
Amazon Fire TV 50" 4K Smart TV
It's not surprising that Pence said he wants to ban a method of abortion given his years-long war against abortion access. On the day Roe fell, he said "we must not rest" until abortion is banned in every state and later supported the nationwide 15-week ban introduced by Sen. Lindsey Graham (R-S.C.). Pence also said supporting a national abortion ban is "profoundly more important than any short-term politics," before Republicans made embarrassingly small gains in the House and lost a Senate seat.
But given the active lawsuit, abortion pills are conservatives' opportunity now, until Republicans control government again and can ban abortion via legislation or even executive order, per a terrifying proposal from Americans United for Life.
Get ready for lots of talk about abortion pills on the 2024 campaign trail.