The Michigan House seat previously occupied by longtime Congressman John Conyers, who retired last year amid sexual harassment allegations, is likely to go to former state Rep. Rashida Tlaib. There are no Republicans running against Tlaib in the District 13 House race, meaning that she is poised to become the first Muslim woman, and first Palestinian-American woman, in Congress.
Tlaib beat five other Democrats for the seat, including state Sen. Ian Conyers, John Conyers' great-nephew. "This is a huge victory for the Arab and Muslim American communities—it's also a huge victory for the city of Detroit,'' Sally Howell, director of the Center for Arab American Studies at the University of Michigan-Dearborn, told the Associated Press. ''Rashida Tlaib brings forward the legacy of John Conyers in terms of the groundbreaking role he played in Congress and his commitment to civil rights.''
Michigan also advanced former state senator Gretchen Whitmer in the gubernatorial primary race. Whitmer's nomination, along with Democratic state Sen. Laura Kelly's in Kansas, means that 11 women have now been nominated for governor in the primaries—the highest number of women ever nominated for the position.
While Hillary Clinton-backed Whitmer supports progressive measures like raising the minimum wage to $15 per hour and offering residents two-years of debt-free college, she was less progressive than Bernie Sanders- and Alexandria Ocasio-Cortez-backed Dr. Abdul El-Sayed, who, unlike Whitmer, supported single-payer healthcare.
G/O Media may get a commission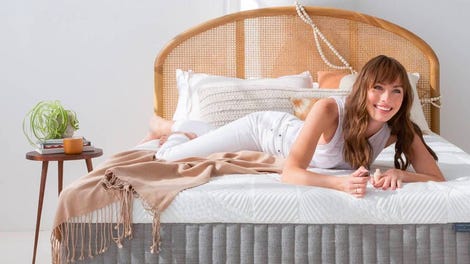 Sleep Sale
Sleep Sale - Brentwood Home
After elections across Kansas, Michigan and Missouri, the Center for American Women and Politics report that at least 182 women have won nominations in major parties across the country, the highest ever.
However, even if women gain more seats in Congress this year, representation is still likely to fall short. Women currently make up about 20 percent of Congress. "With record levels of women running this year, we are hopeful that we will see gains in the proportion of women in Congress in 2019, but there will still be much progress left to be made to achieve gender parity," Deborah Walsh, director of the nonpartisan Center for American Women and Politics, told Politico.
And some of the losses stung: In St. Louis, Missouri, Alexandria Ocasio-Cortez-backed community activist Cori Bush lost to long-time incumbent Lacy Clay. Bush remained optimistic, however. "Even if only a handful make it in, that's a handful we didn't have two years ago," she told Politico after her loss. "We're going to be the ones who inspire a whole other group to run."