After a decades-long struggle with depression about which she has opened up in the past, singer Michelle Williams has checked into a mental health facility outside Los Angeles, CA, to seek help from what she describes as a "great team of healthcare professionals."

In a statement published to her social media channels, she wrote:
For years I have dedicated myself to increasing awareness of mental health and empowering people to recognize when it's time to seek help, support and guidance from those that love and care for your wellbeing.

I have recently listened to the same advice I have given to thousands around the world and sought help from a great team of healthcare professionals.

Today I proudly, happily and healthily stand here as someone who will continue to always lead by example as I tirelessly advocate for the betterment of those in need.

If you change you mind, you can change your life.
Friends like Tina Lawson (mother of Beyoncé) and Missy Elliott immediately declared their love and support for Williams. Wrote Lawson, who has been a mother-figure in her life for the better part of two decades, "I love and support you with all my being."
Elliott shared a story about Williams's statement on Twitter, adding, "I want to lift our sis up in prayer because there are so many people battling this & many trying to deal with it alone... Please No jokes this is REAL & as human beings let's keep the ones who are openly dealing with it uplifted & be encouraging to them!"
Back in 2013, Williams said this in an interview with the AP:
"I had to choose to get out of bed and do whatever I needed to do to be happy. We're taught, 'Just go to church and pray about it. The Lord is going to heal you.' Well, in the meantime, I believe God-gifted people, physicians, doctors, therapists – that's your healing. Take advantage of it. Go see a professional so that they can assess you. It's okay if you're going through something. Depression is not okay, but it is okay to go get help."
G/O Media may get a commission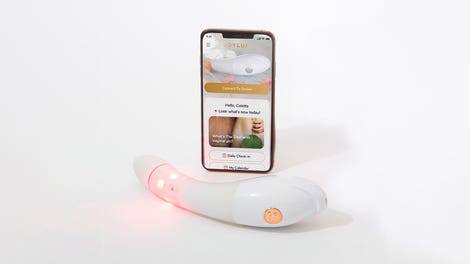 $50 Off
Joylux vFit Gold Device
---
Katy Perry was profiled in what is, let me be blunt, a pretty groan-inducing piece in Vogue Australia, so I'm just going to share my favorite part below:
When Katy Perry, one of the world's most successful pop stars, meets with the Pope, arguably the most important man in organised religion, the pictures hit the internet and the resultant press has nothing to do with tolerance or spiritual enlightenment. "I don't want it to be a headline of the story, because it takes away from the purpose," she says, chewing the cheese stuck on the spoon from her onion soup. "Also, it's extremely misogynistic. Of course, I love my relationship, but that is one part of me, and I don't want any part of what I do to be diminished." (But, for the record, her and Orlando are good, thanks.)
[Vogue]
---
"SWEET MELTDOWN PICS."

---