Days before Michelle Obama's memoir, Becoming, arrives in bookstores, the former first lady talked to ABC News's Robin Roberts about some of the deeply intimate experiences she shares in the 426-page book, including a miscarriage, fertility treatments, and marriage counseling.

Obama's memoir is an exploration of her personal growth and insights, which brushes on politics only occasionally, Roberts says. Obama, who has refrained from criticizing Donald Trump directly, has some more pointed words for him in her memoir: "The whole [birther] thing was crazy and mean-spirited, of course, its underlying bigotry and xenophobia hardly concealed. But it was also dangerous, deliberately meant to stir up the wingnuts and kooks," she writes in the book, according to the Washington Post. "What if someone with an unstable mind loaded a gun and drove to Washington? What if that person went looking for our girls? Donald Trump, with his loud and reckless innuendos, was putting my family's safety at risk. And for this I'd never forgive him."
In the book, the notoriously private former first lady also reveals that she miscarried 20 years ago and the effect it had on her. "I felt like I failed because I didn't know how common miscarriages were because we don't talk about them," Obama told Roberts.
Obama said she wanted to share the experience now because she hopes it will help other women. "We sit in our own pain, thinking that somehow we're broken," she said. "That's one of the reasons why I think it's important to talk to young mothers about the fact that miscarriages happen." The couple conceived Malia and Sasha using in vitro fertilization.
G/O Media may get a commission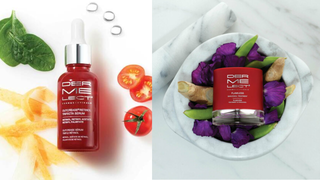 Save $19
Retinol Renewal Kit
Likewise, Obama reveals that she and Barack went through marriage counseling, which taught them "how to talk out our differences." Counseling, she says, taught her that, "My happiness was up to me."
"I stopped feeling guilty. It's important for me to take care of myself. That's not on Barack," she said.
"I know too many young couples who struggle and think that somehow there's something wrong with them," she said. "And I want them to know that Michelle and Barack Obama, who have a phenomenal marriage and who love each other, we work on our marriage. And we get help with our marriage when we need it."
ABC News will air Roberts's full interview with Obama, "Becoming Michelle: A First Lady's Journey with Robin Roberts," on Sunday, Nov. 11, at 9 p.m. ET. Watch ABC's preview here.