Following a long tradition of first ladies, Michelle Obama has written a memoir looking back on her journey to the White House. But just as she recast the mold of first lady as the first black woman to hold the office, Obama's Becoming advances the genre, pushing at its edges and arriving somewhere new. More than just a memoir, Becoming seems written to take control of the narrative the public has built around her, walking the fine line of diplomacy required of first ladies while discussing the personal struggles she faced as a black woman moving into spaces that were not designed for her. It's a self-aware, vulnerable, and often funny retelling of her life that doubles as a roadmap for women and girls who are similarly navigating unfamiliar territory, even with potentially lower stakes than the White House.
The message of Becoming, released one week after a historic midterm election that ushered in a record number of women into the House, is one of pragmatic optimism. Obama fully embraces her role as a moral authority, just as she did as first lady, but rather than pontificating like a public official, she writes as "an ordinary person who found herself on an extraordinary journey."

"I understood that my trajectory was unusual, but there was no good reason why it had to be," Obama writes. "There had been so many times in my life when I'd found myself the only woman of color—or even the only woman, period—sitting at a conference table or attending a board meeting or mingling at one VIP gathering or another. If I was the first at some of these things, I wanted to make sure that in the end I wasn't the only—that others were coming up behind me."
While the public knows the general arc of her life—growing up on Chicago's South Side, culture shock as she arrives at Princeton and finds herself among a mostly white student body, meeting Barack while working at a prestigious law firm, navigating life in the public eye as the first black family in the White House—what makes Becoming special is Obama's candor and the exploration of just how hard much of it was, even as it was invisible to the public that has watched her for so much of her adult life.
Both during her time at the White House and now in her post-presidency life, Obama has been a larger-than-life figure: she is the image of poise and grace; her marriage to Barack is romanticized as "marriage goals;"she is frequently asked if she will consider running for president (the answer is, and has been, no). But throughout Becoming, Obama pushes back against that image and repeatedly admits the weakness, doubt, and vulnerability she experienced throughout her life, addressing how she often turned to others in these times, whether through guidance from friends and family, marriage counseling, or being brutally honest with herself and others about her needs.
G/O Media may get a commission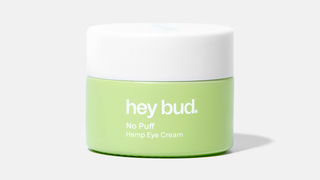 15% off
Hey Bud - No Puff Hemp Eye Cream
She reveals that the couple had a miscarriage, which, she writes, made her feel like a "personal failure," and stresses the importance of talking about it: "What nobody tells you is that miscarriage happens all the time, to more women than you'd ever guess, given the relative silence around it." She writes candidly about using in vitro fertilization to conceive Malia and Sasha, and later, opens up about couples therapy, dispelling the myth that good relationships just happen. "I know too many young couples who struggle and think that somehow there's something wrong with them," she told ABC News's Robin Roberts. "And I want them to know that Michelle and Barack Obama, who have a phenomenal marriage and who love each other, we work on our marriage. And we get help with our marriage when we need it."
While every first lady has a fish out of water story to tell, unlike the others before her, Obama had to contend with the struggles of a black woman navigating largely white spaces for most of her professional life. As a child, she witnessed white flight from her South Side neighborhood and later matriculated into a prestigious magnet school. At Princeton, a school that was overwhelmingly white and male, Obama felt "isolated by race," banding together with a handful of other black students on campus. Her self-doubt about belonging as a black woman, about not being good enough, did not diminish once she became a first lady. "I was humbled and excited to be First Lady, but not for one second did I think I'd be sliding into some glamorous, easy role," she writes. "Nobody who has the words 'first' and 'black' attached to them ever would. I stood at the foot of a mountain, knowing I'd need to climb my way into favor. For me, it revived an old internal call-and-response, one that tracked all the way back to high school..."
Becoming could easily have been a bland book with a generic message of empowerment, but Obama's memoir instead speaks frankly about the challenges faced by black women and women of color as they seek their place in a world that is so shaped by white supremacy. During their eight years in office, as the first black family in the White House, she and Barack maintained "an awareness that we ourselves were a provocation"she writes. Instead of looking up to women like Mamie Eisenhower, Obama writes that she found role models in Rosa Parks and Coretta Scott King: "None of these women could ever have imagined a life like the one I now had, but they'd trusted that their perseverance would yield something better, eventually, for someone like me. I wanted to show up in the world in a way that honored who they were." In the public eye, her blackness affected nearly every decision, even down to her wardrobe: While many first ladies could relate to Obama's frustration that it "seemed that my clothes mattered more to people than anything I had to say," Obama notes, "As a black woman, too, I knew I'd be criticized if I was perceived as being showy and high end, and I'd be criticized if I was too casual." Blackness required being "extra-vigilant": "There's age-old maxim in the black community: You've got to be twice as good to get half as far."
While her observations on race are bluntly stated and powerful, Obama often hesitates to take direct aim at the people or institutions that uphold the unjust system she's navigated throughout her life. There is a genre-wide expectation that a first lady's memoir will never be anything but optimistic, and here, Obama sticks to the script, acknowledging that racism exists, but rarely taking individuals or institutions for task as being racist. Even her harshest words, for Donald Trump, are hedged, calling his birther campaign "crazy and mean-spirited, of course, its underlying bigotry and xenophobia hardly concealed." When describing the effects of his administration, she speaks diplomatically and in euphemisms, softening her otherwise blunt tone by writing simply that his policies have "caused many Americans to doubt themselves and to doubt and fear one another" and have "left vulnerable members of our society exposed and dehumanized." Instead, she stresses, as Barack did in his campaign, the importance of unity, compassion, and working together, of "healing our country's divisions" by appealing to our greater humanity. Again and again, she talks about the need for "positivity."
With Becoming, Obama affirms that she is a voice, like her personal mentors were for her, "against the slights and indignities I was certain to encounter in the places I was headed—all those environments built primarily for and by people who were neither black nor female." But she offers little to contend with the fact that the election of Donald Trump is a rebuke to the hope and positivity of the Obama presidency, a campaign predicated on the basis of racism. Perhaps her message is less unbridled optimism, then, and more of a recognition of the struggle to move the country forward that has always fallen to marginalized people.

Obama acknowledges the current political climate, but doesn't see it as foreclosing that something better might follow. As she poignantly said in a 2016 speech at the Democratic National Convention: "I wake up every morning in a house that was built by slaves. And I watch my daughters, two beautiful, intelligent black young women, playing with their dogs on the White House lawn." Unlike the first ladies before her, Obama, whose "when they go low, we go high," became a rallying cry in the final weeks of the 2016 election, has embraced optimism from a place of self-preservation as a black woman, as a strategy of survival. She is not calling for unyielding positivity, rather, for the kind of perseverance that's necessary to survive.
"I've lain awake at night, fuming over what's come to pass," she writes. But she continues: "What I won't allow myself to do, though, is to become cynical. In my most worried moments, I take a breath and remind myself of the dignity and decency I've seen in people throughout my life, the many obstacles that have already been overcome." Coming from a first lady whose ancestors were slaves—who has been reduced to the trope of an "angry black woman" and subjected to base racism, and whose husband's successor rose to power on racist lies—Obama's words carry weight. But just as Becoming is an account of the fears and uncertainty that she felt while fighting her own battles, the book makes room for uncertainty as we struggle to overcome the obstacles ahead.