Michele Bachmann's disdain for facts is well known, which is why on Fox News last night she was confidently declaring that she'll be the Republican nominee, adding, "I intend to be America's Iron Lady." However, for those of us who dwell in reality, two things have come to light that suggest Meryl Streep will never be starring in a Bachmann biopic (though somehow, she'd be able to pull it off). First, new poll numbers show that Bachmann only has 9% of the vote in the Iowa Caucuses, meaning she's only beating Jon Huntsman, who's already given up on the state. Second, Iowa state Sen. Kent Sorenson, her state campaign chairman and one of her oldest supporters, just left her campaign and announced he's backing Ron Paul.
The Iowa caucuses are only six days away, and Sorenson increased the drama by ditching a Bachmann campaign event on Wednesday and using root canal as an excuse, then appearing at a Veterans for Ron Paul event in the evening to declare he's switching sides. According to MSNBC, Sorenson was one of the first people not on Bachmann's staff to encourage her to campaign for president. In a statement emailed to reporters, he said he still has an "immense amount of respect for Michele," but Iowa has become a race between Paul and Mitt Romney, and he can't bear to see the party go with one of the slightly less unhinged candidates. The latest CNN/Time/ORC poll found 25% of likely caucus voters support Romney, 22% back Paul, and the 3% lag is within the margin of error. After his decision was announced, Sorenson told Time:
The real crux of the matter is that we're at a point now where we can elect somebody like Mitt Romney, who is the same as Barack Obama, except maybe a little bit more frugal. He's a frugal socialist. Or we can elect somebody who's going to stand up for what our Founding Fathers believed this country was built upon.
Bachmann responded to the news in her typically classy fashion by claiming that Sorenson was paid off by the Paul campaign:
Kent Sorenson personally told me he was offered a large sum of money to go to work for the Paul campaign. Kent said to me yesterday that 'everyone sells out in Iowa, why shouldn't I,' then he told me he would stay with our campaign. The Ron Paul campaign has to answer for its actions.
G/O Media may get a commission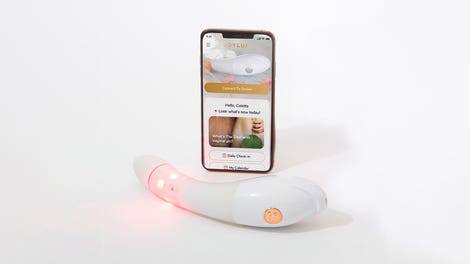 $50 Off
Joylux vFit Gold Device
Obviously, this makes way more sense than Sorenson simply deciding to abandon a sinking ship. Paul is neck and neck with Romney in Iowa, so obviously his top priority is to take down the weakest candidate in the race by bribing a staffer most voters have never heard of.
Four Minutes Of Michele Bachmann Saying Crazy Things On Fox News [Buzzfeed]
CNN Poll: Romney On Top, Gingrich Fading & Santorum Rising In Iowa [CNN]
Bachmann's Iowa Co-Chairman Bolts To Back Paul
Kent Sorenson, Bachmann's Iowa Chair, Defects To Paul [Washington Post]
Q&A: Kent Sorenson, The Iowa Senator Who Just Jumped Ship From Bachmann To Paul [Time]