Michael Kors is suing Costco for including images of Michael Kors handbags and logos in an ad touting the discount retailer's "designer handbags starting at $99.99 delivered" — but, allegedly, not actually offering any Michael Kors handbags for sale. (The company checked Costco's Web site and 19 Costco stores for the bags in the ads, but found no Michael Kors merchandise at all.) Michael Kors is accusing Costco of falsely advertising itself as a seller of Michael Kors handbags — essentially, a bait-and-switch. [WWD]
---
This weekend, Alexander Wang announced a "secret event" — which turned out to be, for a lucky 100 out of the many more who lined up, a free-for-all grab-and-go giveaway of stock from the brand's lower-priced line, T by Alexander Wang. Here is a first-hand account:
Screams–the most blood curdling screams I've ever heard–filled the room. A look of shock swept over the faces of the people around me. The room went dark. [...]

Seconds later, I found myself running, not because I wanted free clothing, but because it seemed like the only thing to do. I remember grabbing a sweater and not much else after that.

Within the blink of an eye, the showroom was in disarray, the racks now bearing nothing but a few hangers. Viciously, the crowd had moved onto the boxes neatly stacked in the middle of the room. The Hunger Games is real, people. It happened at Highline Stages that day. This time, though, the odds were ever in everyone's favor.
G/O Media may get a commission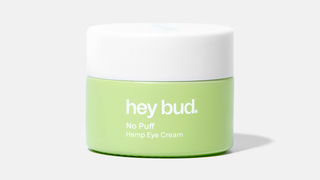 15% off
Hey Bud - No Puff Hemp Eye Cream
---
Claire Danes is on the new cover of Vogue. She tells the magazine:
"I've had conversations with them. Meryl, Susan Sarandon, Jodie Foster," she says. What has she learned from these older actresses? "You have to pick your battles on set. You have to come to work from a place of love. You have to stay hydrated when you have crying scenes. You have to go to college. And you have to ask for money because there's always more money and they won't give it to you because you're a girl!"
[Vogue]
---
Max Mara got itself a celebrity face: Jennifer Garner. [WWD]
---
• Tyra Banks has invested in The Hunt, an online shopping start-up that has also attracted investment capital from Ashton Kutcher. The size and terms of Banks' investment were not disclosed. [WWD]
• Nadiyah Bradshaw-Spencer, the head of production and sourcing for Suno, says a big part of her job is visiting factories in places where the brand produces its clothing, like Kenya and India. She says the idea of "ethical" clothing manufacturing is now a hot topic:
Meaning how [the workers] are sitting. How it's not a sweatshop. There are fans in the room. There are ACs in the room. They're not sitting on top of one another. There's not water dripping on the walls, and slime, and people with their heads down. For Suno, "ethical" means I can sit, as head of production, at a sewing table and sew a garment and feel like I am comfortable. That's what it means for us.
Bradshaw-Spencer says that whenever she visits a supplier or prospective supplier, one of the things she will do while on the factory floor is ask to use the bathroom. "Because if I can't use the bathroom that the tailors are using, that's a problem," she says. The brand also has a full-time employee to oversee its production in Kenya. "It's one thing to know that the Americans are coming," says Bradshaw-Spencer. "It's another thing to know that a Kenyan who lives around the corner is there and in the factory every day." [The Cut]
• Danish model Josephine Skriver is coming out of the closet as the daughter of gay parents — a lesbian mother and a gay father, who found each other after Skriver's mother posted an ad in an LGBT newspaper. She was seeking not just a sperm donor, but a like-minded gay man to serve as a co-parent, and as children, Skriver and her younger brother shuttled between the homes of their father and his partner and their mother and hers. Skriver is an advocate for gay rights. "No matter your sexual orientation, your race, or gender, we should all be born with the same basic human rights," she says, and she rejects conservative arguments against gay marriage and gay adoption that gay people make bad parents: "You're sure your parents love you, because they really, really wanted you in the first place." Skriver is happy that the U.S. Supreme Court recently overturned the Defense of Marriage Act and ruled against California's Proposition 8, which banned same-sex marriage. "It is really significant that even the Supreme Court is now taking a stand and requiring respect for the rights of the community, but it is still a small step in on the long route towards complete equality." [Fashionista, Buzzfeed]
• Fashionista asks the age-old question: why aren't there any American couturiers? [Fashionista]
• Tom Ford is opening flagship stores in Chicago and Dallas. [WWD]
• Stephen Fry is directing a new production of The Importance of Being Earnest, in which he will star as Lady Bracknell. Fry has apparently approached designers including Roland Mouret, Sarah Burton, and John Galliano about costuming the production. [Daily Mail]
• An update on the impoverished state of language in the fashion industry: everyone needs to stop "curating" "major" "situations" with which they are "obsessed." That is "everything." [Fashionista]
• Robin Givhan, the first fashion critic to win a Pulitzer, has been hired by New York magazine's The Cut to cover the spring shows this September. [WWD]
• And now, a moment with stylist Lysa Cooper. (Among her recent work is that Beyoncé GQ cover.) Cooper, what's the secret to longevity in the fashion industry?
"I'm not out to make friends. I've got plenty of other friends. I like to keep it really professional. I don't hang out. I don't go to little dinners. I don't "kiki." None of that. And I think, for a lot of people, they want me to entourage it up for free. I'm not interested. Hence, it's better to work with people you don't really know. You don't have to waste your time trying to be best friends. I don't have enough time to be circle jerking all over the place. For what? They're all going to fuck you over eventually...But the thing to remember is that, just like ex-boyfriends, they always come back. And when they do, you're twice as expensive. That's the God's honest truth."
Cooper calls out Rihanna for being one of those who expected her to "entourage it up" and for "smoking wack-ass weed with some bad blunts." Says Cooper, "I smoke weed, but I smoke good weed." She also says celebrity clothing lines are "Bullshit. Go to school" and points out that the Olsen twins' line, The Row, has ripped off Rick Owens and Ann Demeulemeester (but done it well). [Vogue.it]