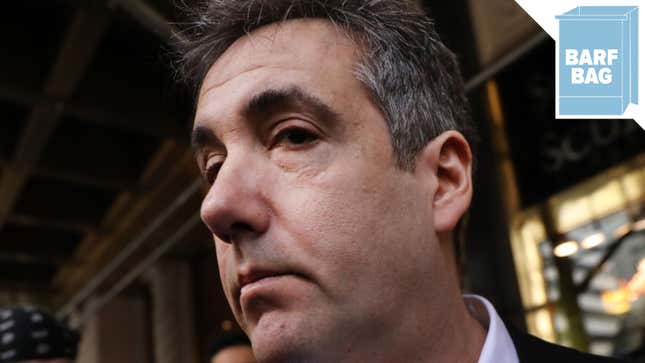 Did not have a Diet Dr. Pepper today, am also sick.
Here's all the shit we couldn't cover today:
Michael Cohen, remember him? According to his attorney David Schwartz, Donald Trump's former lawyer and fixer is "literally the mayor of his prison" and has gotten a tan and lost 30 pounds. "He's doing great: The other inmates call him 'Mr Mayor.' He's a celebrity in the jail. Everybody is coming up and shaking his hand. He's enjoying hanging out with the other inmates," Schwartz said. [Page Six]

We now know that the whistleblower complaint filed by an alarmed member of the intelligence community was over pressure Donald Trump put on the president of Ukraine to investigate Joe Biden. Are we marching towards impeachment, finally? It may be the "only remedy," according to Representative Adam Schiff, the chair of the House Intelligence Committee. Just fucking do it already, you weenies! [New York Times/Slate]
Bill Weld, one of the Republicans challenging Donald Trump, now wants to literally execute Donald Trump for treason. [The Daily Beast]
Nice to know where his priorities lie:
Love when politics reporters display their ignorance of the basics of mass movements and protest actions:
Here are some tweets the president was allowed to publish:
This has been Barf Bag.