After delivering not only the best speech, but the best overall moment of the Golden Globes as she accepted the Cecil B. DeMille award last night, many viewers were convinced Oprah Winfrey was plotting a run for president. Twitter was filled with "she's running" jokes, and half of all Instagram feeds were blurry photos of Oprah on TV screens alongside captions like, "Nothing but respect for MY president."
Even Meryl Streep got in on the #Oprah2020 action, telling the Washington Post (which may be he only newspaper she's allowed to speak with this awards season):
"She launched a rocket tonight. I want her to run for president. I don't think she had any intention [of declaring]. But now she doesn't have a choice."
In any other year, it would be easy to write this as a tongue-in-cheek comment from one respected (depending on whom you ask) member of the Hollywood elite to another. But this is 2018. Anything is possible. Experience is not a prerequisite for the nation's highest office. We step through the looking glass after our coffee every morning. So Streep's statement—and the ensuing headlines—have been enough to make me think, "Huh, guess Oprah's gonna run for President now, and her opponent will probably be Mark Cuban."
Even Stedman thinks so.
G/O Media may get a commission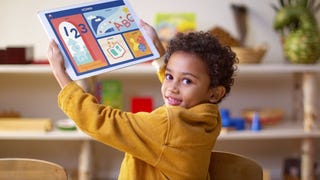 30-Day Free Trial
Homer Learn & Grow Program
UPDATE: Welp.
[WaPo]
---
Debra Messing used her time in front of E! News's cameras—to quote Indiana Jones and the Last Crusade—wisely last night, and shared her displeasure over the network's alleged refusal to pay former host Catt Sadler the same amount as her male colleague Jason Kennedy.
Said Messing to Giuliana Rancic, E!'s most famous onscreen personality:
"Time is up and we want diversity and we want intersectional gender parity. We want equal pay, and I was so shocked to hear that E! doesn't believe in paying their female co-hosts the same as male co-hosts. I mean, I miss Catt Sadler, and so we stand with her. And that's something that can change tomorrow. We want people to start having the conversations that women are just as valuable as men."
When you see Debra Messing's name in Dirt Bag it's hard to know what kind of story to expect, but I'm glad today's is something as good as this.
P.S. Did you know not one man mentioned #TimesUp or #MeToo during their acceptance speech last night? Something to think about.
[People]
---
Feud alert!

[ONTD]
---
I really enjoy the occasional reminder that Bo Derek and John Corbett are a thing. [Fox News]

Here are two wackadoo blind items about Harry and Meghan. [ONTD]

Abby Lee Miller might become a real estate agent when she gets out of prison. (The key word here is "might.") [Radar Online]

"It's going to be such a great year. I have a new grandbaby, my son is engaged and now Paris!" - Kathy Hilton [People]

Finally, something good happened to Liev Schreiber. [TMZ]