When I walked into the GOOP MRKT on its opening day, I was shocked by how quiet it was. There was a single security guard standing in the store. To the left of the main entrance, the pop-up's resident baristas spoke quietly amongst themselves. By the living room, three girls, white, probably in their twenties, with very shiny hair, tried on boots, boxes spread all over the "coffee table," and giggled with an employee, who smiled back and mostly stood still. Besides myself, there was only one other woman in the store—an older, distinguished looking white lady who took a quick spin through and then left. Nobody asked if I needed any help, until I finally approached the employee in the beauty section, asking to speak with the pop-up's publicist. Why am I telling you all this? Because on the one hand, it's hard to imagine, as someone who is not a thief, that three guys could walk in there and steal $173,000 worth of merchandise. On the other, it seems like the easiest thing in the world.
In reports of the crime, the thieves were said to have forced open a display case toward the front of the store. This is likely referring to a burnished metal and glass jewelry case immediately to the left of the front entrance. I tried to open it myself, to see if I could get a look at the price tags on the chunky chain necklaces (Pluma, $375) and sunglasses (Jonathan Saunders, $204, marked down from $340), but it was locked. It's not out of the realm of possibility that the thieves could have hit $170k simply from that case alone. Whether you're criminally minded or not, you can see as soon as you walk into the pop-up that it wouldn't take long to rack up quite the bill in the place, even just on candles.
It's not just the heavily styled "GOOP MRKT," though, which is not the first of its kind. New York has a way of making you feel poor, even when, in the grand scheme of things, you're not. You become trained, here, to recognize the Mansur Gavriel bags hanging off the shoulders of girls younger than you are, to mentally tally the cost of an outfit while also always knowing the balance of your bank account down to the cent. Walking into GOOP MRKT made me feel both fraudulent and young—acutely, like I didn't belong. And I'm not that young and I have every right to be wherever I want, but the fact that I couldn't conceivably afford a single item in the store felt oppressive in a way that's unique to GOOP, I think.
Most other temples of urban materialism—Barneys, let's say—come with a tacit admission that what they're selling is just stuff. GOOP's refusal to be anything less than a lifestyle, and the Gwyneth Paltrow lifestyle specifically, is what makes its pitch so horribly compelling. What they're selling is so holistic that the inability to afford a $40 candle becomes a sign of failure. The bar has been raised to include a perfect farmhouse kitchen, two cute yet sassy kids, a cheeky Valentino denim romper, and an overwhelming, luxurious lack of fucks. GOOP sells cashmere sweatpants (NLST, $465) and the fantasy of never having to worry about choosing between dinner out and your electric bill. GOOP sells life as a bubble bath that never gets cold.
GOOP MRKT is styled like an apartment. There's a living room, and a kitchen, and a boudoir-slash-bathroom (I know that's what it is because it's where they sell both lingerie and shampoo), and you can buy everything. Literally all of it, from the jewelry artfully arranged on the tables to the tables themselves. You could, in theory, buy the whole place, and just turn your own home, formerly empty, into Gwyneth's theoretical capitalist one. Once you enter, you will be offered a complimentary latte—either matcha or coffee—as well as gratis Smartwater, fresh fruit, and on occasion, Dewar's scotch. This last detail is one of the few in the pop up that allude to Gwyneth's low-key down bitch status—her enjoyment of a single American Spirit Light per week, occasional consumption of carbs, and love of martinis. The rest of the pop-up is imaginably staid, like a nice-shit store in a tony beach town.
G/O Media may get a commission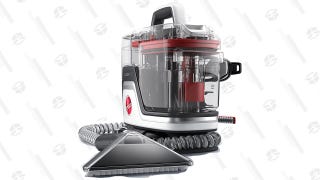 Save $10
Hoover CleanSlate Plus Carpet & Upholstery Cleaner
The centerpiece of the pop-up is an enormous mural of Wonder Woman, thankfully not drawn in Gwyneth's likeness, under which Valentino's collaboration with GOOP is for sale. The collection, which features tulle and sequins heavily and also includes a pair of denim short-alls ($1,350) that cost more than half of the monthly rent on my Manhattan apartment, is childlike, silly, and not entirely likeable. While its centerpiece, a champagne pink tulle gown with metallic, embroidered gold stars, is lovely (and not available for purchase online, but you can get a short version for $9,900), and would make a fabulous prom dress for a wealthy New York teen, the rest of the collection has a kind of immature, casual quality, antithetical to the restrained elegance of most of GOOP's offerings. Unsurprising when you consider that this is high fashion inspired by a cartoon, both literally and figuratively—the very idea of Gwyneth as the modern "wonder woman," the entrepreneur, mother, and friend, is patently absurd.
From the pop-up's official press release: "Valentino Creative Directors Maria Grazia Chiuri and Pierpaolo Piccioli, with Paltrow as their muse, developed the collection to celebrate all women as 'Wonder Women.'" It's corporate feminism at its peak, couture "girl power," and standing in that mall in the middle of Manhattan, surrounded by sweaters that cost more than my remaining student loan debt, it felt, frankly, insulting. Every woman is wondrous, sure, but with a lot of asterisks included. Looking through the collection, I felt embarrassed even to look at the price tags, because to truly fit in, I shouldn't have to. You can't be the kind of woman who buys an oversized, gabardine army style jacket covered in stars, made by Valentino, if you bat an eyelash at the $7,800 price tag. Take off the zeros and it would still be too much for me, but I'm not Gwyneth.
What would it like to be her, anyway? The GOOP brand, with all its candles that smell like a Sunday in Santa Monica (it really does, it's lovely and I wanted to buy it) is about the kind of wealth that breeds the ultimate kind of privilege, the cashmere sweatpants version of the human experience: when you don't have to worry about your basic needs, well, what are you really living for besides pleasure? It's this lack of worries that Gwyneth Paltrow is peddling, and it's that lack of necessary fucks, even more than those star-studded denim sneakers ($1,145), that I refuse to buy.
In the morning of the day I went to GOOP MRKT, I was standing on the Grand St. subway platform hoping my outfit would allow me to blend in with the ladies I was sure I was about to encounter. An elderly man jostled into me, causing me to splash some of my coffee onto my black, fitted H&M jacket. I looked back at him, and saw on the support beam he was now huddled beside, the words "eat tha rich" written in white paint pen. I laughed about the words, and what I was on my way to do: the way it's hard to decide if you want to eat the rich or be the rich, or if the two are related, and the contradictions of it all. When I was leaving the MRKT, I thought of those words again, feeling them sincerely. It's nice to know you're not alone.
Maud Deitch is a freelance writer and culture critic. Her work has appeared in Pitchfork, Rolling Stone, Playboy, Rookie, and many others. She lives in New York City and tweets @mauddeitch.
Image via GOOP/Getty