Rion Sabean is a 26-year-old photography student who has started a series of "Men-Ups," in which men who embody what society considers to be manly — bearded, blue collar types —are shot in poses usually reserved for ultra-feminine pin-up girls. The result is not only funny but thought-provoking, and we asked Rion to tell us about his project.
What inspired you to make a series of pin-ups featuring men (and call them Men-Ups)?
I had had the idea for such a long time, and just never went for it. The imagery of showcasing the feminine/masculine ideals in one single image just struck me as something that could really work. Hilariously enough, and beyond my fascination with gender binaries and their inherent nature to be completely incomprehensible to me, I first began tinkering with the idea, because I will at any given moment strike very specific poses that would be defined as feminine by society; more specifically, the pointed toe. Haha. From there, it was completely obvious that pin-ups and all the associations with them would be the right choice in moving forward.
Did you actually reference vintage pin-up art for the poses? (They're very Vargas and Gil Elvgren!)
I did! Especially Elvgren. Really, how could I not? He was such an important element to the pin-up movement and pushing this unrealistic feminine ideal. Some poses in the series are directly ripped from actual poses he used and were showed to the models in order to let them choose if I hadn't already done so for them. I think it's very important, no matter what the motivation is, to really investigate others before you, because even if it's a critique or homage, that you can really draw inspiration for developing your ideas further.
How did you cast the models? Were you specifically looking for "brawny" guys? (The one with the full beard [at top, purple background] is really effective/hilarious.)
Casting seemed to just fall into place after I had created the identities for each shoot. In some cases I was looking for a more "brawny" guy, because it felt to fit more with the character I had laid out. The one with the beard has become a fan favorite it seems. He was really great, as were all the models. Every single one of them either did it because they supported the idea, or simply because they support the arts, which was a great aspect to have in the models, because they were that more excited to take part in the project. It was really great to see such support and willingness to take on such a task.
G/O Media may get a commission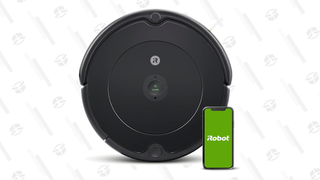 35% Off Black Friday Deal
iRobot Roomba 694 Robot Vacuum
These images reference vintage poses, but do think that women are still viewed and posed and photographed differently than men today? Are there any specific situations that you notice it? Ads, magazines, etc? Oh yes. Definitely. I would even go so far as to say that both sexes have become targeted, affected, and shown in very unrealistic ways. Right off the bat, in terms of females, I think of ads for makeup or anti-aging creme. Editing out someone's creases or wrinkles is so easy it's pretty laughable. Photoshop is so prevalent now that it has become so difficult for people to differentiate between fact and fiction. This is also part of the reason why I embrace Photoshop so forwardly. To look at my work is see the alterations made, and know that it's unnatural.
Have you — or would you — ever pose for a Men-Up?
I have! I am actually the blue one with the drill. That pose was definitely an homage to my aforementioned signature pointed toe. Haha. But I knew I had to be one of them. It would seem a little hypocritical to cast all the people and to not just go for it myself.
Visit RionSabean.com for more. And take note: A calendar featuring 12 Men-Ups — one for each month! — will be available on his site in December.