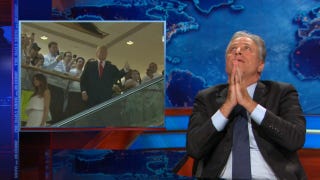 Jon Stewart only has a few weeks remaining in his tenure as host of The Daily Show. But an old friend will be there to help ease the transition: Donald Trump, who ought to stick around the presidential race just long enough for a few goodbye segments at the expense of good old Fuckface von Clownstick.
"Thank you, Donald Trump, for making my last six weeks my best six weeks. He is putting me in some kind of comedy hospice." Donald Trump will follow you into the dark, Jon Stewart.
The team closed out the segment with a round-robin of male Daily Show staffers orgasming loudly in their slacks at the thought of a Trump presidential candidacy, and a deadpan Jessica Williams intoning boredly that the announcement is "soooo big."
---
Contact the author at kelly@jezebel.com.