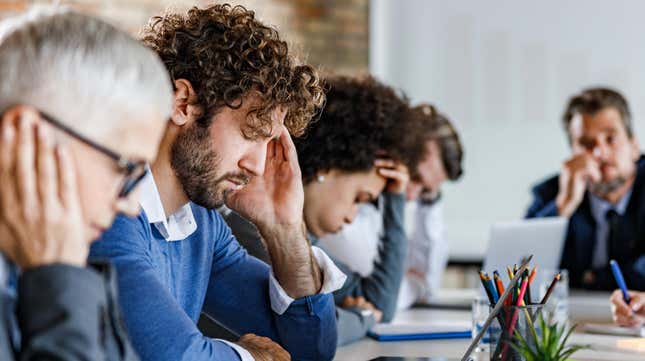 After the fall of Roe v. Wade, companies tripped over themselves to advertise pro-abortion policies as an effort to retain female talent who were very quickly seeing their bodily autonomy dwindle. Unfortunately, according to new research released on Wednesday, those efforts have annoyed many men at those companies and reduced job satisfaction in male-dominated sectors. I can't even imagine what they've been going through having to hear about these benefits for the past year!!!
Using an analysis of 3 billion "job seeker clicks," 2.5 million job postings (with wages) and 6.5 million company reviews across Indeed and Glassdoor, researchers found that announcing pro-abortion policies—like covering out-of-state travel for the health service—"reduced workers' satisfaction with the job and the firm, including a marked 8% decline in ratings for senior management," according to the team of researchers at the job-finding site Indeed, the University of Southern California, the University of Maryland, and IZA Institute of Labor Economics. Researchers reported that this is a larger decline than a company usually sees after publicly disclosed corporate wrongdoing. "We show that this drop in satisfaction is more pronounced in male-dominated jobs," the researchers wrote.
Companies like Citigroup, Bumble, and Match Group have said they would pay travel costs for employees who need to leave their state for an abortion. Citigroup has a massive employee presence in Texas (more than 8,500 employees, per Bloomberg), so the state's rigorous anti-abortion laws directly impact its workforce. "In response to changes in reproductive health-care laws in certain states in the U.S., beginning in 2022 we provide travel benefits to facilitate access to adequate resources," a letter to shareholders read.

The decline in satisfaction was among positions stereotypically filled with men and also those highly compensated, such as software engineering. Researchers found that pay was actually raised by 4 percent on average among those firms in order to retain talent. In fact, the ones where men were showing the biggest decline in management ratings were getting the biggest pay raises after June 2022, per the research.
However, researchers found that male dissatisfaction was "offset by increased interest overall" by the the announcement of the company policy. Men may be dissatisfied for political reasons or because the policy is something they'll never themselves use.

"The polarization that we currently see, particularly on this topic, is clearly seeping into our jobs," study author and Indeed Hiring Lab chief economist Svenja Gudell told Fortune. "You don't think of yourself as clocking in and out of work anymore; you want to bring your whole self to work," she added.

No shit. People are uninterested in taking jobs that will actively affect their ability to lead a full life. It's the same reason people are attracted to well endowed fertility benefits.
The researchers also found that these abortion benefit announcements made a difference after the Dobbs ruling. Before the ruling, clicks on job posting were about the same regardless of abortion-related announcements, but after, clicks increased by 8 percent. To get that increase organically, job posters would have to increased the wage by more than 10 percent. And we know they're not gonna do that!