If you thought the annoying fire that all but consumed E!'s Fashion Police had finally been put out, you were sadly mistaken. Slide down the this again? pole, hop on the who cares? truck, and the unleash your enough already hose, because Melissa Rivers just poured a big tank of gasoline—and tossed a highly flammable Kathy Griffin—onto its smoldering coals.
Talking to Hoda Kotb about Griffin's Fashion Police departure at the 92nd Street Y, Rivers let loose:
"My biggest complaint was the feeling that she kind of shit all over my mother's legacy in her statement on leaving. And I know that was not an intentional reading of it, but that's how I felt... by calling the comedy and the style of it old-fashioned. It was like, I understand what you were doing, you're trying to save yourself, but don't crap all over my mother to do it."
Griffin, you may recall, released a statement upon leaving the show, claiming, among other things, that she disapproved of the way that Fashion Police would mock celebrities' bodies and that "that [her] style does not fit with the creative direction of the show." (The real reason for her departure might be a little less laudable.)
"I'm just gonna say it wasn't a match on a lot of levels," Rivers told Kotb, also saying that Fashion Police will return to airwaves:
"We were a family, cast and crew . . . and we went back too soon. And just like a family, when the matriarch dies, the sisters started fighting; and someone tried to marry in — not a great match, live and learn. 'Fashion Police' was a little jewel and it was the last piece I had of my mother . . . I felt like all these people were so out of control, including the person who made the allegation about racism. They took the last thing I had and smashed it."
G/O Media may get a commission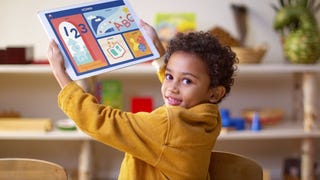 30-Day Free Trial
Homer Learn & Grow Program
I'm all for honoring the legacy of Joan Rivers, but Fashion Police—a show that barely cared about paying its writers—might not be the best way to do it.
[Page Six]
---
Well, this is grim: Two of Johnny Depp's pet dogs face potential euthanasia because the actor smuggled them into Australia—where he's shooting Pirates of the Caribbean 5: Drown Me Before There's Another Sequel—and failed to observe the country's 10-day pet quarantine law.

"Australian officials say Johnny and Amber Heard failed to declare [Yorkshire Terriers] Boo and Pistol when they arrived on a private jet last month," reports TMZ. "Under Australian law the dogs are supposed to be quarantined for a minimum of 10 days ... just to make sure they're not carrying any foreign diseases into the fragile ecosystem."

Australia's Agriculture minister has given Depp and Heard until Saturday to get the dogs out of the country. [TMZ]
---
Kim Richards of Real Housewives of Beverly Hills has been charged with public intoxication, resisting arrest and battery of a cop following her early morning, April 16 episode at the Beverly Hills Hotel, during which a drunk Kim—who now claims she was distraught after watching the RHOBH reunion (same)—was thrown out of a restaurant and arrested for disorderly conduct. She then, at the police station, kicked a cop. In for a penny, in for a pound, as they say. [People]

---
Photos via Getty, AP.
---
Contact the author at madeleine@jezebel.com.