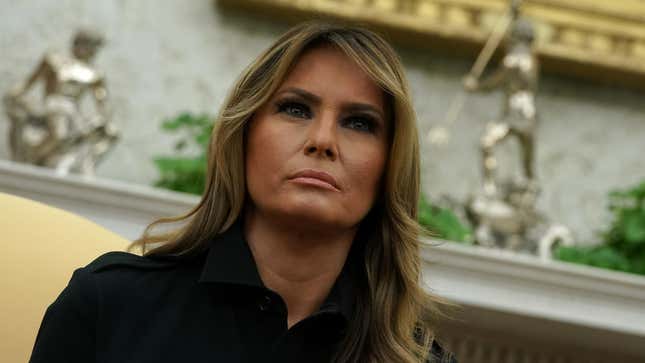 Nobody wants to ring the New York Stock Exchange bell with Melania Trump. At least, the parents of the United Nations International School in New York City don't want their children to, despite receiving an invitation to do just that.
The New York Daily News reports that parents received a notice from the school on September 16 asking their children to join the First Lady on a tour of the Stock Exchange and ring the opening bell with her. Parents are, in a word, pissed!
From the Daily News:
There is only room for 10 students on the tour, but that was enough to rile some parents who said they're concerned the kids will be used as political props.

"I am profoundly disappointed by the decision to accept this invitation," said one UN worker and parent in a letter to a UN undersecretary-general.


The parent added others are concerned the childrens' "appearance together with the First Lady confers, by extension, on this U.S. administration, the endorsement of our school and our community."
Parents also find UNIS's acceptance of this glorified photo opportunity strange considering the fact that the school arranged for grief counseling following President Trump's election.
The school, meanwhile, has no regrets about the decision. On Wednesday, the school sent a letter to concerned parents noting that they simply hope to embody the United Nation's mission of "giving voice to differing opinions and positions."
And somehow, the letter got worse (emphasis mine):
It was for this reason that we accepted the invitation from the United States Mission while making clear that any participation would be fully voluntary for families and students. In fact, over 90 families... volunteered to have their children be a part of the day. Please know that we view our participation as an opportunity to share the UNIS values with the First Lady. It is our intention to present a framed copy of the UNIS Mission Statement as a gift and as a reminder of who we are, what we represent and what we stand for.
Yes, I'm sure Melania Trump will view this as a life-altering experience and will treasure that framed copy of this New York private school's mission statement forever. It will not gather dust in the White House junk pile. She'll really take it to heart.