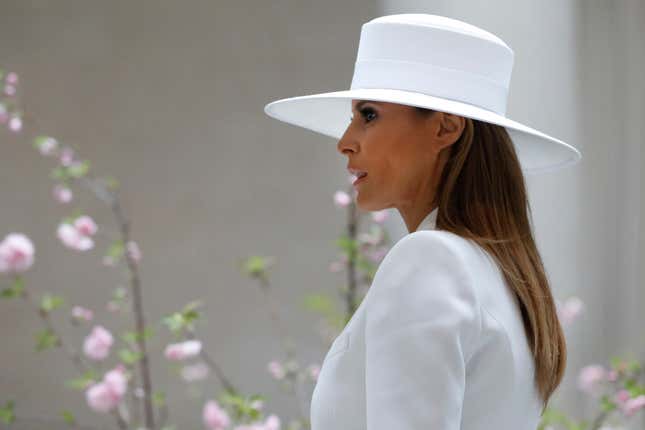 A bird flew into my window this morning, dying on impact. While burying it in the forest behind my house, I thought: "Perhaps this is an omen!" Then, as the wind rustled the ancient oaks around me in agreement, a push notification disturbed my solemn ritual. People was reporting that Melania Trump was officially planning the White House Christmas season. The poor bird's death was not been in vain!
A statement from the White House ominously proclaims:
First Lady Melania Trump and President Donald J. Trump will once again open the People's House up to the public for the traditional Christmas decorating of the White House.
No word on theme was announced, but a trail of hidden clues left behind by Melania indicate something even more diabolical than last year. On July 24, 2019 the First Lady released a series of images that previewed her "final vision."
G/O Media may get a commission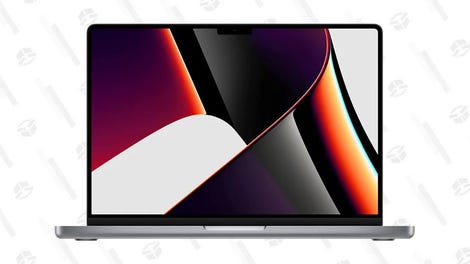 Save $300
2021 14" 1TB MacBook Pro
Having seen both National Treasure movies, I'm more than qualified to decipher this year's theme based on the treasure map left to me by Melania.
Computer, [enhance]: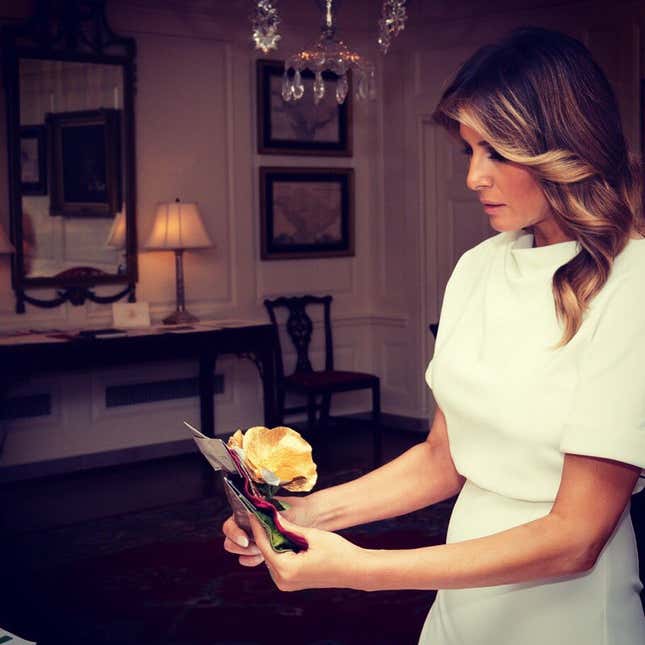 The orange flower seen above bears a striking resemblance to a (potentially dried) California poppy. I was immediately reminded of the sizable earthquakes that shook the Mojave desert for much of July. An ancient prophecy about the sixth seal to open after the return of the Four Horseman of Apocalypse warns of earthquakes in the end times. There's also a belief among native Californians that the annual poppy bloom resembles a wildfire. Last year, scientists predicted that the annual wildfire season would increase in devastation as temperatures rose globally. Spooky!
Computer, [enhance] and [rotate].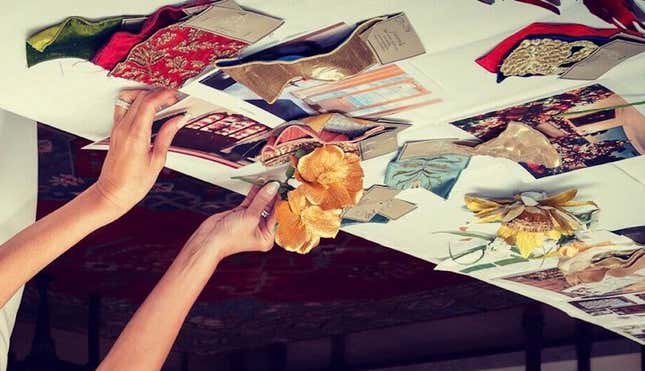 Moving past the haunting orange flowers, I'd like to focus on the green velvet swatch. Originally the color of life and its constant renewal, green has come to symbolize the petulant greed of the corporate-capitalist machine. Velvet, once a marker of luxury, has been re-commodified by fast fashion retailers for a variety of nefarious purposes. Could this be an ode to the slow destruction of our environment at the hands of massive corporations and their cheap, destructive products? I also spot a stained glass window—perhaps a church? Paired with the gold fabric and the ornate yellow-foil, perhaps this is symbolic of her gilded internal life and religious beliefs.
The various maroon fabrics speak to Melania's remembrance of last year's Ceremony of the Blood Trees. My eye was also drawn to the spotted pattern delicately placed over a saturated red cloth. While I believe those are sequins, it also evokes a leopard's spots. Leopards... endangered... climate change... Don Jr.'s hunting proclivities... wait. Is Melania Trump planning to sacrifice endangered species at this year's Christmas festivities?
Here are my conclusions: The walls will be painted with flames, green velvet carpet printed with Trump Dollars rolled down the White House hallways. Trees will be decorated in Catholic iconography where Mary and Jesus have been replaced by the President and First Lady. Worse: the skeletons of animals hunted by Donald Jr. and Eric Trump will hang in every room. There may or may not be a live animal sacrifice as water is flooded through every room to represent the devastation to our climate caused by the companies that have flourished under Trump's lax environmental policies. Fun!
I expect that the information revealed here is classified, and put you at great risk of harm via Christmas decoration. If—like me—you're unfazed by seasonal holiday omens: the White House officially opened up applications for "volunteers." See you there!