It turns out that hours of recorded conversations between Michael Cohen and Stephanie Winston Wolkoff—a former strategist, adviser, and "enforcer" to Melania Trump—were among the items seized last year during the FBI's raid of Cohen's home, hotel, and office. In fact, the Southern District of New York's current criminal investigation into the inauguration stemmed, at least in part, from these recordings, according to a report from Vanity Fair.
Ana Gasteyer Satirizes the Girl Boss in 'American Auto'
But for our purposes here, let us examine the other gossip included in the lengthy piece, which includes but is not limited to Wolkoff reportedly telling Trump rude things when the moment called for it. Like how she apparently thought that the title for the first lady's anti-bullying initiative sucked:
According to sources familiar with the conversations, Wolkoff told Melania and East Wing staffers that the name for her anti-bullying initiative, "Be Best," sounded illiterate. (The First Lady, according to these sources, feared that an alternative, "Children First," was too similar to her husband's "America First" branding.)
They were also reportedly at odds about the first lady's fucked up jacket:
They also disagreed about the infamous "I Really Don't Care, Do U?" jacket that the First Lady wore to the U.S.-Mexico border. (Melania, according to these sources, thought the trip would not get attention without such a brazen fashion gesture. In an interview with ABC News in October, she said that she wore the jacket for the media and people who were criticizing her, and wondered aloud whether the trip would have received similar attention without it.)
G/O Media may get a commission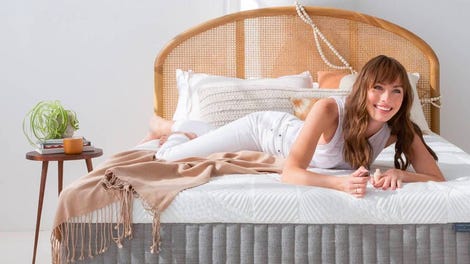 Sleep Sale
Sleep Sale - Brentwood Home
Things soon went sour for the friends, it seems. Last February, after the New York Times reported that the Trump Inaugural Committee paid $26 million to Wolkoff's firm and that the ensuing inauguration was a mess of grift and mismanagement, Wolkoff "refuted the characterization." (After reviewing bank statements, Vanity Fair reports that most of that money had gone to third-party vendors.) But according to Vanity Fair, Wolkoff "urged Melania to defend her" after the Times story went up. And well, apparently that didn't happen (emphasis mine):
A member of the White House Counsel's Office called her on February 20, 2018, to let her know that the White House would be terminating all gratuitous-services agreements, including hers. It had nothing to do with her work on the inauguration, this person told her. "I am sorry that the professional part of our relationship has come to an end, but I am comforted in the fact that our [friendship] far outweigh[s] politics," Melania wrote her in an e-mail later that day. "Thank you Again! Much love."

Later that evening, in a phone call, Wolkoff told the First Lady that she worried it appeared as if she had been fired on account of her work on the inauguration. The First Lady urged her not to be "dramatic." Less than a week later, however, the Times published a story stating that the severance of Wolkoff's contract had been "prompted by displeasure from the Trumps" over the $26 million payment.
Melania!
Read the Vanity Fair piece in its entirety here.