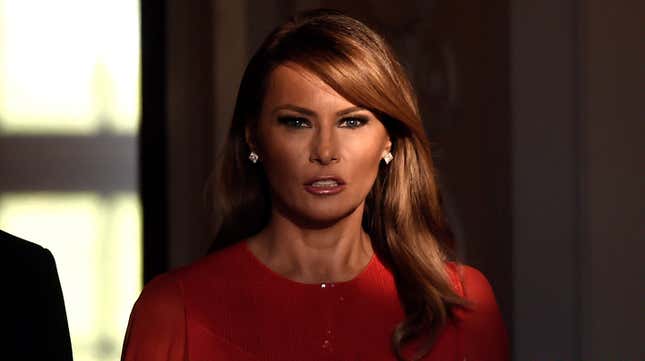 Sometimes, especially during times as terrible as our current moment, we get the morally dubious hero we deserve: Enter Stephanie Winston Wolkoff, the former planner of the Met Gala who organized Donald Trump's inaugural celebration and then became a senior adviser to her long-time friend Melania Trump only to be fired by the first lady in February of 2018. (Winston Wolkoff also memorably told Melania that her "Be Best" initiative sounded "illiterate.")
Wolkoff has also, for years now, been caught up in the many, many investigations into the murky dealings of Trump's inaugural committee. And in a wonderful development for the rest of us, she is apparently continuing to tattle on Melania and the rest of the Trump family at the behest of federal investigators.
Last October, Wolkoff was subpoenaed by federal prosecutors from the Southern District of New York and reportedly sent over a treasure trove of documents she'd saved related to the planning of the inauguration. Per Vanity Fair, we now find out that Wolkoff has turned over those same documents to the Washington D.C. attorney general's office:
Last month, Wolkoff received a subpoena from the Washington, D.C., attorney general's office, requesting documents related to President Trump's inauguration, which Wolkoff had a heavy hand in planning. The $107 million event has been under investigation for months, including by federal prosecutors in New York and New Jersey, for profligate spending and questions about foreign donations. The latest subpoena appears to be probing potential self-dealing by the Trump Organization and members of the president's family, according to two people familiar with the investigation.

Wolkoff complied with the request, according to these sources, by the July 26 deadline, which asked her to turn over records involving the inaugural event, the president's family and associates, and expenditures by the inaugural committee that could shine a light on whether the nonprofit group provided private benefits to the Trump Organization. The attorney general appears to be particularly interested in payments being made through the inaugural committee to Trump-owned businesses, and whether there was a fair bidding process for contractors.
Wolkoff signed a nondisclosure agreement, but she clearly wants to say more. "If the [Presidential Inaugural Committee] wants to release me from this obligation, I would be able to speak freely without the fear of legal or financial repercussions," she wrote in a statement to Vanity Fair. "Otherwise, I am regrettably unable to provide substantial comment."
Free Stephanie!