Welcome to Megyn Kelly Today, Today, a new daily column in which we will share the most memorable things that happened on Megyn Kelly Today every morning until we are no longer able to watch Megyn Kelly Today without feeling like there will be no tomorrow.
Megyn Kelly danced into her studio, a blindingly lit and oversized HomeGoods catalog brought to life, while wearing a mauve pussy bow blouse.

Megyn Kelly gave a brief description of what the show would be before saying, "Next we'll be dissecting the latest tweet from President Trump! Oh wait, we will not be doing that. The truth is I am done with politics for now."
Megyn Kelly shared one of her many mantras: "Don't waste time. Make right now matter."

Megyn Kelly revealed that being a lawyer was "good until it wasn't," then added that being a TV anchor was also "good until it wasn't." The audience laughed at that one.
Megyn Kelly explained why morning shows are better than evening shows: "I was missing too much of [my family.] And I was missing too much of myself."

Megyn Kelly said she had "dreamed" of hosting an "uplifting" show for a long time, and that the "mission" of Megyn Kelly Today is to "deliver hope and optimism and empowerment."
Megyn Kelly quoted John Denver.
Megyn Kelly quoted John Denver again.
Megyn Kelly paraphrased Don McLean.

Megyn Kelly's husband Doug surprised her by awkwardly stepping out of the studio audience and handing her a bouquet of roses. "That is so sweet," she said. "He's not a TV person."
The cast of Will & Grace walked onstage, and Megan Mullally quickly realized she and Megyn Kelly were wearing similar blouses.
Megyn Kelly said, "The physical humor of this show is one of it's best things. I'm looking at you, Sean."
Sean Hayes replied, "I'm looking back at you, Meg."
Megyn Kelly welcomed a Will & Grace superfan to the stage who is both gay and a lawyer and asked him, "Is it true that you became a lawyer—and became gay—because of Will?"

After the gay lawyer superfan revealed that he had won a trip to LA to watch a taping for Will & Grace, Megyn Kelly told him, "I don't know about the lawyer thing, but I think the Will & Grace thing and the gay thing are gonna work out great."
Because she used to be a lawyer. Which was good...until it wasn't.

Megyn Kelly shared clips during which the rest of the Today cast gave her advice.

Megyn Kelly rode a tandem bike with Al Roker, a great sport.

G/O Media may get a commission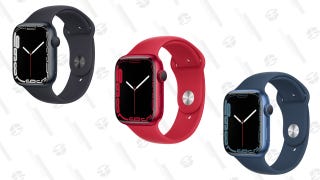 Up To $45 Off
Apple Watch Series 7
Hoda Kotb proved she is a great sport, too.
Megyn Kelly asked Kathie Lee Gifford for the "secret" to being a morning show host.
Kathie Lee Gifford responded, "Being authentic."
Bobby Finger went, "👀"
Kathie Lee Gifford hugged Megyn Kelly and said, "I wish you such success, honey. Mostly I wish you joy."

Megyn Kelly told the inspirational story of Sister Donna, a Chicago nun who tries to help reduce gun violence in her neighborhood.

Caldwell Banker presented Sister Donna with a check for $12,000 to continue her work.
Ace Hardware and Megyn Kelly completely botched the reveal of a second gift (a $10,000 Ace Hardware gift card) and the show abruptly cut to commercial.
Megyn Kelly ended her first episode.
Clip of the Day: