Fox News anchor Megyn Kelly is promoting a new memoir, Settle For More. In the process, she's talking a lot about her experiences being attacked by Donald Trump—namely, downplaying how terrible it was—and about her interactions with former Fox News CEO Roger Ailes, including why she kept silent for years after he sexually harassed her. It's a uniquely depressing real-time look at the mental gymnastics a woman has to do to be successful at Fox News.

Ana Gasteyer Satirizes the Girl Boss in 'American Auto'
We got to see Kelly's extremely pragmatic perspective on horrible men again on Good Morning America Tuesday, where George Stephanopoulos asked her first about Ailes, who was ousted from Fox after dozens of sexual harassment and abuse allegations.
Kelly explained that she "avoided Roger for six months" on the advice of her supervisor, after he aggressively sexually harassed her in his office, trying three times to kiss her.
"Sure enough, he stopped," she said. "We went on to have a healthy working relationship." Kelly added that "even I found hard to believe that he was a serial harasser" when Gretchen Carlson sued Ailes and the company for sexual harassment in July.
G/O Media may get a commission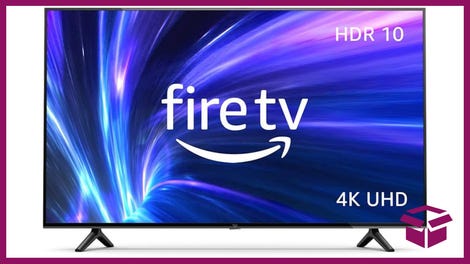 42% Off
Amazon Fire TV 50" 4K Smart TV
Kelly also writes in her book that Donald Trump offered her and other journalists gifts meant to sway their coverage. And she says that after she asked him about his treatment of women at a Republican primary debate and he began relentlessly publicly attacking her, her daughter grew terrified of him.
Kelly also, in a way, defended Trump's character, saying that while he attacked her in a way that showed he can be "vindictive," the fact that they eventually patched things up shows he's not that bad, really.
"My own experience with him proves he's able to let things go if he so chooses," she said. "He came after me like a dog with a bone for nine months but, finally, when I went to see him at Trump Tower, and, believe me, I was not conciliatory towards him, we got past it."
Kelly also revealed her thoughts on Breitbart chairman, white nationalist sympathizer and new White House appointee Steve Bannon: namely, that he's "controversial" but probably not that bad either.
"What I'm hearing is Steve Bannon will really be in charge," she added, placidly, "That he's the Trump whisperer."
"Even though he's not the chief of staff," Stephanopoulos asked.
"Yeah, this is an unusual situation, because normally the chief of staff is the one who is. What we're being told is that Steve Bannon will really have the ear of Donald Trump."
Kelly also said there's no evidence that Bannon is a white nationalist, and defended Breitbart as merely "provocative." And with that, we know now, for a certainty, that we can count on Megyn Kelly to defend Bannon and Trump, no matter what godawful shit they do next.