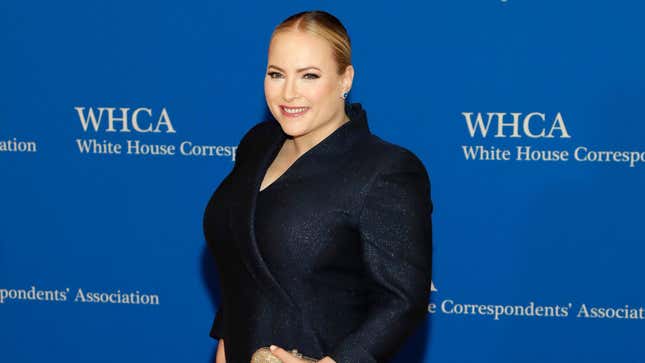 Since Meghan McCain gave birth to her second child with husband Ben Domenech, the Daily Mail columnist and—mind you!—daughter of the late Sen. John McCain (R-AZ) claims she's being pressured to take the diabetes medication Ozempic to shed the baby weight. In a Sunday column for the Daily Mail, McCain detailed the experience in a lengthy headline: "I just gave birth and I'm being urged to take a 'miracle shot' of Ozempic as a quick fix to melt away the baby weight... It's horrifying, unfair and disturbing—and I refuse." (That... is the headline.)

McCain continues by noting that she gave birth just four weeks ago and is "fielding all the usual questions: Is she sleeping? Am I sleeping?" But she's now fielding another one too: "Are you going on Ozempic?" According to McCain, not only is she hearing a lot about the medication, but she's even "even [being] offered a black market freebie by someone with 'extra shots' at home" of Ozempic.
I am, generally, highly disinterested in what this woman has to say about anything—especially since she traded her contentious seat at the table on The View for a weekly column in a tabloid better known for chronicling celeb nip slips. But I'm admittedly interested in this latest dispatch. Like all postpartum people, she shouldn't have to answer any questions or face any commentary, really, on her body, let alone pressure to take a drug—meant to treat people with diabetes—in order to induce weight loss. Many postpartum people are already struggling with depression and anxiety, and I highly doubt toxic comments about their bodies help with this.
As Jezebel's Kady Ruth Ashcraft previously reported, in recent months, TikTokers have popularized Ozempic as a weight loss miracle product. The craze reached a fever pitch when TikTokers began sharing DIY guides to making Ozempic at home with raw materials. In January, NBC reported that the medication has become so in demand for weight loss, that people who actually need it for their diabetes say they're struggling to access it. And now, per McCain's column, it seems the availability of Ozempic is escalating the pressure and scrutiny newly postpartum people already face to immediately "bounce back" to the pre-pregnancy form.
In the column, McCain identifies Ozempic as "a craze sweeping the nation" and "a new 'miracle' drug," then name-drops a handful of celebrities—Elon Musk, Chelsea Handler, Kyle Richards, for example—who openly take the drug.
"People who legitimately struggle with obesity and need Ozempic. But I am not one of those people," McCain wrote, adding that she's shocked and upset that "casual friends" and "industry acquaintances" have raised it to her.
"I'm told 'everyone is doing it,' as if that was ever a compelling case," McCain continued, adding: "Well, let me make one thing very clear. I'm not taking it. I refuse. There's a clear moral issue here. It's hard to take a drug because swimsuit season is around the corner, while others need it to stay alive. And how can this be healthy?" The woman clearly wants you to know she is above peer pressure, whether you're offering her a key bump in the bathroom of a nightclub or a "miracle" weight loss drug, and honestly, I'm surprised by how much I agree with this take from one of the world's foremost nepo babies.
Speaking of, between McCain's latest writing in the Daily Mail and her Instagram stories in December readily acknowledging nepo-baby-privilege, I'm really identifying with the "Heartbreaking: The Worst Person You Know Just Made A Great Point" meme these days. Not enough to overlook quite literally everything else this god-awful human has said and done, but enough to be mildly, pleasantly surprised.

McCain's previously spoken openly about her experiences with pregnancy and postpartum anxiety and has even invoked her personal experiences to advocate paid maternal leave—all while predictably opposing all the other rights and resources pregnant-capable and postpartum people should have. Of course, it seems very much worth noting that McCain only supported paid maternal leave when she experienced the lacking supports for new parents firsthand. The shift seems entirely consistent with how her politics, generally, seem to revolve entirely around herself.
Pregnant people really shouldn't have to put up with any pressure about their bodies and weight, and having a "miracle drug" metaphorically forced down their throats.