Duchess Meghan's father Thomas Markle appeared on Piers Morgan's talk show Monday morning for a friendly conversation and, you know, to make up for all the press coverage he's lost since the Royal Wedding, which he was unable to attend for health reasons.
During the interview, Markle caaaaaasually mentions that he has discussed President Donald Trump and Brexit with his new son-in-law on the phone in the past. "He's a smart guy," he says. "We talked a few times about Donald Trump and Brexit, things like that. He's an interesting guy."
"What were his views on Donald Trump, for example?" Morgan asks with a restrained glee, as though he knows what Markle is about to say because they've—I don't know—prepped for this exact moment.
MARKLE: Our conversation was, I was complaining I didn't like Donald Trump . He said, "Give Donald Trump a chance.' I sort of disagreed with that. But I still like Harry. That was his politics, I have my politics. We had conversations about it.

MORGAN: Do you think he's a Trump supporter?

MARKLE: I would hope not now. But at the time he might have been.

MORGAN: What were Prince Harry's views on Brexit?

MARKLE: It was just a loose conversation about something we have to try. There was no real commitment to it... I think he was open to the experiment.
I suspect Samantha Grant was waiting in the wings with her hands clasped together. "Perfect," she whispered when the cameras stopped rolling. "You were perfect."
---
Here's what happened between Tommy Lee and his son Brandon Lee in the past 14 hours:
Tommy Lee posted a photo of his late father to his Instagram account with a caption that read, in part: "I've fucked up at times but I've always bounced back... Sometimes I feel like I failed as a father, because my kids don't know the value of things... I know I'm not fully to blame, because their mom has a lot to do with it, enabling bad behavior and buying them things when they weren't good, but I guess I hoped at the end of the day they would end up kind. I love them dearly, don't get me wrong, but man, sometimes it's really tough to watch your kids grow up without those morals. Nothing can really prepare you for fatherhood .... I love my boys but they can be assholes too... and that's the truth (Cue Honest Guy music)"
Brandon Lee read that caption.
Brandon Lee posted a screengrab of that caption and added his own caption, which read "Remember what happened last time you said this shit? 🤔 night night 😴 You gotta show up to be a Dad big guy. If you think we're so bad (which I can assure you we are not) then you should have showed up to a few more BDays and baseball games. Someone like you couldn't raise a man like me. Once again painting our family in a negative light. Who the fuck are you? Just move on dude... WE ALL HAVE. ✌🏼or I'll put you right back to fuckin sleep 😴"
Brandon Lee posted a video of Tommy Lee appearing to be passed out in his underwear on the floor.
Brittany Furlan, Tommy Lee's fiancée, commented on the video, "Brandon…this is too much. Your dad loves you and you love your dad. Please stop. Everyone is clearly hurt. Enough is enough."
Brandon Lee responded, "Don't be a hero Britney. My dad needs another vodka Lemonade. Chop chop #enabler"
Bobby Finger said, "Yikes," and closed all the tabs.
[TMZ / Just Jared]

---
Here's a video of Katherine Heigl making her favorite chai latte.

G/O Media may get a commission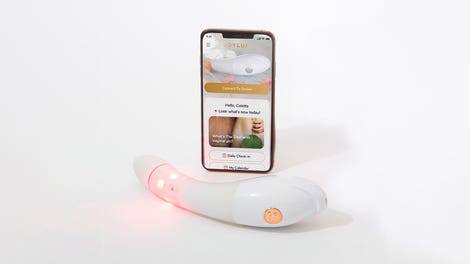 $50 Off
Joylux vFit Gold Device
---