It seems fair to assume that by now most people who use the internet are well aware of the fact that Megan Fox and Machine Gun Kelly are pretty fucking obsessed with each other. The couple's bold fits at their various red carpet appearances have kept them in the tabloids in recent months, as has their friendship with fellow tattooed boyfriend/pretty girlfriend it couple Travis Barker and Kourtney Kardashian.
In a joint interview published in British GQ on Monday, the couple shared the story of the first time that they met, a short and hazy meeting when they were introduced at a GQ party in Los Angeles a few years back.
'This weird thing happened,' says Fox. 'We didn't see each other.' She looks at him. 'Do you remember [seeing] my face?'

'That's what's crazy,' he says, 'I don't. I don't remember your face.'

'I don't remember your face... And I definitely would have remembered his face,' she continues. 'I just remember this tall, blond, ghostly creature and I looked up and I was like, "You smell like weed." He looked down at me and he was like, "I am weed." Then, I swear to God, he disappeared like a ninja in a smoke bomb.'
I won't lie, I laughed. It's even funnier upon realizing that Megan Fox was seemingly intrigued by this interaction, as I can't imagine having any other reaction than, well, laughing.
After that they texted some more and graduated to talking on the phone. 'Did you ever talk to a girl for three hours on the phone in your whole life?' Fox teases. 'Were you like, "How the fuck am I going to talk to her?"'

'It felt like five minutes, so it didn't even feel like three hours,' he responds. 'Even our first kiss, she wouldn't kiss me. We just put our lips right in front of each other and breathed each other's breath and then she just left.'
G/O Media may get a commission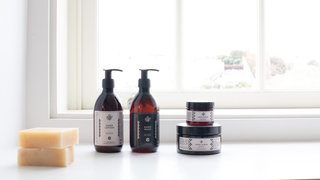 Exfoliate and Hydrate
The Handmade Soap Company
Does this or does this not sound like a scene that would've been included in circa 2010 Twilight fanfic?????
Other highlights of the interview include a moment when MGK mistakenly refers to his post-traumatic distress disorder as postpartum depression, and when the writer refers to Fox and Kelly's relationship as a "Gomez and Morticia Addams type of love."

Woah, woah, woahhhhh, let's not get wild here! Megan Fox as Morticia is a comparison I have no issues with (and a Halloween costume I hope she does one year), but Machine Gun Kelly can only dream of having a tenth of the dark and disturbing charm of Gomez Addams. Though to be fair, it's not at all a stretch to imagine MGK staring at Fox and saying "Look at her—I would die for her. I would kill for her. Either way, what bliss."
---
After 27 years, chef Bobby Flay is leaving Food Network (because they wouldn't give him more money than Guy Fieri). [People]
Rapper Tyga has been arrested on a felony domestic violence charge after his ex-girlfriend accused him of abuse. [Page Six]
Apparently, when North West is mad at her mom Kim Kardashian she calls their clinically white house "ugly," a reminder that the member of the Kardashian-West family with the best taste is an eight-year-old. [Page Six]

RHOBH Erika Jayne's messy legal battles have finally come back to bite Bravo in the ass, as the network is being subpoenaed for any unaired footage of Jayne and her estranged husband Tom Girardi. [Page Six]

These days, it's rarely a good sign when the only person on your side is Nicki Minaj. [E! News]