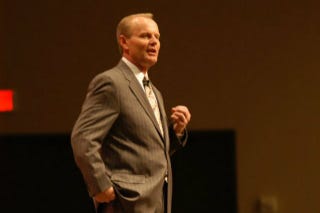 Steve Riggle is the pastor at a Houston-area megachurch, the unwieldily-named Grace Community Church The Woodlands. He's also very anti-gay, one of a group of pastors who flooded Houston's openly gay mayor Annise Parker's office with Bibles, accusing her of trying to take away their religious liberty during a debate over a city equal rights ordinance.
With that in mind, here's a delightful Facebook post from the church, which has since been removed:
Just a little whorship with Pastor Steve and the gang at KSBJ. Sometimes God truly does move in mysterious ways.
---
Contact the author at anna.merlan@jezebel.com.
Public PGP key
PGP fingerprint: 67B5 5767 9D6F 652E 8EFD 76F5 3CF0 DAF2 79E5 1FB6
Pastor Steve Riggle. Image via Facebook.