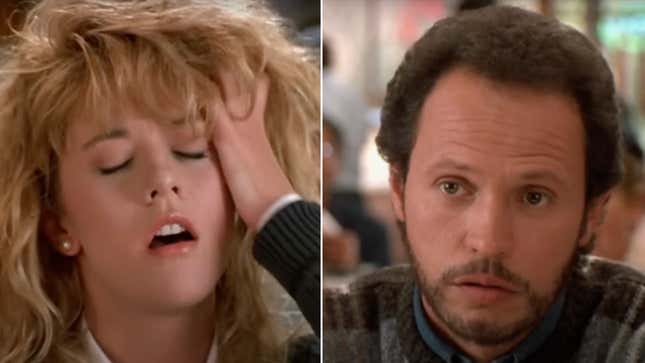 September is somehow here, meaning we're all about to see the seasonal and iconic When Harry Met Sally (1989) sweaters pop up everywhere—a source of comfort for most, but perhaps not for Meg Ryan's kids, who are apparently a little sheepish about some aspects of their mother's mega-hit.

Speaking to comedian Carol Burnett for Interview magazine to promote her upcoming movie this fall (her first in years!), Ryan, who portrayed Sally, recounted her son recently visiting Katz's Deli in New York City, where Ryan and co-star Billy Crystal filmed When Harry Met Sally's famous fake orgasm scene. In the scene, which Ryan recalled filming "over and over and over again," Sally explains to Harry that women fake orgasms all the time and offers a very loud demonstration of this as proof in the middle of a packed diner. The end of Sally's very vocal performance gives way to the famous line from Harry to the waitress: "I'll have what she's having."
Fast forward to today, well over 30 years since the movie came out: "It's funny, my son just called me this morning and he's in New York staying at a hotel that's right across the street from Katz's Deli," Ryan said. "My daughter was here and everybody was on speaker, and they were like, 'Mom, this is a very unique embarrassment.' He said, 'You know you can go into that deli and there's an arrow pointing down to the table where you shot that scene.'"
While Ryan's kids, son Jack Quaid and daughter Daisy True Ryan, are apparently mortified, Ryan herself is just curious. "I wonder if it's the right one," she said of the Katz's Deli table. I wonder too, Meg!
In the last three odd decades since the movie premiered, we as a culture have waded through many a ~discourse~ about the gender orgasm gap and devaluation of female pleasure. But arguably no amount of academic research or viral social media posts could ever be more compelling than Ryan and Crystal's banter at Katz's Deli. Meg Ryan, if I were your kid, I would be PROUD.