Last night was the annual meeting of the Society for Creative Anachronism, Phyllis Schlafly Chapter Miss America pageant. And it was... really weird? Weirder than usual, I mean. Downright zany, even! As in, the woman who won opted to play a red plastic cup as her talent.
Confession: I had the broadcast on, but muted, and was doing a pretty good job of ignoring this somehow still extant annual American ritual when I looked over and saw that there was a goddamn puppet on my television. That would be Miss Ohio, performing in the talent competition. In advance of the pageant, she told People magazine that her goal was to become the first ventriloquist Miss America. I think it would be fair to call her an instant crowd favorite:
Please do notice the little factoids that pop up during Miss Ohio's performance, which became a sideshow all their own. Because they were also strange! For instance, we learned that Miss Florida "slapped a shark as a kid" and "loves Waffle House." Another contestant was once chased by a cheetah in Zambia. (???) Also:
Stone Cold Jane Austin — there's a free mashup idea for you.
But then Miss New York, Kira Kazantsev, proceeded to sit on the stage in a jumpsuit and sing Pharrell's "Happy," accompanied by a red plastic cup as percussion. It was befuddling:
She explained to the AP that she was inspired by Pitch Perfect and provided some insight into her choice of performance:
"The reason why I chose to do that talent is I wanted every single little girl in America to be able to see that you can do that talent — you can do whatever talent you want on national television — even with a red cup — and still be Miss America and have the time of your life," Kazantsev said. "I literally in that minute and 30 seconds had the most fun I've ever had, and that's because I stayed true to myself and I did what I wanted to do for my talent, no matter what everybody else told me, and it paid off. I'm very happy about it."
G/O Media may get a commission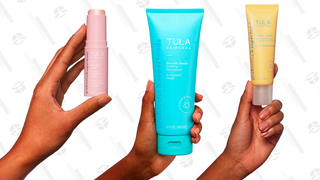 Little girls, you can do literally whatever you want and as long as you're the right type of woman, you'll still win the Miss America pageant.
The current events portion of the program tackled some pretty ambitious questions, ranging from women in politics to campus rape. Unfortunately, each contestant had just twenty seconds to blurt out a soundbite, which isn't really conducive to actual thoughtful responses. Oh, Kathy Ireland brought up Ray and Janay Rice and then phrased her question on the topic as: "As a woman, what do you think of her decision?" Oh, Kathy, let's not.
Anyway, I will leave you with this perfect photo of the moment Miss New York (yes, the cups girl won) realized she'd taken home the title. She was so overcome with emotion that Miss America 2014, Nina Davuluri (who most definitely did NOT sing "Happy" while sitting on the floor in a jumpsuit, accompanied by a red plastic cup), was barely able to secure the glittering crown on top of her head. The telecast closed as America watched on tenterhooks, waiting to see whether it would go careening to the ground and shatter into a million pieces.
Images via AP.