The Guardian has run a wonderful story today about Khabar Lahariya ("News Waves"), the only newspaper in India "staffed, edited and run entirely by women, mostly from low-caste, rural backgrounds," who publish local news in states where prevailing attitudes are that women maybe shouldn't do such work, and maybe they shouldn't even be coming home after dark.

It's not only staffed by women from top to bottom, according to cofounder Shalini Joshi, Khabar Lahariya has a specific feminist perspective on local news in Uttar Pradesh, Madhya Pradesh and Bihar. "We try to give women voices, and tell stories from their points of view when possible," she told the Guardian. "We have a whole page dedicated to women's issues in the paper and a women's column on the website."
Working on Khabar Lahariya has given women like Lakshmi Sharma, a video producer for the paper in Delhi, a sense of purpose and self-esteem:
Like most of the women who work for Khabar Lahariya, Sharma never thought she'd become a journalist. "I come from a village where women still live behind the purdah," she says, referring to the tradition of keeping women secluded. "When I started working, it was the first time I had ever left my house alone. By the time I took my year eight exams I was already married, and by the time I was 15 I had my first child. But I couldn't just sit at home and do housework all day."
Also, because their focus is on the increase in internet access across India over the past ten years, Khabar Lahariya's publishing philosophy is more forward thinking than about half the dailies and print pubs I can think of. :)
As smartphones and internet use increase in India's villages, Khabar Lahariya has adopted a digital-first strategy. Reporters are filing video reports, and instant updates on WhatsApp and Facebook, to reach new audiences. They have been trained and given smartphones so they can film, take pictures and send updates on developing stories instantly. Between April and June, the website received more than 700,000 hits, while the now-weekly print paper has a loyal readership of more than 50,000.
G/O Media may get a commission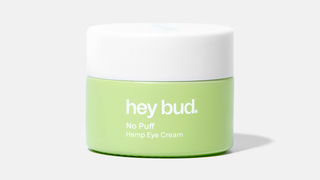 15% off
Hey Bud - No Puff Hemp Eye Cream
Please go read this story here!