Earlier this week, Vladimir Potanin bought Ford Models. But just who is this billionaire oligarch, media mogul, mining tycoon, philanthropist, and ex-politician? And what's the deal with Potanin's former partner and that whole prostitution-ring scandal?
I didn't know the answers to any of these questions, but turns out Potanin's is a fascinating tale of untrammeled capitalism, chess, and whoring. So, here are 15 Things I Learned On Nexis About Vladimir Potanin, Which I Bet You Did Not Know, Either:
1. His is not a rags-to-riches story. Vladimir Potanin, 51, was born into a wealthy and well-connected family. His father was a high-ranking official with the Ministry of Foreign Trade, and Potanin was largely raised outside of the U.S.S.R. He was educated at an elite Moscow university which groomed the children of top Communist officials for positions within the KGB or within government. Like his father, he began his career at the Ministry of Foreign Trade. His vast wealth originates from two right-time-right-place decisions: to found a company, Interros, in 1991, and a bank, United Export Import Bank (UNEXIM) in 1993. The New York Times reported that in 1993 in Moscow, a bank could be opened by anyone with "about $1.5 million in capital and an office"; UNEXIM soon became Russia's largest private bank. Potanin's partner in both enterprises, at least until a prostitution scandal forced their separation, was Mikhail Prokhorov.
2. Potanin really is extraordinarily wealthy. Interros has at various times accounted for between 2.5% and 4% of the Russian economy. He is ranked number 61 on this year's Forbes list of billionaires, with an estimated fortune of $10.3 billion.
3. Like any oligarch worthy of the name, Potanin sought and attained both political and economic power early on. Potanin and six other oligarchs master-minded Boris Yeltsin's 1996 re-election campaign, and Potanin joined the government as a sort of handmaiden for the interests of the wealthiest class. His political career culminated in his being named first deputy prime minister under Viktor Chernomyrdin, the Yeltsin-era prime minister who was famous for his near-Dubya-grade gift for malapropisms.
G/O Media may get a commission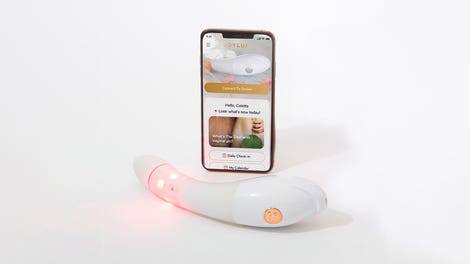 $50 Off
Joylux vFit Gold Device
4. The mid-1990s in Russia was a very good time to be in a liquid position. Potanin came up with a little scheme known as the "loans for shares" program that gave Interros some of the state's prime assets. As The South African Sunday Times explains:
In 1995 Potanin exploited his Kremlin ties, setting up what was described as a brilliantly self-serving scheme: Russian businessmen lent money to the cash-starved government in exchange for hugely undervalued shares in valuable state-owned companies.

When the government defaulted on the loans, it allowed tycoons like Potanin to retain ownership of these lucrative assets. These auctions were conducted in some secrecy and the oligarchs were branded the new "robber barons".
Some of the neat stuff Potanin bought? A 51% stake in the Sidanco oil company. Cost? $130 million. Two years later that holding was worth $3.2 billion. And Interros also bought a 38% stake in the mining conglomerate Norilsk Nickel for the bargain-basement price of $170 million. Norilsk Nickel today is worth around $28 billion. Vladimir Polevanov, a government official at the time, explains how Potanin set up the loans-for-shares to enrich himself:
You remember the situation with the budget by the end of 1994, don't you? There was no money to pay wages or pensions. Where could the state get the money? Western credits were not infinite, and increasing the external debt was dangerous. And then Vladimir Potanin, out of purely patriotic sentiments, proposed to the state that he would credit the state budget, but in exchange the state was to give him part of its property as collateral. He would be entitled to use this property until the state returned the money to him. Thus, the government consented to the pledge concept of privatization and gave UNEXIM Bank 38% of Norilsk Nickel, one of the richest enterprises in Russia. In exchange, the bank loaned $170 million to the state.

Q.: Who arrived at this calculation?

VP: It was a coordinated decision of the state and the bank, i.e. Potanin. And now, attention please! First, Norilsk Nickel's assets were assessed then as $12 billion (at that time the state also issued production worth $2.2 billion). Thus, compensation for almost 40% of the company's shares should have been not less than $4 billion. But the story does not end even there. UNEXIM Bank is not going to allocate even the notorious $170 million to the state budget. This money stays in this bank's accounts, since the bank is a plenipotentiary of the State Property Committee, and is being used in the turnover. The use of this money gives an $85-million yield. So let's sum up. UNEXIM gets a 38% share parcel of the richest enterprise in the state, pays not a coin to the budget, retains money in its accounts, and gets a good lucre. For all that, UNEXIM is beginning to earn income as a co-owner of Norilsk Nickel. How very good indeed, isn't it?...UNEXIM group has performed a splendiferous operation of humbugging the Russian state. As a result, our state purchased the richest enterprise from itself and granted it to UNEXIM, a private financial structure.
5. Mining, you may have heard, is not very good for the environment. Writes Mother Jones:
The Russian mining giant has ravaged the environment: Its excavations and smelters belch more than 5,000 tons of sulfur oxides into the air in Siberia every day, according to a report in the Guardian. Norilsk Nickel's soot, smoke, and wastewater have turned the local air sour and the snow black, and are destroying the surrounding tundra for hundreds of miles. What's more, the city of Norilsk was founded as a gulag, and the company's workers remain poorly treated, with their life expectancy below the Russian average.
6. So at this point, our man Potanin is into gold, oil, copper, nickel, a little platinum, and a lot of palladium. And banking. The media are next: through the late 90s and early 2000s, Interros added newspapers and television stations to its formidable holdings. Until 2005, Potanin owned the daily newspaper Izvestia. He summarily fired its editor, Raf Shakirov, after Izvestia's coverage of the Beslan school hostage crisis drew Putin's ire. According to the BBC, "Potanin changed his other most prominent paper — the once-politically daring Komsomolskaya Pravda — into a pro-Kremlin tabloid focusing on sensationalism rather than political reporting."
7. When the ruble collapsed, in 1998, UNEXIM Bank "became the first Russian institution ever to default on a Eurobond," wrote the St. Petersburg Times. "But founder Vladimir Potanin just shrugged, telling The Wall Street Journal, 'We like to be first.'" After defaulting on over $1 billion worth of bonds and his depositors' money, Potanin flew 100 of his closest friends to a lavish party in Courcheval, in the French Alps.
8. He's totally one of those middle-aged dudes who thinks a number two cut will camouflage his balding pate.


9. Potanin hosted "Kandidat" (the Russian "Apprentice"). Doesn't he look so impressively stern? Oligarchs-in-training competed for a position at Interros. Potanin was the wealthiest person to host any edition of "The Apprentice" — his fortune dwarfs Donald Trump's. He told unsuccessful contestants Вы уволены. "I want people, in particular the young, to understand that success in life and in business is not manna from heaven but the result of hard work, study and self-improvement," said the oligarch.
10. Potanin has been married to his wife, Natalia, since the early 1980s; they have a daughter and two sons. He keeps his private life verrrrrry private. He lives in an $8 million luxury Moscow apartment in a complex with its own ski run. He also spends a lot of time in the South of France, in London, and in Courcheval. Potanin speaks fluent French and English, but is said to be shy; he is friends with the British Labour politician Peter Mandelson.
11. About that prostitution scandal: in January of 2007, around the time Potanin was receiving the Order of Arts and Letters in France, his business partner, Mikhail Prokhorov, was one of 26 people arrested in Courcheval during a prostitution and sex-trafficking sting. Prokhorov was released four days later; he claimed the women were models, not prostitutes. He was never charged. The scandal was enough to motivate Prokhorov and Potanin to break up their multi-billion-dollar business empire, something which took them 18 months (and several lawsuits) to achieve.
12. Potanin has made himself into something of a patron of the arts. He is said to be a gifted player of chess, and he sits on the board of the Solomon R. Guggenheim Foundation. He bought the Kazimir Malevich painting "Black Square" and repatriated it to Russia.
13. That love of high culture did not stop Potanin, in 2007, from paying George Michael $4 million to play his birthday party.
14. "I must understand why people don't like me. I must learn not to be loved," Potanin told the Independent in 2004. The oligarchs are not hugely admired in Russia — might be the whole robber-baron thing, or perhaps the bank default, or just the sheer fact of accumulating so much private wealth in a nation where so many still live in poverty. Perhaps this is why Potanin announced earlier this year that he intends to give the lion's share of his fortune to charity, Warren Buffett-style. (Potanin runs a foundation, too.) He says his kids don't need it: "A million handed over from inheritance helps a person to receive a good education, find employment without haste and find himself. A transferred billion kills him and deprives him of the sense of life."
15. Before that happens, though, he'll take one Ford Models to go, please. Potanin's plans for the New York-based modeling agency — home to Crystal Renn, Anna Jagodzinska, Tao Okamoto, and Carmen Dell'Orefice — are unknown.