"What a night for women in politics," Tweeted Joe Scarborough. Most, though not all, were conservatives. Warning: in days ahead, you will be hearing the phrase "Mama Grizzly" more than any reasonable person can bear. A primer, after the jump.
Blanche Lincoln, Democratic Senator from Arkansas.
Lincoln prevailed in the primary in a tough year for incumbents, and despite a challenge mounted by a candidate backed by liberal groups, including labor and environmental activists. Aggressive campaigning by Bill Clinton is said to have done the trick. She's been in office since 1998, during which she's built a reputation as a moderate and as the so-called "Senator from Wal-Mart." She faces a tough general election fight. She has a mostly pro-choice record, though she did support the ban on so-called "partial-birth" abortion.
Nikki Haley, Republican nominee for South Carolina Governor.
Endorsements from Sarah Palin and former first lady Jenny Sanford helped Haley jump ahead in the polls, and last night she got 49 percent of the vote over three Republican candidates — though still not enough to avoid a run-off. She would be the first Indian-American governor of South Carolina and the second from that background in the region.
Two men said they'd had affairs with Haley, although no hard evidence ever emerged. She told The New York Times Tuesday, "We are a state of great people. We are a state of dirty politics." When they asked her about her candidacy's potential for breaking historical barriers, she said, "These stereotypes of South Carolina are very different from what South Carolina actually is. If I win, I want it to be historic in the nature that South Carolina is moving forward for reform." She's anti-choice, and has cited the fact that her husband was adopted.
G/O Media may get a commission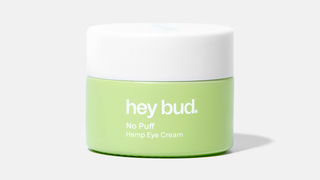 15% off
Hey Bud - No Puff Hemp Eye Cream
Carly Fiorina, Republican nominee for California Senator.
The only woman ever to lead a Fortune 20 company, Fiorina won the Republican nomination against a Tea Party candidate, and will face Barbara Boxer in an uphill battle. In the words of Peter Beinart, she "opposes the right to abortion, can't decide if global warming is real, won the endorsement of Sarah Palin, and according to the Times poll, trails Boxer by the same margin Campbell leads her." Specifically, she's earned an "A" rating from the National Right To Life Committee and been endorsed by the Susan B. Anthony List.
Meg Whitman, Republican nominee for California Governor.
The billionaire former chief executive of eBay beat the state insurance commissioner in the California Republican primary, and will now face former governor Jerry Brown. According to PoliticsDaily, "Though Whitman favors public financing of abortions, she is favored by 2-1 in the primary by voters who describe themselves as 'born again Christian,' according to the Field Poll." She supports parental notification laws and the Hyde amendment.
According to the Los Angeles Times, neither Fiorina nor Whitman "touted her gender overtly on the campaign trail, but Whitman embraced it Tuesday night as she greeted supporters near Universal Studios. 'Career politicians in Sacramento and Washington, D.C., be warned - you now face your worst nightmare; two businesswomen from the real world who know how to create jobs, balance budgets and get things done!' she said."
Sharron Angle, Republican nominee for Senator from Nevada.
Senate Majority leader Harry Reid was hoping to face off against this rather extreme candidate, who beat out two establishment Republicans (including another woman). Her positions include privatizing Social Security, getting rid of the Department of Energy, and deregulating Wall Street. She also has a fraction of the funds that Reid commands. According to The Wall Street Journal, "In a recent radio interview she called Felipe Calderon, the Mexican president who has generally friendly relations with the United States, a 'despot' and a 'tyrant.'" She's also anti-choice.
Kamala Harris, Democratic nominee for Attorney General of California.
Per The Daily Beast, if she wins the race for California Attorney General, San Francisco DA Kamala Harris would be the first woman to hold that office. Of African-American and Indian-American descent, Harris was referred to by Gwen Ifill as "the female Barack Obama." Los Angeles County District attorney Steve Cooley is said to be a formidable opponent in a battle that will be fought on issues like prison reform, immigration law, and gay rights. The position of California AG could be a jumping off point to even higher-profile roles. She's pro-choice, by the way, and issues she's foregrounded include marriage equality, free legal clinics for immigrants, and fighting sex trafficking. Bonus: Tyra Banks endorsed her!
Palin's Backing Pays Off For Pals [Politico]
Whitman, Fiorina Cruise To Victories [LAT]
Lincoln Bucks Tide [NYT]
Relief and Celebration After a Tough Campaign [NYT]
harron Angle To Face Harry Reid In Nevada Senate Race [WSJ]
How Nikki Haley And Blanche Lincoln Pulled Off Their Astonishing Victories [Slate]
California Election Results: GOP Winners WIll Be Hard To Elect [Daily Beast]
Kamala Harris, The Female Obama, Wins Primary For CA Attorney General [Daily Beast]
Women Rule Primary Night [Daily Beast]