Kim Kardashian is not exactly a go-to source for opinions on viable political candidates. But with her latest endorsement of Marianne Williamson, she's joined a growing roster of celebrities who want this already famous spiritual leader to become a political one, by winning a spot in the House of Representatives for California's 33rd District.
"I went to hear @mariannewilliamson speak the other night w @kourtneykardash & @rachel_roy. Very inspiring! To learn more about her go to MarianneForCongress.com #vote#june3rd" Kardashian wrote on Instagram along with photos of herself, her sister Kourtney and designer Rachel Roy at a fundraiser held for Williamson on Tuesday in Los Angeles.
Two Kardashians and one designer weren't the only ones there of note. Nicole Richie showed her support, as did Katy Perry, who was sporting newly green hair. Williamson has also been endorsed by Jane Lynch, Frances Fisher, Eva Longoria and Dennis Kucinich. The 33rd District of California that she's running in is home to many, many other rich and famous individuals; it includes wealthy LA neighborhoods like Beverly Hills, the Pacific Palisades, Malibu, Santa Monica and Venice. It's not hard to believe then, that, according to Bloomberg Businessweek, the 33rd is one of the richest districts in the country:
...it has the highest per capita income, $60,000 per year, and the highest median home value, $911,000, of any district in the country. It's rich, white, and liberal; Barack Obama carried more than 60 percent of the vote in both his races, and the district gave millions to his campaign. The 33rd is home to donors such as Jeffrey Katzenberg and Haim Saban and a host of other liberal billionaires. Whoever controls the 33rd becomes a power broker: Almost every Democratic candidate with national aspirations stops in to tap the ATM.
G/O Media may get a commission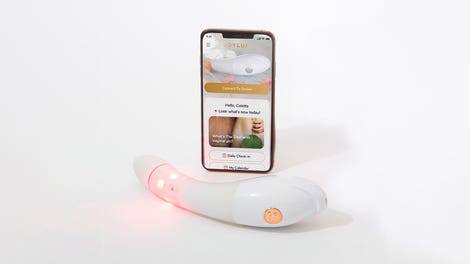 $50 Off
Joylux vFit Gold Device
Despite the wealth that she has and that surrounds her, Williamson calls disconnecting money from politics "the greatest moral challenge of our generation." She still needs it to win however: she's reportedly raised a million dollars so far and her campaign spokeswoman told BuzzFeed, "Marianne's really been an advocate for young woman, and these are Hollywood influencers. She's bringing those kinds of women and influencers out who usually aren't politically active to become politically engaged."
In December 2012, Williamson wrote a blog post encouraging women to get involved in politics because they could positively change the system. "...there are understandable reasons for the lack of female participation in our electoral politics, not the least of which is that the entire political system is contrary to everything a feminine heart stands for," she wrote. "It lacks inclusion. It lacks poetry. It doesn't nurture. It doesn't love. And without those things, the feminine psyche disconnects.
"I want to be a cheerleader for women who have never considered running for office or being involved in a campaign, but who in the quietness of their hearts might think, 'Why not me?'" she added.
Besides her feminine touch, why does Williamson have all these celebrities in her pocket? Because she's a celebrity too, albeit one who is less of a household name. Williamson's book A Return to Love, published in 1992, was one of the first books endorsed by Oprah. (Oprah has described Williamson as "a spiritual friend and counselor" to her.) Williamson has sold millions of books but Return to Love is described on her website as "a must-read of The New Spirituality." This paragraph from it "is considered an anthem for a contemporary generation of seekers":
Our deepest fear is not that we are inadequate. Our deepest fear is that we are powerful beyond measure. It is our light, not our darkness, that most frightens us. We ask ourselves, who am I to be brilliant, gorgeous, talented, fabulous? Actually, who are you not to be? You are a child of God. Your playing small doesn't serve the world. There's nothing enlightened about shrinking so that other people won't feel insecure around you. We are all meant to shine, as children do. We were born to make manifest the glory of God that is within us. It's not just in some of us; it's in everyone. And as we let our own light shine, we unconsciously give other people permission to do the same. As we're liberated from our own fear, our presence automatically liberates others.
Why move into government then? If love is her game, she's certainly got her work cut out for her in the political realm. On her website for Congress, Williamson (who is running as an Independent but who says as a life-long democrat she would caucus with that party) says she wants to run for Congress because "America has gone off the democratic rails. A toxic brew of shrinking civil liberties, expanding corporate influence and domestic surveillance is poisoning our democracy."
While Williamson list of issues she'd like to tackle is murky (her statements thus far include mentions of our nation's history of segregation, GMOs, issues with the prison system and, again, the "undue influence of money") and her policy propositions are few, her odds of winning greatly improved in January when incumbent Henry Waxman announced he would not be seeking reelection. California primaries don't fall along party lines, so if Waxman comes in first or second in this June's primary, she will make it into the general election for the fall, regardless of the fact that she's running as an Independent. But despite name recognition, she's facing issues; she's already gone through a few campaign managers, perhaps because she's got such a different way of doing things than the other politicians out there. For instance, if you'd like to raise money for Williamson, you can host a yoga fundraiser.
Some are concerned Williamson's celebrity connections will actually hold her back. "...at the end of the day, no matter how many stars are stumping for you, it's hard to get your message to voters when Katy Perry's Suno crop-top or Nicole Richie's crazy-colored hair are always stealing the spotlight," wrote Erin Cunningham at The Daily Beast, referring to headlines about the clothes that both wore to Williamson's event this week. But what if it's a really cool crop top?