Rumors of "cheap speed" prescriptions and speculation about cocaine use notwithstanding, celebrity real estate developer and Republican presidential candidate Donald Trump enjoys a decades-old reputation as a teetotaler. That did not, however, stop him from employing a convicted cocaine trafficker in the 1980s.
In October 1985, Joseph Weichselbaum, the general manager of the helicopter service that shuttled VIPs to and from Trump's Atlantic City casinos, was named in an 18-count indictment accusing him of being a marijuana and cocaine trafficker. Convicted of grand larceny and embezzlement in the '70s, Weichselbaum, prosecutors stated, "was a felon even before becoming a drug dealer." (According to Spy magazine, Weichselbaum's firm also maintained, stored, and flew Trump's personal helicopter, Ivana.)
The 1985 indictment alleged that Weichselbaum ran his narcotics operation from Miami, where he would buy kilos of cocaine from two Colombian brothers, Francisco and Walter Ramirez, which he would then sell to smaller dealers in the parking lot of a car dealership owned by his younger brother. The customers would then distribute the drugs in Ohio, Kentucky, and North Carolina, prosecutors alleged. In court filings obtained by the Smoking Gun, Weichselbaum's lawyer argued that his client had gotten into drug trafficking as a result of his "addiction to cocaine, compounded by an extremely stressful marriage."
For all his flaws, Weichselbaum was forthright enough to tell the Trump Organization about the criminal charges filed against him in federal court in Ohio immediately following his arrest, giving the developer the opportunity to cut ties with the alleged narcotics trafficker. (New Jersey casino owners were required to distance themselves from criminal elements, and ran the risk of losing their gambling license if they did not.) However, according to investigative reporter Wayne Barrett, regulators with the state's Division of Gaming Enforcement failed to press the issue. Two months after the 1985 indictment was unsealed, Trump began renting a two-bedroom coop unit in Trump Plaza in Manhattan directly to Weichselbaum. He also wrote a pre-sentencing letter—first disclosed in Barrett's 1992 biography, Trump: The Deals and the Downfall—vouching for the coke-addled drug dealer in 1986, calling him "conscientious, forthright, and diligent" and "a credit to the community."
(Four years later, according to DGE files, Trump told investigators that he "could not recall if he had written any letters of reference to the federal judge who sentenced Weichselbaum." When presented with a copy of the letter, he "acknowledged that it bears his signature," but he "could not recall who asked him to write the letter of reference.")
G/O Media may get a commission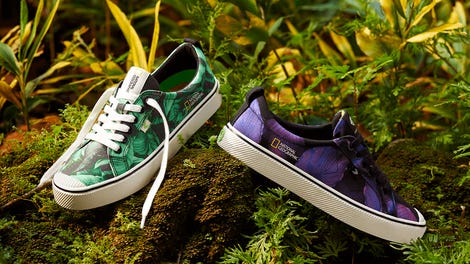 New New New
Cariuma + National Geographic
Weichselbaum was sentenced to three years in prison and served just 18 months before receiving early release, while the others charged in the same indictment got as many as 20 years. After Weichselbaum was released, he moved into Trump Tower with his girlfriend, who had just bought two adjoining apartments there for $2.4 million. According to investigative reporter David Cay Johnston, the payment was made in cash, leaving no public record of where the money came from or if anything even changed hands. (Weichselbaum and his upstairs neighbor were very close: He told his probation officer about Trump's affair with Marla Maples long before the tabloids found out, the Smoking Gun reports.) And Trump didn't just put Weichselbaum up after he got out of prison: He also continued paying the helicopter company—which had declared bankruptcy twice—$180,000 a month, despite having purchased three helicopters of his own, to form Trump Air.
"Trump has never been known to use drugs or even drink," Johnston recalled earlier this year. "What motivated him to risk his valuable license by standing up for a drug trafficker remains unclear to this day." Spy had a theory: Trump was paying Weichselbaum not just for his helicopter services but for his connections to the drug world, which provided access to the kinds of amenities not listed in brochures, which a certain class of clientele would expect to be supplied at no additional charge.
"Sure, I was offered coke gambling down there," one high roller, referring to the Trump Plaza and Trump Castle, told Spy in 1991. And a Castle employee confirmed that VIPs were supplied with cocaine at parties: "It happened all the time."