Sue Taylor is an African-American grandmother who runs three miles a day and describes her late 60s as the time of her life. She's a retired Catholic school principal living in Berkeley, California, who wears pearls and stylish pantsuits, holds a divinity school degree, and attributes her "perfect health" to marijuana, which she uses orally and topically for pain relief and better sleep. She says her spiritual journey has led her to realize her soul's purpose: to connect the elderly with weed. She's on a national mission to do just that.
Sue obviously isn't anyone's stereotypical pot user, and she says that's one reason she's the perfect candidate to approach seniors about pot. She sits on the Commission on Aging in Alameda County and visits retirement homes and senior groups, hosting seminars locally and nationally to educate people about various cannabis medicine options. Sue is one of just two people certified through the State of California to educate senior living facility staff and caregivers about medical marijuana, which means that nurses and facility directors who take her classes can receive continuing education units toward their yearly certifications.
If you told Sue Taylor 20 years ago that she'd be doing all of this, she probably would have laughed in your face. She, like many, was raised with the Reefer Madness-esque scare tactics of the (failed and disastrous) war on drugs. For most of her life, she believed marijuana was a hard and deadly drug. She also knew that as a woman raising black sons in America, pot was unsafe territory that led to arrests and ruined lives.

Then one day Sue got a life-altering phone call from her son, Jamal, when she was living in Atlanta, Georgia writing a parenting handbook. Jamal told her he'd been attending the first-ever marijuana industry trade school, Oaksterdam University, which teaches students to grow, sell and advocate for marijuana medicine. In Oakland, as in the rest of California, the use of cannabis for medical purposes is legal with a doctor's recommendation. He said he'd figured out how she could open the metaphysical holistic center she'd dreamed of opening for years.

G/O Media may get a commission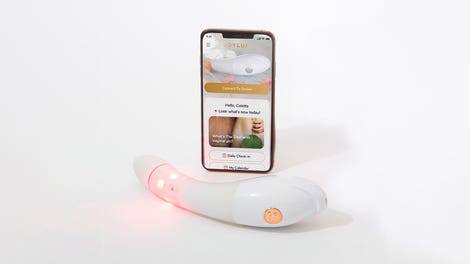 $50 Off
Joylux vFit Gold Device
Sue remembers her son saying, "You could have yoga and acupuncture and meditation, all that, and it would be funded by cannabis." She wasn't even sure what cannabis was.
"I said, 'Are you talking about that marijuana stuff?' And he says, 'Yeah, mom. I've been learning it's medicine.'" Jamal sent his mom pages and pages of information about medical pot.
She read it, but wasn't convinced. "I said, 'Oh my God, this boy...I sent him to Catholic school all of his life, and then he calls to tell me he wanna sell weed?"
Frantic and worried that she was losing her son to drugs, Sue hopped a plane to Oakland to "save him." But then, in Oakland, with her son's encouragement, Sue began to meet and talk with professionals in the cannabis industry—scientists, advocates, dispensary workers. She learned that no one has ever died from cannabis ingestion or overdose, and that hundreds of medical studies of the herb have proven its potential. She learned that cannabis has been used for healing for thousands of years to treat pain, nausea, inflammation and other symptoms. She also learned that it's generally safer and often more effective than synthetic pharmaceutical drugs, especially for the elderly—and much cheaper, too.
But nothing convinced her of weed's medicinal potential more than the patients she met. Eventually, their stories of personal healing—from everything from chronic pain to cancer—changed her outlook on the herb.
Sue laughs when she tells the story now.
"If I was gonna be the messenger, the senior face of medical cannabis, the universe knew it had to grab one of my children," she said. "That's the only way I would have gotten involved in it. It caught my attention, you see? Nothing else would have caught my attention, and nobody."
She began volunteering for the large Oakland cannabis collective, Harborside Health Center, teaching people in their 70s, 80s and 90s about how pot works. She said she's always careful to tell anyone she speaks with she's not a doctor and has no medical advice. She instructs them to keep their MDs informed of their choice to use cannabis, and not to go off of any pills until their doctor gives the go-ahead.
Now Sue is in the process of opening Berkeley, California's fourth cannabis club, iCANN Health Center. Sue is a founding partner and director of iCANN, which is primarily geared towards seniors. She said it will also serve African-Americans and other minority populations that have generally been marginalized in the cannabis scene. The City of Berkeley selected iCann in May from a pool of six applicants, and Sue thinks they were chosen because iCANN is the first club focused on serving the senior demographic. It's also the first pot club in the area run by a multi-generational, mixed-race group that includes a black family.
The process leading up to iCANN has been, at times, financially and emotionally devastating for Sue. About nine years ago she poured her life's savings, as well as investments from several family members, into a cannabis club endeavor in Los Angeles right before the US Drug Enforcement Administration (DEA) cracked down on the region's pot collectives. While a number of collectives defied the mandate and kept their doors open—on the gamble that they likely wouldn't face any serious charges—Sue says she and her family suspected that, because they're black, they would be the first targets for arrest and further government crackdown. So, they closed their doors. When she tells this story, she cries.
Her story speaks to an insidious trend in the burgeoning pot industry: white men are profiting hugely, while women and people of color remain marginalized. Cannabis continues to be the fastest growing industry in the US, and reports about its soaring profits and endless investment opps are everywhere. Yet the painful history—and continuation, according to recent FBI statistics—of racially targeted marijuana arrests, and the thousands of people still serving long sentences for pot-crimes, are rarely mentioned. Decades of dedicated underground culture and activism—the legalization movement—that have made the industry a reality in the first place, are often overlooked. Michelle Alexander, law professor and bestselling author of The New Jim Crow:Mass Incarceration in the Age of Colorblindness spotlighted the racial disparities of the industry in 2014 after Colorado and Washington made the unprecedented move to legalize adult-use marijuana.
"In many ways the imagery doesn't sit right," she said in a public conversation in 2014 with Asha Bandele of the Drug Policy Alliance. "Here are white men poised to run big marijuana businesses, dreaming of cashing in big—big money, big businesses selling weed—after 40 years of impoverished black kids getting prison time for selling weed, and their families and futures destroyed. Now, white men are planning to get rich doing precisely the same thing?"
The last two years haven't shown much change in that trend, and Sue remains an outlier in an industry that is becoming increasingly whitewashed. But, she says, the adversity and fear that she confronts in her work are all the more reason to keep going "in the name of compassion."
Sue Taylor spoke with Jezebel about the realities of being a black woman with black children in the pot industry, and the incredible potential of cannabis medicine to help seniors, who are now the fastest-growing demographic in the market.
---
Thanks for speaking with me again. The last time we spoke was in 2014, and you were working with Harborside Health Center. Now you're opening iCANN. I know you've had some setbacks as well as breakthroughs. Could you talk about why you've kept going with your mission to educate seniors about cannabis?
The same love and care I had for my students and parents has now gone to seniors. I want to bring awareness that there are alternatives to pharmaceutical drugs, and to empower people, whatever their age, so they can experience a meaningful, high quality of life. It's not, "When you turn 60 life's a bitch and then you die." That's not true.
I am approaching 69 and I am happier now than I've ever been. You don't find many women this age saying that. This is the time of my life. I'm having the time of my life because I'm doing passionate work. I'm helping a demographic that most people have forgotten about.
You know, they told my sister, "You don't need another colonoscopy, you're approaching 70." In other words, "You're just gonna be dying anyway." That's the trend for anybody who's over 60, 70, 80 and 90. But I want to bring awareness that seniors are pearls of wisdom. They are wisdom keepers, but that respect's gone missing. You see this in the pharmaceutical approach: "Just give them anything—give them a pill, that'll fix it." There's something wrong in that.
When I'm working with seniors and they first come to me, most of them are on 15 to 20 pills, when they really sought out a pill for maybe two ailments, say high blood pressure and cholesterol. Then, say the cholesterol pill caused their heart to go out so now they gotta take a heart pill. The heart pill caused their liver to act up, so now they gotta go on a liver pill. The high blood pressure pill made their thyroid go off, so now they have to take a pill for their thyroid.
For each one of those pills, the side effects cause more problems. And usually it's their adult children who come to me, and they say, "My mom or dad is on all these pills, and I heard marijuana might help."
I say first thing, make your doctor fully aware you're gonna be using cannabis. Just make them aware of it—doesn't matter if the doctor agrees or not. They start using cannabis, go back to the doctor, and the doctor starts taking them off pills. Six months later, the doctor eliminates more pills. I tell them don't go off of any pills unless your doctor says to. This does two things: It ensures people are safe, and it makes the doctor aware of the cannabis as medicine. I cannot turn my back on cannabis because of the healing I've seen that plant do. Pharmaceuticals save a lot of lives, and for temporary reasons, they are wonderful. But they're not meant to manage health on a long-term basis, and that's what we're using them for. And it's actually causing more devastation.
Right, pharmaceuticals are often designed to quiet symptoms, and not actually promote physical bodily healing. But it appears—and there are proven examples with pain, with cancer, with epilepsy in children, and the list goes on—that cannabis is actually helping the body to heal itself.
Exactly. And it's because of the endocannabinoid system.
[Author's note: The endocannabinoid system is a group of neuromodulatory lipids and receptors that exist in the human brain to regulate a number of physiological processes like pain, mood, appetite, memory and more. The scientific reason cannabis can help with such a wide range of symptoms is the way it interacts directly with the brain's endocannabinoid system. Here is an extensive introduction to the endocannabinoid system.]
Do you educate people about the endocannabinoid system?
Yes, and I do it in layperson's terminology that makes sense. I've taken doctor's information on cannabinoids with me, but, God, they make it so you can't understand it. And I get the basics of it. The endocannabinoid system regulates balance in your body. Cannabis does the same thing. And here we've been told weed makes black people and Mexicans go out and rape people, you know? That's what I was told.
You've said in the past you were raised to view cannabis through the lens of Reefer Madness. Can you talk about how you came around?
Yeah. I saw the cannabis, marijuana, back in the day as a hardcore drug. I'm a law-abiding citizen and I don't believe in breaking the law. It was a drug I was afraid of. And I still battle with some of that subconscious stuff—that it's a drug, like morphine. That's why I say to you, the reason I'm in this cannabis industry is because it's divinely inspired. It came from the divine. My son Jamal brought the cannabis to me.
You're a woman of color, and I'm assuming your son is a man of color. There's a huge racial disparity in this country when it comes to who gets arrested for drugs. From what I know—and from people I've talked to in communities of color in Oakland and elsewhere—it can be daunting or impossible to get involved with marijuana businesses because of the way the black and brown communities have been treated by the police and justice system when it comes to pot. Did you want to say anything about that?
Mhmm. Yes, I do. It's quite prevalent now, and I'm glad you asked the question. I've been working with, um—let's see, I want to be careful what I say because I wanna protect people's anonymity—with individual white males who are in the industry, and I mention to them that the rules aren't the same for African Americans. I tell them if my son was doing the exact same cultivating and vending as they are, the rules wouldn't be the same.
I have one friend, a white man who I met about a month ago, who drives around with tons of cannabis, vending it to different dispensaries. They haven't been stopped, they have a lot of cannabis plants, and they've been doing this for a long time. And I said, my son Jamal can't do that, because he'll be arrested. Two of his friends, both black, have been arrested for legal work in the industry. One got arrested last week in Mendocino County. The other one had two pounds, and got arrested. He's facing a felony now—for vending.
But when I mentioned that to two fellows in the same line of work who are white, they didn't get it. They had no knowledge of the difference with race. They don't get it, because it doesn't happen to them, you know? They don't get that if you're driving while black, the cops stop you. And maybe you have a bag of weed. They bring you in and they say, "Hey, you look like that black guy that robbed that liquor store last week. You meet the description: You're black and you've got curly hair." So they roll him for that, too.
So it's hard for black entrepreneurs to come into this business. Lots of people just say no, we don't deal with that. One of the reasons why I want this dispensary is because it will be a place other entrepreneurs and African Americans can see: we can invest in this business. It's a lucrative business, why can't we have a piece of the pie?
Is it harder, in your experience, to bring cannabis education to people of color, because of their reasonable fear that the industry will be different for them?
It can be. But I've been successful at re-education partly because of who I am and how I look. And the number one reason I keep doing it is because I genuinely care about humankind. I made a conscious decision a long time ago to make this world a better place because Sue Taylor lived. I've made a lot of money in my day, and I've lost it all. I lost all of my life's savings on this venture. But what I've gained is invaluable.
My family is still waiting on their returns—they don't see it like I do. But once I start generating the income that's deserving of this industry, I can pay all my family members back for the help they've given me for this venture, and to help me live, and all of that.
You mentioned how some dispensaries and co-ops in LA at the time when you shut down decided to stay open as a sort of civil disobedience. But you didn't feel you could, because of race?
That's right. All the other people are saying "We opened up 5 times and got shut down." They didn't go to jail, but I know my son would go to jail. And we're not jail people. This child has been upper-middle-class all his life, and we've done things the right way.
But sometimes when I see people who are not of color just raking in the dollars from the underground, and then to see us struggling to move forward and get the permit—and it's been so hard, it's been nine years. But it still doesn't stop us. It all goes back to making people realize who they really are, and that they deserve to create and feel good. Life is all good, and it's just waiting for you to participate in it. And that's true at any age, from 20 to 94. I mentor 94-year-old women and they mentor me. I love those wisdom keepers.
Was there any particular instance that made you realize the connection between marijuana medicine and helping seniors?
The short of the story is Steven DeAngelo [head of Harborside Health Center] said, "I want to work with you and I want you to do senior outreach, but I want you to do it for free." I worked for him for a year for free, talking to seniors about medical cannabis. And the more and more I did that, the more convinced I became. I was bringing them into Harborside, I had a chance to see the medicine, and people would use the medicine and they would come back.
And 80-year-old women and men would say "Ms. Sue, Ms. Sue! I'm not on any pharmaceutical drugs, I'm just on the cannabis and I'm doing great."
I heard story after story after story. I remember a woman early on who came in and said, "My mom had stage four cancer. She doesn't have it anymore. The cells stopped with the use of cannabis oil, and my mom's body is cancer free."
And I just said, "I can't turn my back on that."
What have been the challenges as far as senior living facilities actually allowing cannabis to their residents?

The biggest challenge is, a lot of those places use federal money, and they're afraid that they're gonna lose their license or funding. What they don't realize is nobody has drawn back their money or anything like that. But they're afraid because they're used to following the rules.
Some [senior living facilities and caregivers] do not want, nor do they have a protocol on how, to store the cannabis. They're worried about storage. So, I say to them, you store it like you do the Vicodin and Oxycodone and morphine, substances that are familiar.
The other thing that's challenging for them is the dosage. What you might take might be totally different from what I might take, you see. It's kind of trial and error. So I've been going into the facilities and talking to the families, usually the children, who become the caregivers. They go get the medicine—or they can have it delivered—and then they give it to their parents, or the parents take it on their own.
Seniors make up 14% of the population but account for 30% of the nation's prescription drug use. What are the ways cannabis can help this group?
With the aging process comes illness, so there are so many ways cannabis can help. Most seniors use cannabis for sleep and for pain. The cannabis helps with arthritis as a topical rub or bath salts. It can be used for tension in the body. It helps with type II diabetes, it helps with anxiety, sleep and pain, dementia—and so many things. And of course, it helps with cancer.
Every day I hear of a specific ailment in the senior population that cannabis can help. And, again, I am not a doctor, and I have no medical training, and I say that to everyone. I tell them to consult their doctors, and tell their doctors about their process. I'm just sharing what I've seen.
Was it ever hard or scary to do this work?
I must tell you, there were times when I was doing this, I was scared to death. I'd go to meetings like the Commission on Aging in other counties, like Silicon Valley, and I'd go in there— the only black face among all these well-to-do white people sitting at the table. And my mind would start playing tricks on me and say, "Yeah, here you are, the only black person in the room, peddling drugs. They're gonna say you're a drug peddler from Oakland."
All this was on my mind. I started going, "Oh my god, how did I get into this. I'm packing up my stuff and I'm getting out of here. This is embarrassing, people are gonna judge me."
So I'd stop and I'd talk to myself on the spot: "You said you were gonna do this, you said you were gonna make the world a better place. You've seen the healing that it does. You need to stand up and say who you are and why you've come."
I had to do that self-talk over and over again to make myself—now I'm gonna cry—to make myself vulnerable enough. To make myself vulnerable to the criticism of the other people. Vulnerable enough to be judged. To be reverent enough from inside to say I was inspired by something even deeper than my sons: to make a difference. And I'm still here. And do I have the money I need to continue on? No, I don't have it. Do I have the money in my bank account? No, I don't. But I will continue on for as long as I need to, to pay all those people back that I owe, and to make a difference and to bring to the world an awareness that seniors are not to be thrown somewhere, left to die. They are to be honored as wisdom keepers that they are.
---
April M. Short is an award-winning freelance journalist, yoga teacher and vocal feminist based in Portland, Oregon. She writes for national and local outlets about drugs, health and social justice. She is a part-time editor at AlterNet.org and previously managed their drugs and personal health sections.
Top image courtesy of Sue Taylor, other photos courtesy of Jesse Andrew Clark