Tiffany Trump, a Trump, shared an opulent portrait of herself made entirely of Swarovski crystals on her Instagram account Sunday. The photo was captioned, "Thank you @mrblingcolombia for including me in one of your incredible pieces of art! ♡💎♡." If you're wondering, "who the hell is Mr. Bling?" you're not alone.
Mauricio Benitez, seen sitting next to Trump, goes by Mr. Bling, a Colombian artist who works exclusively with Swarovski crystals to create pieces of art one would either find endearingly gaudy or endlessly tacky. One of the earliest bits of media attention Mr. Bling received was in 2013 when he created a Swarovski crystal portrait of soccer star Lionel Messi, valued at around $50 million.
Mr. Bling has since created countless art pieces for and of celebrities, and his Instagram account is the ultimate archive of his work (and hilariously lavish lifestyle). Though many of his nearly 49,000 followers are likely bots (the follower count doesn't match the engagement), that hasn't seemed to have much of an impact on getting commissioned and noticed by athletes and celebrities.
For example, Alex Rodriguez reportedly gifted Jennifer Lopez this massive portrait of herself, courtesy of Mr. Bling, for her wild 50th birthday celebration in July.
G/O Media may get a commission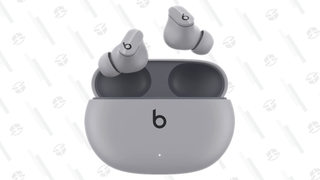 But he also appears to do plenty of celebrity portraits just for the hell of it, for example, this portrait of Rihanna:
Or this one of Prince Harry and Meghan Markle.
And here's this one, of the ruler of Dubai, Sheikh Mohammed bin Rashid Al Maktoum:
And there are his zillion portraits of the Kardashian/Jenner clan:

He really loves them!
Perhaps too much.
So that is Mr. Bling. An artist for the stars... and Tiffany Trump!