A writer who chooses to construct an oral history is deliberately creating a legend. Rather than stand as the objective, omniscient narrative voice of journalism, the writer cedes the floor to those who were there, those who were most affected, and—in the case of Meet Me In The Bathroom—those who were the most fucked up and infected with passion. The oral history isn't an account of what happened, but how it feels like things happened. As the now-overused quote goes, "When the legend becomes fact, print the legend."
This new oral history from writer Lizzy Goodman takes essentially every major and minor player in New York's early 2000s rock scene and piles on quote after quote until the reader is absolutely convinced that NYC circa 2002 was an inimitable, once-in-a-lifetime event and you just had to be there. As Goodman, whose entry point to the scene was working in a restaurant with Strokes guitarist Nick Valensi, notes in her introduction:
The Strokes and their like were coconspirators, comrades in the pursuit of "youth and abandon," the shorthand a few friends and I used to describe those nights that started as Tuesdays and ended up as Jim Jarmusch movies: vodka sodas and pizza and dress-up at someone's house, followed by drinks at whatever bar we had a friend working at that night, followed by Interpol with ten other people at some dank after-hours club with moldy carpeting, followed by disco fries at the diner, followed by wearing last night's makeup to ten A.M. class.
The Strokes are the centerpiece of this project, the band that initially the city and then the world caught onto with the hopes that they would erase vulgar rap-rock upstarts like Limp Bizkit and return "real music" to America. Every member of the group was model-attractive and well-dressed, with singer Julian Casablancas in particular giving off that tough, unknowable Lou-Reed vibe that only seems to originate in Manhattan.
These musicians, along with Interpol and the Yeah Yeah Yeahs, gave New York something to be proud of in the immediate aftermath of 9/11. As writer Jason Gordon says in the book, "People wanted to look at New York, they wanted to celebrate New York, and the Strokes were at the center of that. Here was this true New York band." Is This It?, Turn on the Bright Lights, and Fever to Tell still hold up as groundbreaking rock albums today, and they're more than worthy of 600 breezy pages of energized exploration.
G/O Media may get a commission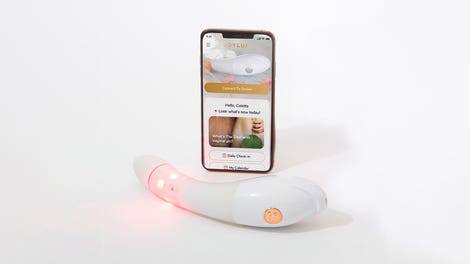 $50 Off
Joylux vFit Gold Device
Goodman chronicles every notable East Village event of that era, from seminal concerts to meetings of icons to seemingly every time Interpol's Paul Banks did cocaine. She moves through the book in a generally chronological manner, but there's so much going on that the reader primarily receives a swirling, colorful portrait of influential artists crafting transcendent work on a nightly basis. There's the Strokes' star-making Halloween set at the Hammerstein Ballroom, or the Yeah Yeah Yeahs lifting up Brooklyn with a 2002 performance of "Our Time," or—somewhat lost in the rock superstardom of the others—James Murphy of LCD Soundsystem birthing a new dance-punk movement.
Some might look at these bands' careers and expect a traditional rise-and-fall narrative of artists that couldn't deliver on the extreme hype built around their scene. Goodman avoids artificially imposing anything like this, but lets the reader draw an easy contrast between a group like The White Stripes and the instantly famous groups out of New York City. For The Strokes, in Goodman's retelling, there was barely even a rise—just an adoring, passionate crowd of fans from the very beginning.
For artists like Detroit's Jack White or LCD Soundsystem's James Murphy, working more on the margins, there were years of obscurity and belief that no one cared about their art. Most of the NYC bands included here haven't made relevant albums in several years, and by these accounts, got a little too caught up in the hedonism of the scene. White and Murphy, meanwhile, continue to be two of the biggest names in music outside of the mainstream pop world.
But Meet Me In The Bathroom isn't a morality tale or a gossipy script for Behind the Music, nor is it an insider's analysis of the music itself. Even on a narrative level, it struggles a bit to connect the dots, letting the Strokes dissolve into Vampire Weekend without any clear declaration of cause-and-effect. Goodman's oral history covers the 2000s "Disneyfication" of Manhattan, and the Internet's role in breaking down barriers between separate music scenes, but more than anything, it provides a space for fans to be appreciative of the music they loved.
Though nearly every artist comes off as an asshole at some point or another throughout this book, Goodman takes care to showcase the love and support that must have been necessary to build such a vibrant community of bands. James Murphy loves The Rapture. Rap kids love The White Stripes. TV on the Radio loves the Yeah Yeah Yeahs. Vampire Weekend loves The Walkmen. The Strokes love Regina Spektor. Everyone loves The Strokes.
This book may not be intended as a book of myth, but fandom turns us all into mythmakers. Is This It?, the Strokes' debut, is that gateway album that's especially good at creating nostalgia for the first time you discovered good music as a kid. It transports you into hyperbolic territory, drunkenly yelling things like "If you don't like the Strokes then you don't have a soul!" even if they were just a cool guitar band with a few perfectly written songs.
"I'll be walking into a store somewhere random and one of their songs will come on overhead and it paralyzes me. I get choked up thinking about those guys and how awesome they were," says Kimya Dawson of The Moldy Peaches, eulogizing a band that is still very much alive and just released new music last year.
But for one generation, The Strokes became synonymous with New York rock and its legendary promise of unlimited potential and a home for everyone. The music of their era still welcomes new fans, its songs imbued with imagination and freedom. It's music that should be immortalized.
"We were all—every kid in the crowd and every person on stage—chasing the same thing: a feeling of rebellion, of possibility, of promise, of chaos," Goodman writes in the intro. New York has changed since the late '90s, but nationwide, these feelings still live on.