Musicians often have a muse, whether it's a person, place, thing or idea—and for Jimi Hendrix, it was Lithofayne Pridgon. She was the woman he could never quite date exclusively, because she was too free spirited to be tied to one man; Hendrix's frustration at loving her alongside singers Sam Cooke and Little Willie John inspired "Foxy Lady."
Born and raised in a part of Georgia called the Dirty Spoon, Pridgon, who shared her story with the Guardian (who also has great pictures of her), was reared by her grandmother, who may or may not have been the illegitimate child of Henry Ford.
"Old man Henry Ford is supposed to have been my great granddaddy," Lithofayne says. Although the Ford lineage was never definitely proven, her grandmother had a sizeable portfolio of land in Moultrie for reasons that couldn't be explained ...
At 15 years old, Pridgon met Little Willie John, "the missing link between big band-era rhythm and blues and the performer-driven soul music of the 60s." He was 17.
"My mama was going with the band leader," says Lithofayne. "So that's how I met Willie. My first kiss and everything. And his daddy was travelling with him. I remember he had a silver streak through his hair. Teenager, and his daddy had a silver streak through his hair, so he had a silver streak through his hair."
G/O Media may get a commission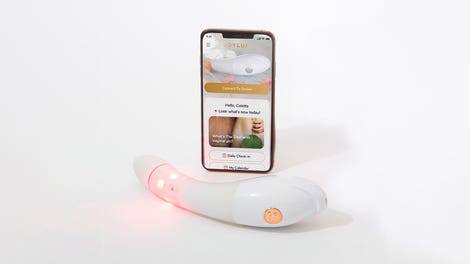 $50 Off
Joylux vFit Gold Device
On her way to meet Willie John at a show, she met James Brown, with whom she remained friends and went on tour with later. Eventually, Willie John took her to Harlem, where she stayed in the hotel above Minton's Playhouse and was introduced to Sam Cooke at a free love swingers party thrown by a retired cop named "Cripple Lou" who was "missing some toes." Willie John told everyone that she was with him, but that didn't stop Cooke from putting them moves on Pridgon on a quiet New York evening.
"He reached out and snatched my hand," she says. "I was startled at first." She recognised him from the silhouette cast by the light of the street lamps. "Immediately, when I saw it was him, it was like all the fear was gone. When he pulled me close to him and kissed me, hell yeah, I just melted in his arms."
It was the 1960s, and Pridgon was dating both Little Willie John and Cooke while running with other musicians, hustlers, drug dealers and, later, "fun fun cops" who shook down people to bring her the leftover pharmaceuticals. At a party in 1962 thrown by Jack "Fat Man" Taylor, a big Harlem drug player, she met Jimi Hendrix, a struggling guitarist—this was before he made Are You Experienced and stopped perming his hair.
"I liked skinny, raw-boned, over-fucked, underfed-looking guys," she laughs. Hendrix, she says, was "my type".
She and Hendrix had a one-night stand of sorts at Fat Man's party and then ran into each other again outside of the Apollo one year later; Pridgon was there to see Cooke, and Hendrix was trying to get a job. But in that moment, the two began their torrid and frustrating love affair—while she was still seeing Willie John and Cooke, of course.
"They were all totally different than the songs they sang. They could sing the hell out of some love song," Pridgon says. "But, as we used to say back then, they were all from city to city and titty to titty. That side of them appealed to me, because I always loved womanisers."
Their polyamory worked because Pridgon was polyamorous as well, falling in and out of love every week, as her mother put it. But for Jimi, her free love ethos was too much. He was "insanely jealous" and when he'd come into town from playing in some far off place, he'd comb the streets for her.
"If he couldn't find me," Lithofayne recalls, "Everybody in Harlem knew he was looking for me." She would visit her usual haunts and people would tell her, "Girl, Jimi, was by here, you better go."
Ultimately, though he never admitted it, his desire for Pridgon was recorded in "Foxy Lady," where Jimi sings about sexual desire and monogamy, which she never gave him. And then there's the "Faye Tape" that Sotheby's in London was selling, which contains Hendrix freestyle singing about Pridgon at his New York City apartment with bits of "Hey Joe" thrown in.
While waiting for her to arrive, he began to spontaneously commit to tape his deepest thoughts and feelings for her. The recording lasts about as long as it probably took her to get there. Towards the end, he improvises a line: "I can hear her footsteps coming down the hall". Soon after, the machine shuts off.
Now in her seventies, Pridgon has many other stories to tell. She was inseparable from the mercurial Etta James and stayed with Sly Stone at his trippiest. At her core, Pridgon is a gem. She is a woman who knew herself and how she wanted to live her life all those years ago, and did it, regardless of how many dudes in crushed velvet jackets tried to push her off course.
Image via Getty.