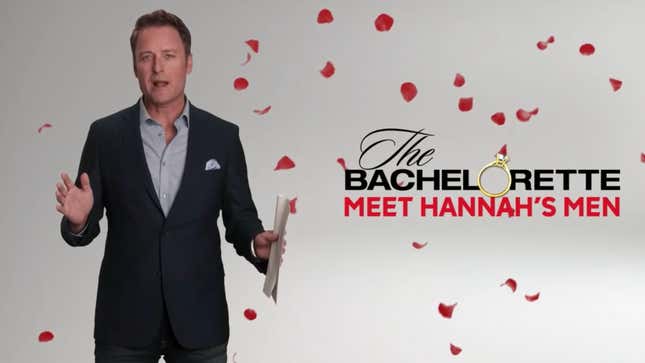 In case you're not totally pumped for the forthcoming Bachelorette, starring Hannah Brown from Colton Underwood's train wreck of a Bachelor season, don't fret. ABC has a few tricks up its sleeves, including a teaser introduction of all of her contestants, as described by host Chris Harrison.

Because these are all hot people subjecting themselves to the reality television gauntlet, it's only fair we judge them based on the two to four facts a 16-minute Bachelor Nation YouTube video provides. Let's get into it.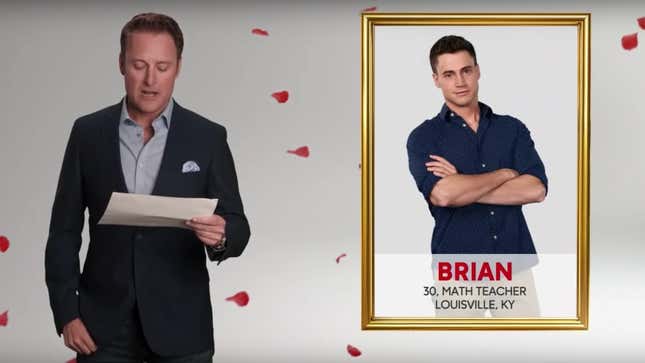 Harrison says 30-year-old Louisville, KY math teacher Brian "looses his words" over Hannah, which seems like a hard thing to do, since she's notoriously inarticulate. It's gonna be a quiet season.
G/O Media may get a commission
25% Off
Coleman SaluSpa Inflatable Hot Tub Spa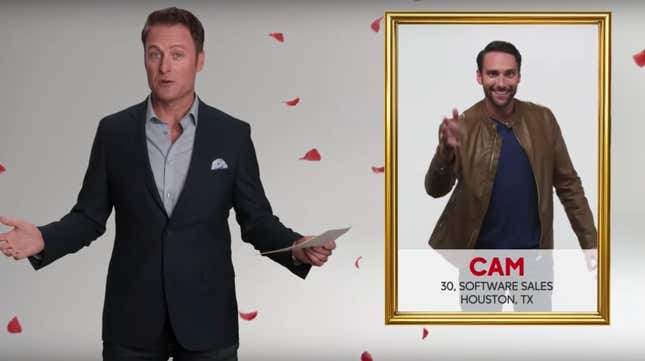 My first thought was "this man is chaotic evil" and then Harrison said he raps so.... run, Hannah, run.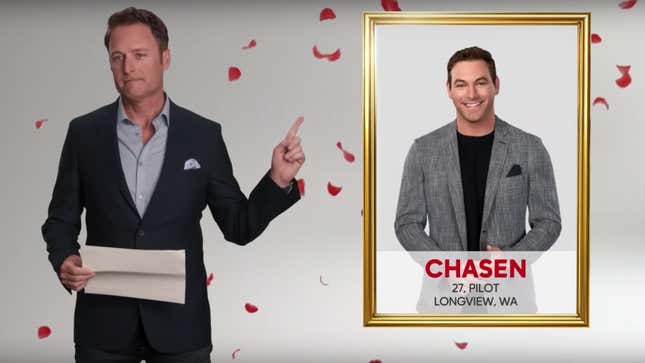 Chasen (is that a name?) is one of two pilots this season. He looks like he's going to win. But what do I know?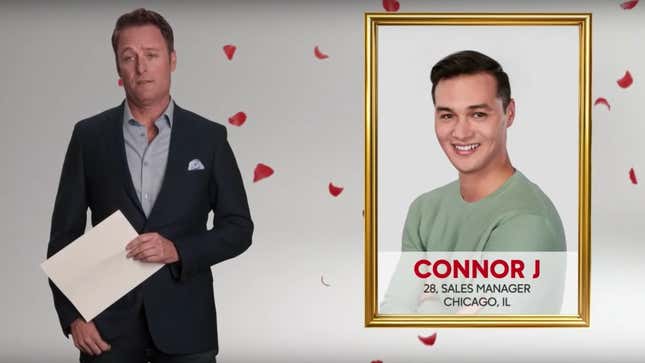 Was this photograph taken 70 years ago? The Bachelor franchise's politics are straight from the 1950s, it only makes sense that one of Hannah's contestants would be, too. Did they have color photography when Connor was drafted?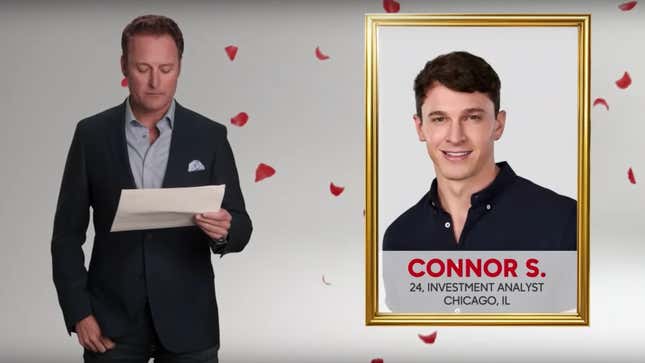 Are Connors the new Laurens?
Chris Harrison says Daron had a hard time getting into the mansion on night one, which I assume means he's struggling with an internal conflict. That would make him marriage material, because you've gotta be a little bit wild and unruly to subject yourself to this show. Just a thought.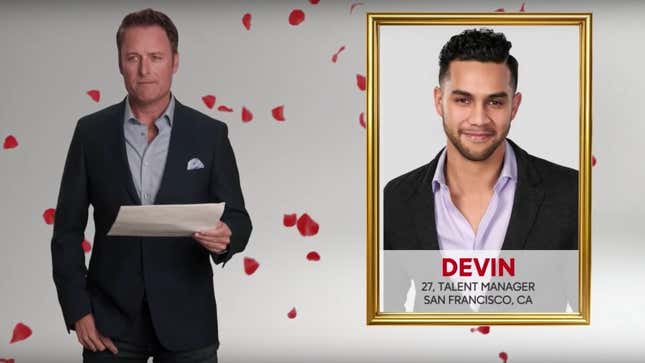 Chris Harrison says Devin mocks Colton Underwood's virginity on night one, which will probably get him sent home, but I am ready for the inappropriate humor.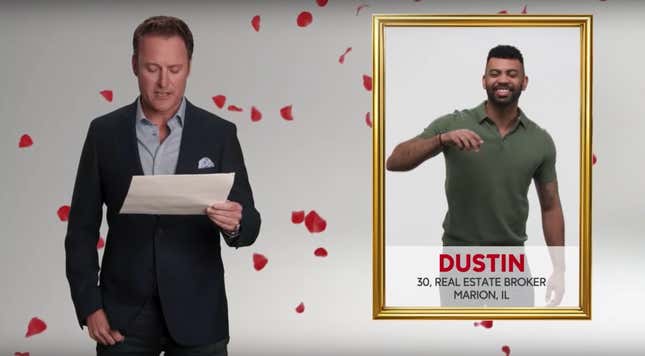 I like Dustin. He's kinda dorky.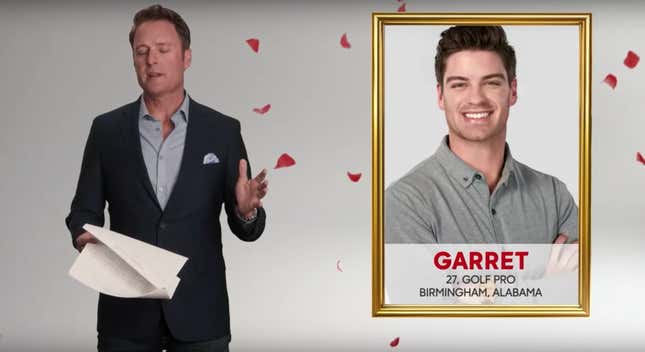 This guy is going to win. Roll tide.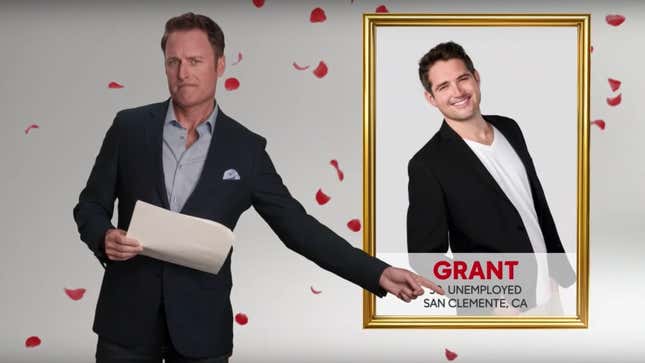 He's not.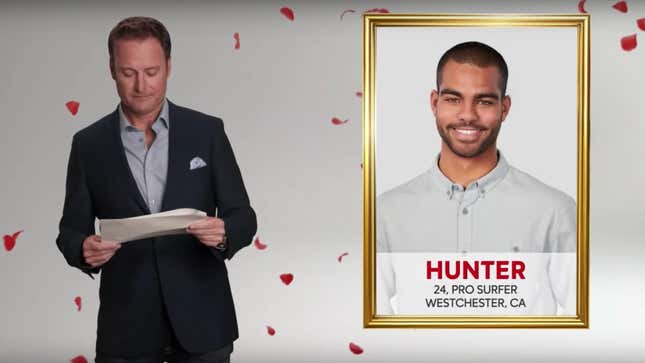 And neither is he, though he should.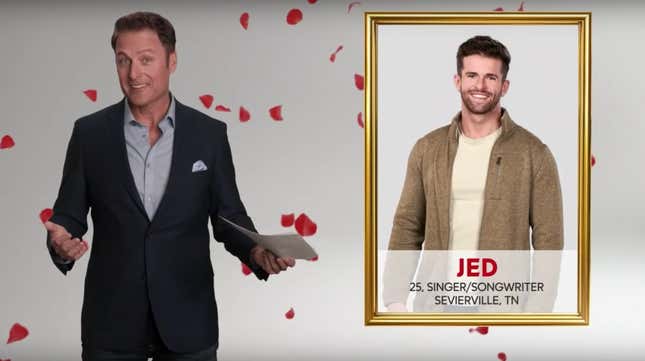 I respect this man for doing the noble thing: going on one of the most popular television shows, nationally, to promote his country-folk EP. So brave.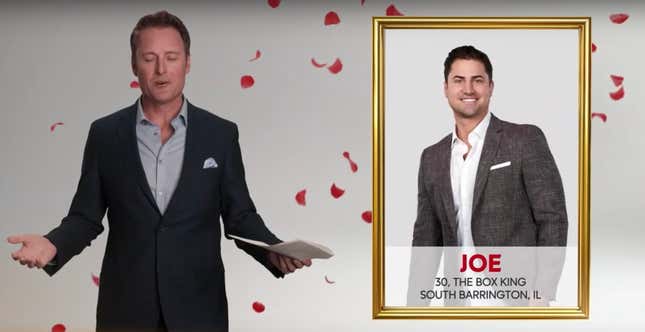 There is no way this man doesn't jump out of a giant box the first night. He must. He's the Box King.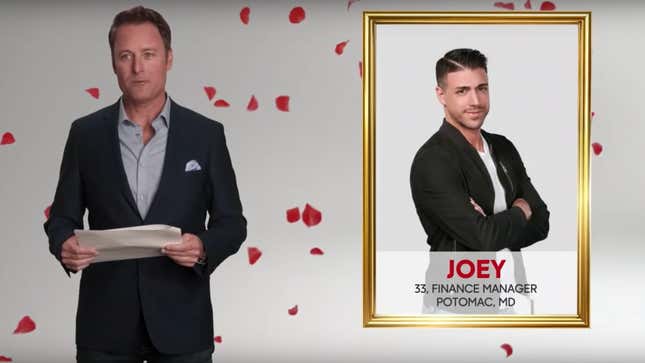 Chris Harrison mentioned that this dude emerges from the limo on night one with "baby on the mind," which is horrifying, but what are you going to do? Jersey Shore Joey wants a kid, eh.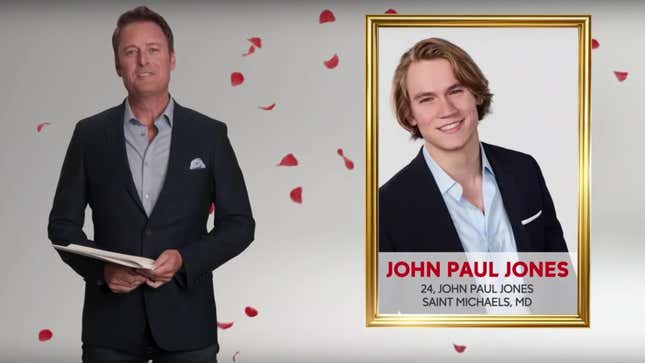 I assume this man is also unemployed? That, or he is all three names at a modestly sized law firm?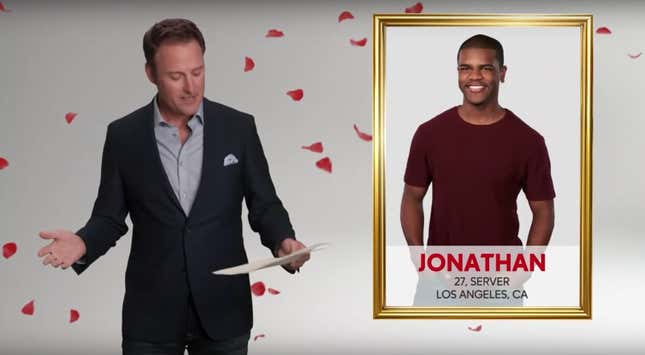 Harrison said Jonathan works at a pizza joint and he hopes he makes it more "than 30 minutes or less." This dude is getting cut. I'll take him off Hannah's hands. He's cute.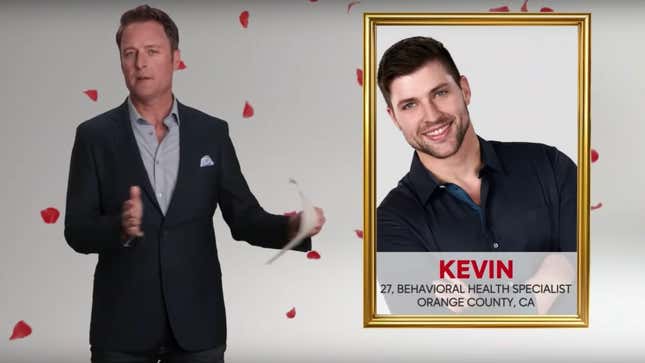 Is this man not Brian? What people factory does ABC use?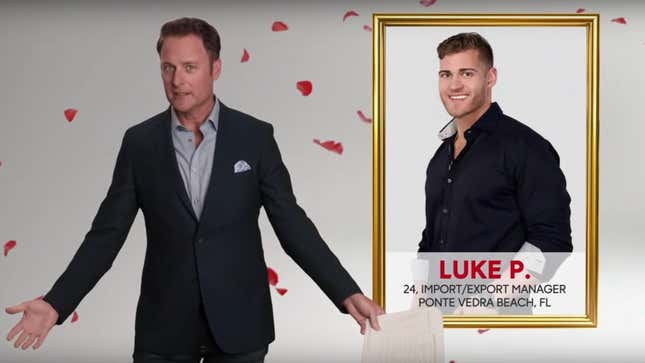 Luke P. is definitely going to bring the drama. Thank you in advance, Luke P.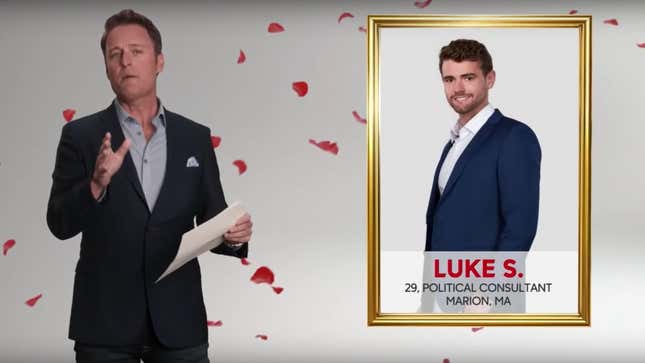 And this Luke is just Season 21's Bachelor, Nick Viall, right? This man also screams GOP, so I hope he loses.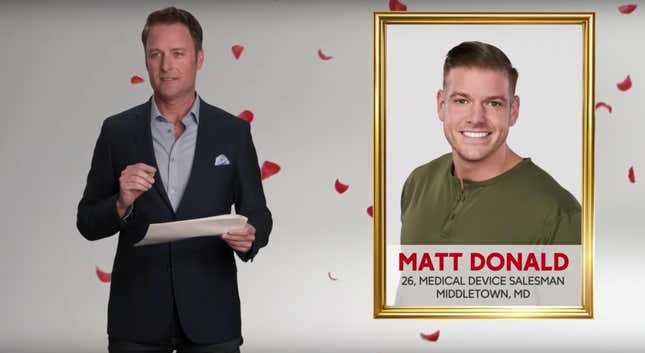 This man's teeth are too white. Like, brand new toilet bowl white. Next.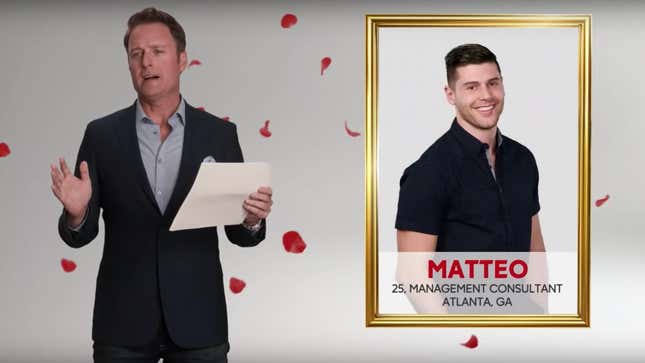 Chris Harrison described Matteo as an "extremely nervous gentleman" so, unfortunately, he's my favorite now.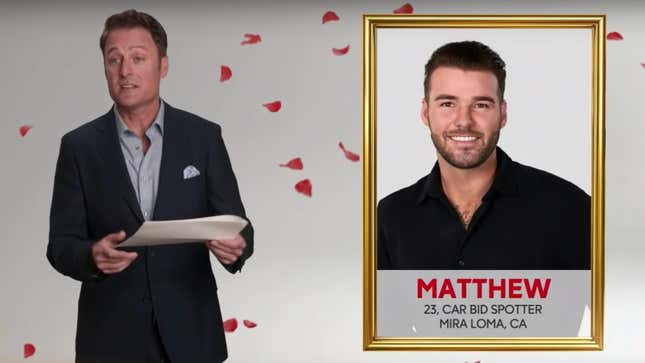 Matthew's cute, but he's no Matteo. I can already tell it's going to be impossible to tell a bunch of these guys apart.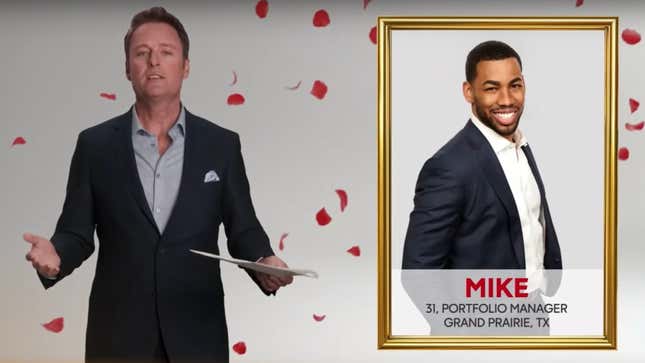 I like Mike's deviously lifted eyebrow. You can tell he's a jokester.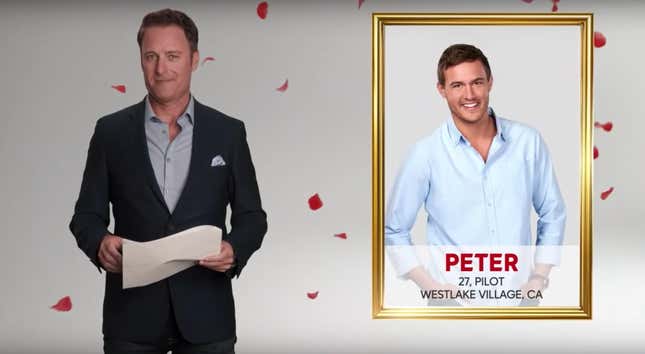 Peter will fly you straight to the blue collared shirt store.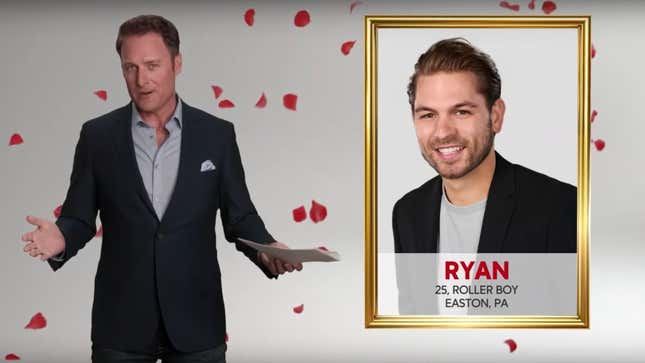 What is a roller boy? Is that a job?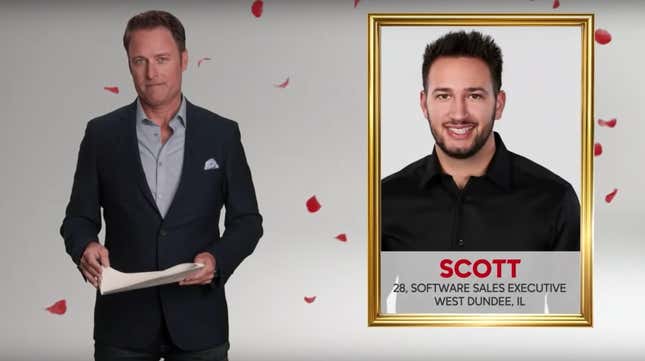 When introducing Scott, Harrison just said, "Is everyone here on this show for the right reasons? No." So, uh, goodbye, Scott.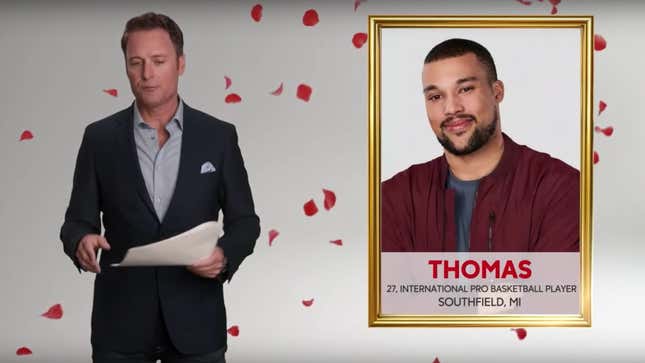 Unfortunately there aren't any superlatives on the Bachelorette, or Thomas would be taking home "Best Dressed" by a landslide.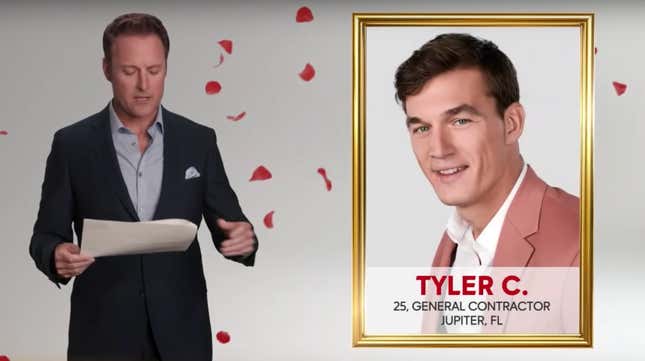 Tyler C., much like Connor J., also looks like a vintage photograph come alive, which I assume is now a theme for the season.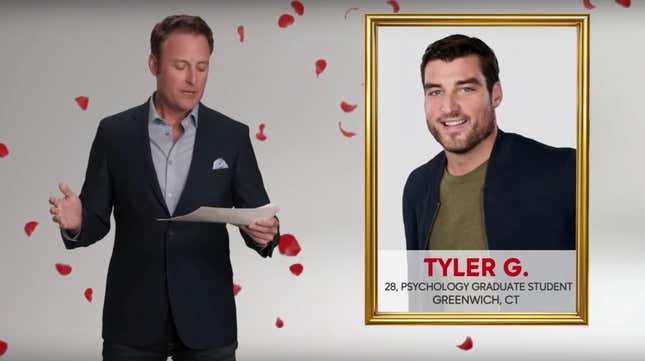 I think Tyler G. is going to do well. He seems smart. I know this because he is in grad school, and marrying a Bachelorette means paying off those student loans.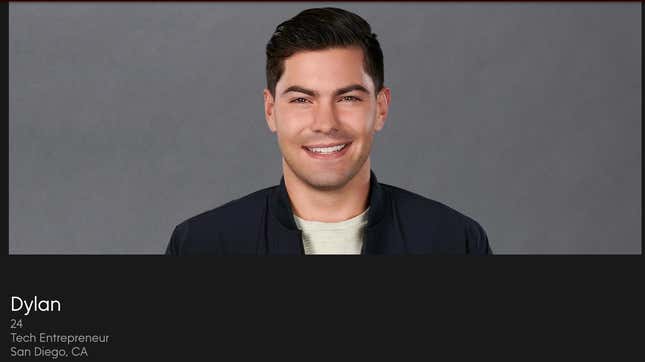 For whatever reason, the video skips 24-year-old Dylan, but according to the ABC website he is "the co-founder of a fitness company that allows people to work out while donating food to those in need. He loves to drive his boat, scuba dive and cook up a big meal. Hopefully, Hannah's hungry." Hopefully.
...And that's all the men!

The Bachelorette premiere airs Monday, May 13 at 8 p.m. ET on ABC. Get those Bach brackets going.