The 14th Librarian of Congress, confirmed today, was an Obama appointee; her name is Dr. Carla Hayden, and she is both the first woman and the first African American to head up the hallowed halls.

The CEO of the Enoch Pratt Free Library—Baltimore's library system—since 1993, Hayden began her career in the children's wing of the Chicago Public Library. She's known President and First Lady Obama from her time in Chicago, as he mentioned in his speech announcing her nomination, but she was actually recommended to the President by Maryland Senator Barbara A. Mikulski, who praised her "competence, commitment to the mission of the agency, and integrity."
In addition to being credited with upgrading the technology and inner workings of the Baltimore library system—a task she'll have to replicate at the Library of Congress—she is also known for publicly fighting with John Ashcroft over the Patriot Act when she was president of the American Library Association in 2003 and 2004. And, though the government carried on with its surveillance, she fully sonned him, at least:
Librarians voiced some of the earliest warnings about its implications for civil liberties, particularly in regards to Section 215—known then as the "library records provision"—which the government later relied on to justify some of the dragnet data collection revealed by Edward Snowden. Ashcroft, attempting to stamp out opposition to the act, accused librarians of "baseless hysteria." He earned a sharp rebuke from Hayden, who wrote that she was "deeply concerned that the Attorney General would be so openly contemptuous" of librarians. Ashcroft called her to apologize, though he continued to deny that the law was being used to snoop in the stacks.
As a librarian, she's been somewhat of an activist, not just handling her governing duties but, in Baltimore, creating new programs to help youth with tutoring and learning. In the video below, she describes libraries as "treasure chests" and "opportunity centers." She also discusses her decision to open a Baltimore library during the Freddie Grey protests and how it "became a site for people to actually get food, to get supplies, to open up our meeting room, and so it became that community meeting place." Pardon me while I cry real quick!
Dr. Hayden is, as one would expect, also a good reader! At the Enoch Pratt website, her latest book recommendations include Yaa Gyasi's Homegoing, Questlove's Something to Food About: Exploring Creativity with Innovative Chefs, and Alan Tardi's Champagne, Uncorked: the House of Krug and the Timeless Allure of the World's Most Celebrated Drink. So she's smart, cool, and fun.
G/O Media may get a commission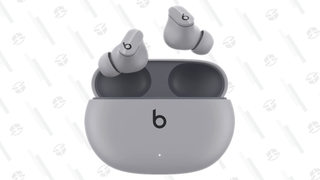 Hayden replaces Acting Librarian David S. Mao, the Deputy Librarian who'd been filling in for James H. Billington since October.
---
Image via screencap