Winds of change are blowing into the land of Greater Fauxlandia, where it's always an amalgam of Disney's The Sword in the Stone and let's say circa 1530: A queen now reigns at Medieval Times.

The New York Times spent an afternoon with Monet Lerner, who now plays Doña Maria Isabella at the chain's Dallas location.
The new production, with a woman wearing the crown, had its debut here last fall, then opened at the castle in suburban Chicago. It was rolled out in Lyndhurst, N.J., on Jan. 11. By year's end, a queen will reign in all nine of the castles in North America.

In the show's old plot, the king had to fight off a challenger from another realm using a knight who bested five others in a tournament. In the new script, the queen has taken over for her late father (presumably the king from the previous show). She presides over a tournament to find the best knight in the land; drama ensues when a knight who has been acting dishonorably challenges her authority.
Mostly, attendees haven't blinked at the change. (And the Times does note that female serves are still referred to as "wenches," changes to which they'd do well to propose and fast track.) But the climactic moment involving the queen reigning in a disrespectful knight is apparently a big hit:
In the stables, a knight, Kyle Calloway, 24, was making do with a coffee-flavored Monster energy drink as he warmed up for his star turn....

The switch to a queen hasn't made much difference, he said, except in the part of the show when she rebukes the sexist knight who defies her.

"You do get a huge reaction from the females in the crowd," Mr. Calloway said. But he doesn't spend much time thinking about it. "All I do is eat, sleep, joust, repeat."
G/O Media may get a commission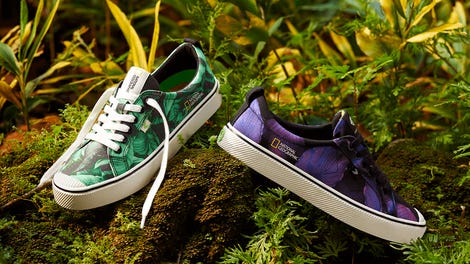 New New New
Cariuma + National Geographic
"If we can help empower women and we can be role models for these young women and men and show you need to respect women, then it is very fortuitous timing," said Lerner. Also we could all use a cathartic opportunity to watch a literal queen put a disobedient knight in his damn place.
Not sure if they include proper medieval walking now, though.