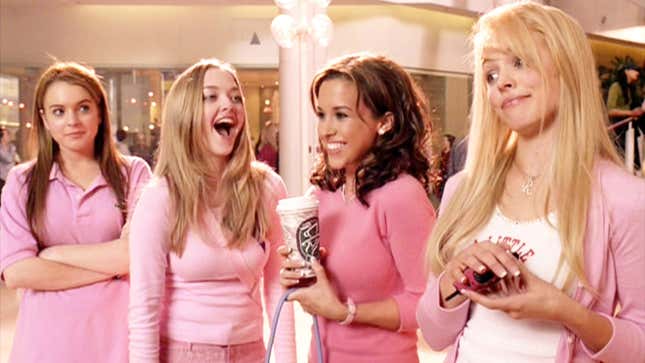 It's like they say: If you want to turn Mean Girls into Mean Women, you've got to make their money mean. Oh wait, they don't say that? Maybe they will now: Plans are reportedly stalling for the original Plastics from the beloved 2004 movie Mean Girls to join the upcoming movie musical adaptation—and it's over, you guessed it, money.
Page Six reports that Lindsay Lohan, Rachel McAdams, Amanda Seyfried, and Lacey Chabert had agreed to appear in the adaptation of the adaptation, initially announced in 2020, but they didn't, like, agree agree because the financial details hadn't been hammered out—and now that they have been, the offer is underwhelming. Page Six's "highly placed production source," whose name may or may not rhyme with Windsy Chopin, said: "Paramount Pictures doesn't want to pay the girls what they are worth. All four girls were willing to come back, but Paramount has not been respectful of what they are worth."
Tina Fey, the writer of the movie and musical who is also writing, as well as producing, the upcoming movie musical, announced last week that she will reprise her role of math teacher Ms. Norbury. Tim Meadows will also return as Principal Duval. According to IndieWire, the Plastics have been cast—Angourie Rice will take over Cady from Lohan, Reneé Rapp will play Regina George (originated by McAdams), and Auli'i Cravalho will be Janis (the outsider role that Lizzy Caplan played). Page Six says Fey nabbed seven figures for her acting duties, while "Lohan & Co. were said to be offered a 'fraction' of that."
If the script hews closely to the original movie, Lohan & Co. would presumably be showing up in cameo capacity, which could explain the allegedly paltry offer. But whatever, Paramount, just pay the women—it'll be worth it. Everyone will be so happy. "Look, our old friends," we'll say. "They did all right for themselves." I one hundred percent believe this item was placed in Page Six to move things in the direction of lining the pockets of these fine women. Let's hope it works.
G/O Media may get a commission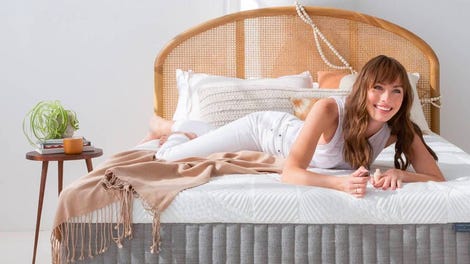 Sleep Sale
Sleep Sale - Brentwood Home
Weirdly, as IndieWire notes, Lohan and Seyfried spoke as recently as last year regarding their future in the Mean Girls universe. In a conversation that ran on Interview's website in November 2022, they said:
SEYFRIED: I would kill just to do one week, all of us playing our own roles on Mean Girls on Broadway.

LOHAN: That would be really fun.

SEYFRIED: Because a Mean Girls 2 is never going to happen, is it?

LOHAN: I don't know. I heard something about it being a movie musical and I was like, "Oh no." We can't do that. It has to be the same tone.

SEYFRIED: Yeah. It would just be completely different.

LOHAN: Exactly. [Laughs]

SEYFRIED: Anyway, Tina [Fey] is busy. She'll get around to it. Listen, we're all part of each other's worlds whether we like it or not, and it is really nice to be in contact as adults.
You can and you will, Lindsay. I believe in you. I believe in all of you.
---