It's easy to remember the late designer Alexander McQueen as a stunning visionary, a fashion designer who seemed to build entirely new worlds on his runway. They were collections inspired by violence and blood, surgery and mental hospitals, robots and aliens, and were an indelible influence on so many designers that came after him.
What's harder, for those who did not know him personally, is to remember him as a punk kid who suffered in school because he was too busy drawing beautiful dresses in his notebooks. Or as the boy who sat at a sewing machine in the back of a stuffy London showroom, reportedly blasting Sinéad O'Connor constantly as he worked, to everyone's annoyance. Here was a Givenchy couture designer who took lunch in the basement cafeteria with the lowly seamstresses, to the shock of everyone in the fashion house.
This is the Alexander McQueen viewers meet in the forthcoming documentary McQueen—a funny and daring rule-breaker who charged ahead in 1990s fashion with his weird imagination. And if there were ever a documentary to get those disinterested in fashion extremely interested in fashion it would be McQueen, which seems designed by directors Ian Bonhôte and Peter Ettedgui for audiences unaware of his life and artistry. A collage of interviews with former friends and coworkers (sister Janet McQueen, former co-worker Sebastian Pons, friend Detmar Blow, to name just a few) plus invaluable archival footage and home videos, McQueen follows a rather neat timeline of his life, punctuated by his career's biggest highlights.
You could arguably make a documentary for every single McQueen collection, given the massive amount of detail and pure storytelling that went into every show he did, and McQueen gives ample space to the greatest of them. There's his breakout 1995 "Highland Rape" collection, in which models walked down the runway in boob-baring, shredded cotton dresses and tartan, which quickly got McQueen labeled a misogynist. There is the 1999 show in which he enlisted two robots to spray-paint Shalom Harlow, and the 2001 show where models wandered around maniacally in a padded glass cell, their heads covered in bandages. To step out of a fashion show feeling as if you just had "Sunday lunch," well that was the worst insult to McQueen.
G/O Media may get a commission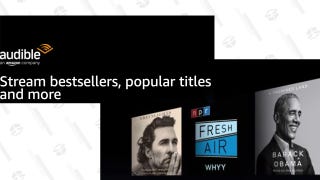 FREE
Audible Premium Plus 3-Month Free Trial
If his collections carried a dark inspiration unusual for fashion, it's partly because McQueen himself was a dark figure. The designer died by suicide in 2010, at the age of 40, and since then, his legacy has been clouded by this tragedy like a dark fog. It's hard to look back on the tortured beauty of his work and not sense far graver implications. His former coworkers speak onscreen of McQueen's sometimes brash personality, how he essentially cut employees who left his side out of his life, and the documentary highlights his close friendship to the eccentric editor Isabella Blow, another fashion icon who died by suicide. He was even planning to kill himself on his own catwalk.
What's most striking then about McQueen is how absolutely funny it is, even though we know its heartbreaking ending. VHS scenes of McQueen breakdancing in his cluttered Paris apartment after being hired as the chief designer for Givenchy or footage of him smashing his hand into a birthday cake screaming, "I always wanted to do that!" seem like they'd appear in an installment of Jackass rather than a fashion documentary. At one point a friend recounts that after accidentally cursing in front of McQueen's beloved mother, he yelled, "Don't you fucking swear in front of my fucking mother!" You have to laugh when McQueen jokes about buying all his fabric on unemployment benefits and, when confronted with a car that's caught on fire during the middle of his runway show, lets it stay ablaze so as to not disrupt the spectacle. When asked in an interview if people were surprised he was chosen to lead Givenchy, McQueen scoffs. "I think most people were in a coma," he says.
Alexander McQueen may have been a genius but he was also a goofball. A twisted, artful goofball who funneled it all into his provocative designs that weren't always easily digestible or simply beautiful in the way mainstream audiences often want fashion to be. And to be given a documentary that privileges that unpretentious, irreverent side of him, that doesn't breathlessly canonize him into a high fashion saint, nor paint him as some sort of "bad boy" as the press often did, is exactly what McQueen deserves.
McQueen comes out in select theaters July 20.