Karen Pence, wife and "mother" to Vice President Mike Pence, unveiled a beehive today at the Naval Observatory. That's nice—bees are good, even better than towel charms. I hope they don't die. Does Scott Pruitt know about this?
"All types of pollinators, such as bees, butterflies, birds and bats, are critical to providing our nation's food, fiber, fuel and medicine," the Second Lady said in remarks delivered at the residence.
"However, our beekeepers have been losing colonies for many years. This presents a serious challenge to our ability to produce many of the agricultural products that we enjoy today. The bees at the Vice President's Residence will provide an added bonus to the vegetable and flower gardens by making them well pollinated and taste even better at harvest."
From the Office of the Second Lady's press release:
The number of honeybee hives in the U.S, has declined from 6 million during the 1940s to only about 2.5 million today. Those losses have been attributed to a number of factors, ranging from a syndrome known as "colony collapse disorder" to stress caused by factors such as parasites and pests, transportation of bees, sub-lethal exposure to pesticides, and poor nutrition.
G/O Media may get a commission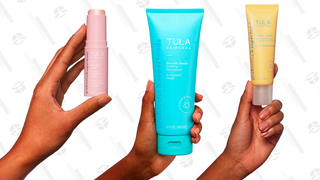 Climate change is also thought to contribute to the decline of bees—odds aren't looking great for bats and butterflies, either, or, you know, any of us—but considering the Trump administration recently pulled the US out of the Paris Climate Agreement and the EPA administrator won't say for sure whether the president thinks climate change is a hoax, that probably would have been an awkward thing to mention.
It also went unmentioned that the Trump administration delayed listing the rusty patched bumble bee as endangered, recently unwound an attempt to ban a particularly dangerous pesticide that causes nervous system damage in children, and is generally following an anything-goes policy when it comes to environmental degradation.
Also in attendance was Agriculture Secretary Sonny Perdue, who has deep ties to the chemical and fertilizer industry and once led a prayer for rain at the Georgia State capitol during a record-setting drought. Perdue, like the president and the vice president, has not demonstrated much interest in the science behind climate change.
To bee or not to bee… that is not the question for Karen Pence.