The first question that people with jobs and other responsibilities should ask themselves before investing who knows how many hours in a reality show is: But do I want to actually spend time with the people on said show?
Maybe you do! Maybe you think they are cool or hot or genuinely funny or accidentally funny (but you have an egalitarian philosophy toward pop culture and appreciate entertainment wherever you can find it), or so awful that you can't look away or so awful that you feel better about yourself or so awful that you feel right at home. Whatever! I don't care what your ultimate choice is, I just hope it's thoughtful.
I bring this up because last night, E! rolled out a new way to invest your time—rather, it's the same old way (by turning a bunch of cameras on already dramatic humans so as to facilitate and capture heightened drama) but with new faces. What Happens at the Abbey offers what feels like a cast of dozens of outwardly ambitious, vaguely individual people who work at the famed Los Angeles bar the Abbey, which as recently as a few years ago was known for being a gay bar but I guess has rebranded? I don't know, the premiere episode offered a 30-second history of gay bars as well as how the Abbey's new, expanded reach dovetails perfectly with this age of Raven-Symoné not wanting to label her sexuality (or race, for that matter). So at least it's efficient, I guess.
The diversity in its alleged patronage is reflected in the Abbey's staff, per this show. There's a lesbian who sucks dick, Ellen's gardener, a woman from Long Island, a gay man and another lesbian who are having a baby together, and assorted heterosexuals.
G/O Media may get a commission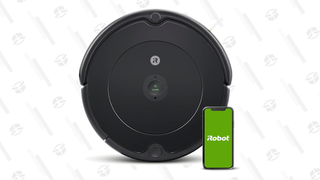 35% Off Black Friday Deal
iRobot Roomba 694 Robot Vacuum
Also, it seems that celebrities will be making regular appearances on this show—Brandi Glanville and Tori Spelling showed up on the premiere. Yes, yes. That is exactly where they are in their careers, thank you What Happens at the Abbey for the reminder.

Maybe this is appealing to you. Maybe you have been looking for a new Vanderpump Rules to watch in between reruns of the old Vanderpump Rules. That's fine. I just want you to know what you're getting into, so without much commentary, below are some screenshots of things that various people said on last night's premiere. Knowing this will allow you to make informed life decisions, like whether you'll invest your time and emotions in What Happens at the Abbey, which is not something I recommend, but not something I'm arguing against, either, because I believe you are a grown-up who can make your own decisions and also, I'm not responsible for what you do in your downtime.