In case you (like me) were not invited, Vox Media—which fired its editorial director (and one-time Gawker editor), Lockhart Steele last month in the wake of sexual harassment allegations against him—will have an office holiday party on December 12. To discourage malfeasance, there will not be an open bar.

The Huffington Post reports that everyone will get two drink tickets and will enjoy themselves responsibly. Not a terrible idea, since according to my research, nearly 100 percent of shitty dudes who harass or assault women later blame being drunk for their behavior. According to actual research by the National Institute of Alcohol Abuse and Alcoholism, the more likely scenario is that the dudes themselves are more to blame than the booze:
Although alcohol consumption and sexual assault frequently co-occur, this phenomenon does not prove that alcohol use causes sexual assault. Thus, in some cases, the desire to commit a sexual assault may actually cause alcohol consumption (e.g., when a man drinks alcohol before committing a sexual assault in order to justify his behavior).
I don't know about you, but if I'm going to get through a holiday party where tradition and "networking" all but require that I attend in order to advance in my field, where I not only have to make small talk with people from Deadspin (no offense), but also be on the lookout for predatory dudes trying to turn a professional get-together into an opportunity to give me unsolicited shoulder massages, I'm going to need a cold one!!!
There's got to be a solution to this other than cutting us all off right when we need booze's sweet embrace most. How about an open bar for everyone but the men?
G/O Media may get a commission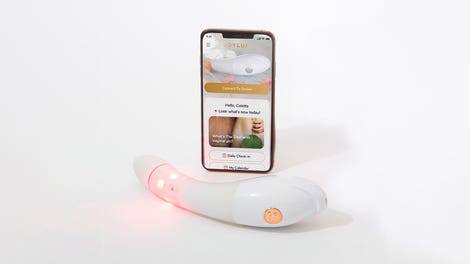 $50 Off
Joylux vFit Gold Device
Women, nonbinary folks, trans folks—you can all drink, but until the office dudes have proven that they can ask us about our holiday travel plans, or whether we've seen I, Tonya without groping us, masturbating at us, or locking us in their sex prisons, they can wash down their sliders with a soda.
Then again, this idea leaves a bunch of potentially impaired NON-men at the mercy of their sober colleagues, so maybe we should just ban men from work parties altogether. Or work. Or parties.