Wherein our columnist, currently in early stages of planning her wedding, has a GChat conversation with her fiancé to discuss how, exactly, this shit is going to go down.
LAUREN: Hi babe! How's D.C.? Did you have a burger for dinner?
JOE: Yes, I did have a burger for dinner. I had a bison burger.
LAUREN: Did you get chez on it?
JOE: It was real good, yeah, and honestly I don't know if there was cheese on it because I ate it too fast.
LAUREN: I'm glad you ate fast.
JOE: Yes…because we have a lot of talking to do?
LAUREN: YUP! And because we're planning a wedding! Do you remember what the date is?
G/O Media may get a commission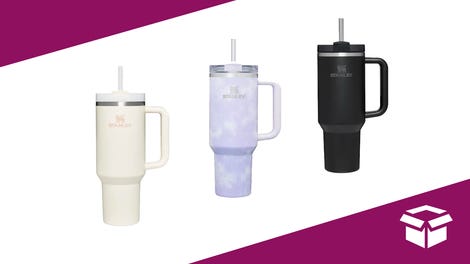 Up to 45% off
Stanley Cup Sale
JOE: Ha, Lauren. It's the 16th of July, 2016.
LAUREN: Bingo!
JOE: Bango.
LAUREN: OK, so. In my column, I like to talk about balance, and how to be a smart modern bride that keeps her feminism in mind, while also being able to maintain some of the old traditions she likes a lot. And a lot of commenters mention how all of that should extend to the groom, too, and how throwing a wedding nowadays should be more of a 50/50 affair than it was in the weddings of yesteryear.
JOE: Yes…
LAUREN: Thus far, in terms of planning our wedding, I've definitely taken the reins. And the entire buggy. And all the horses. And turned it into a hot rod. And blown the fucker clear out of town. Where do you feel like you stand right now, planning-wise, regarding your role versus mine?
JOE: I feel like I'm in the passenger's seat or like running behind the car reaching for the bumper.
LAUREN: Ha, um, go on.
JOE: I do feel like it's almost like you've spent days and days in a basement researching and concocting the perfect wedding and I'm sort of like your Igor.
LAUREN: OK, not great. I don't want it to be a situation like that!
JOE: It's not—I mean, I was being a little bit dramatic, for effect.
LAUREN: Oh, OK.

JOE: I just mean, really, I feel as though you genuinely care more about what the day will be like than I do. I love the idea of marrying you, I love the idea of spending the rest of my life with you, but I feel like I am not as focused on the day itself, or what I picture the day itself to be like.
LAUREN: That makes sense—it's probably because you haven't read a zillion wedding blogs and stuff. Are there certain aspects of the wedding that you do care a lot about?
JOE: I do care about it being a good time, and not stressful. I mean, that's trite. But I care about there not being too much left up to chance.
LAUREN: So you hope that some… amorphous, zephyr-like being…plans and makes all the decisions and does all the rigging.
JOE: I just don't want anything to be disappointing, and I know it won't be. Maybe part of the reason why I don't have much fervor for the choices about it necessarily, are that that way I can not have as many things that need to be perfect?
LAUREN: You mean if you don't have expectations, you wont be as disappointed if things fall through? Joseph, that's MISERABLE.
JOE: Ha, well, maybe. I just feel like what I want is to see everyone from all different parts of my life come together, and have it almost be like a culmination of my life and stepping into a new part of my life. That's it! Simple.
LAUREN: That sounds much nicer.
JOE: That's important to me. I sort of see it as a bon voyage kind of ceremony.
LAUREN: So you're less focused on details, and more focused on the big pic.
JOE: Yes, erase the depressing stuff from before and just say that.
LAUREN: Maybe I will, maybe I won't. [Surprise, I didn't.] Moving on: If you had to plan our wedding 100% by yourself, what would it look like? What would the food be, if you could pick anything? Gushers?
JOE: Good question! Close—coconut shrimp would definitely be in there.
LAUREN: LOL, lofty.
JOE: Let's put pigs in a blanket on the list, too.
LAUREN: OK. How about flowers and décor? What would you do for that? Or would you just skip it all and hang coconut shrimp from the ceiling.
JOE: Hang shrimp from ceiling, yes, and you have to stand on chairs to get it. Lots of flowers and some décor. I would keep it simple, just like some greens in a mason jar centerpieces.
LAUREN: Wow! So far we're on the same page! Shrimp garland notwithstanding.

JOE: Lauren, I already have you as a cheat sheet.
LAUREN: Haha, but this isn't a test! I'm just curious how far my vision deviates from yours. So far barely any deviation at all, but you seem to have Stockholm syndrome.
JOE: Yes, definitely! I mean before meeting you and getting to know what you thought of weddings, I may have had a different idea of what my wedding would be. I always pictured myself being married in a Catholic church with a priest, honestly.
LAUREN: But we decided together that we didn't really think that was "us."
JOE: Correct.

LAUREN: Also churches can be so…organ-y. Weee weee weewe we we we wewew, organ sounds.

JOE: Intimidating and very empty, yeah. What song was that that you were just playing?

LAUREN: The one they play, that goes, ner ner, ner ner. Nevermind.

JOE: …

LAUREN: Are you comfortable so far with the division of labor in terms of planning?
JOE: Well, yes and no.
LAUREN: DO TELL!!!!!!!!!
JOE: Obviously I'm comfortable since I haven't had to do anything yet, but I'm uncomfortable because I want to be more active. Still, it's hard to be active when I want you to have everything you want on that day, you know?
LAUREN: Fair, but I also want you to have what you want. And I'm glad to hear you say you actually want to do more!
JOE: I guess what I could be doing is pointing out things more often to actively influence you.
LAUREN: Definitely. And we could give you more entire categories to cover, like along with picking the band for the ceremony, which we already said you'd do, you could find the DJ, a photo booth person, the caterers, etc.
JOE: Do you feel like I'm not taking an active enough role in the wedding planning process so far?
LAUREN: No. I think, embarrassingly, I've sort of made it so like, you **couldn't** take much more of a part. Ooooopss.
JOE: You haven't stifled me from taking a part in this! You're just passionate!
LAUREN: Phew, good. OK, here's a fun one: Are there any dumb things you've seen that you forbid me from forcing into our wedding?

JOE: I'm not going to throw a football to anybody (no offense to [our friend whose wedding we went to] Dave, who can totally do that because he's built like a football player, but I can't do that because the ball would deflate in my hand or right after I threw it and make a fart noise).

LAUREN: Ok, so no pics with sports.

JOE: No pics with sports. How about some must-haves? I like the garter thing.

LAUREN: EW! Of course you like it.

JOE: I know we're **not** going to do the garter thing…

LAUREN: Good. Glad you know that.

JOE: I don't even really understand it. The only time I've seen it done with teeth (which was how I was thinking of doing it) was in a HBO documentary on someone transitioning from a woman to a man; then they had a wedding where he pulled the garter off with his teeth. Thirteen-year-old me was like, "I want to do that at my wedding."

LAUREN: That sounds like it'd be way over budget.
JOE: OK, what else… I mean, I don't like that one dress on Say Yes to the Dress that looks just like a bustie…bustiyay?
LAUREN: OK, I wont get that dress. I hate it, anyway.
JOE: Boostiyay.
LAUREN: Do you care that I sort of care more about how the cake looks than tastes?
JOE: Hm. Well, this might be the one issue between us. Will it be spongy or not so spongy?

LAUREN: Not sure.

JOE: I might have gone with a more general cake. I mean I think I'm just much less inventive than you when it comes to this stuff.
LAUREN: Again, mostly because I spend a lot more time reading about weddings.
JOE: I like cake.
LAUREN: OK, in summation: 1) cake; 2) garters; 3) 7ou want to help me however you can, but you sort of DGAF about the details. So if I maybe spread some knowledge around, you can make some more informed choices and find some things you really like, and then we can make this more egalitarian. Then we're a team, so its not just me quietly freaking out at work when I should be, you know, actually working.
JOE: Yes, but really, like for me, most important choice has already been made and done with, and I've much less anxiety: Already asked you to marry me, done, decision made, now Lauren makes decisions for rest of life. Yes, I think that's a brilliant idea.
LAUREN: Can I get a signed copy of that statement?
JOE: Definitely not.
---
Image via Shutterstock.