Matt Groening has something to say about Apu. Speaking to the New York Times' Dave Itzkoff, the Simpsons creator weighed in on comedian Hari Kondabolu's The Problem With Apu, what he thinks of criticism that Apu is a racist caricature, and what his plans are for the character going forward.
The brief interview, excerpted from a longer piece about his upcoming Netflix show Disenchantment, begins with Groening saying that he's "proud" of the work they do on The Simpsons. He thinks "it's a time in our culture where people love to pretend they're offended" and that "there's no nuance to the conversation now." He says in the interview:

"There is the outrage of the week and it comes and goes. For a while, it was, believe it or not, kids were stealing quarters out of their mothers' purses in order to go to the video arcade, and that was going to bring down civilization. No one even remembers that, because that lasted a week. I think particularly right now, people feel so aggrieved and crazed and powerless that they're picking the wrong battles."
The kind of outrage culture Groening describes is something he says he's been noticing "for the last 25 years." Weird! That's about the same time he became rich and powerful! Anyway, he says he feels bad that Apu makes people feel bad, but that he loves the character too much to get rid of him:
"...I agree, politically, with 99 percent of the things that Hari Kondabolu believes. We just disagree on Apu. I love the character and I would hate for him to go away. I am sorry that "The Simpsons" would be criticized for having an Indian character that, because of our extraordinary popularity — I expected other people to do it. I go, maybe he's a problem, but who's better? Who's a better Indian animated character in the last 30 years? I've been to India twice and talked about "The Simpsons" in front of audiences. That's why this took me by surprise. I know Indians are not the same as Indian-Americans."
G/O Media may get a commission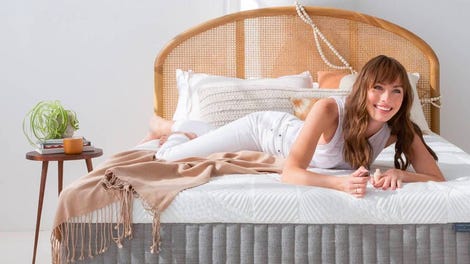 Sleep Sale
Sleep Sale - Brentwood Home
Groening added that the pigmentation of the Simpsons characters means something:
"The fact that the Simpsons are yellow and not the color that passes for Caucasian in cartoons, that Mickey Mouse pink, that's intentional. It's taking that pink away, and making it yellow. And then taking yellow away from whatever racist connotation that that has had. And that was intentional. As many people have pointed out, it's all stereotypes on our show. That's the nature of cartooning. And you try not to do reprehensible stereotypes. Anyway. I probably said too much."
Pretend to be offended at the full interview here.